Imagine a dilapidated double-wide trailer, a rusted Ford truck growing out of scrub brush like the hulking carapace of some giant insect, a hound dog so old and tired it doesn't bother to bark at strangers anymore, a stop sign riddled with buckshot that's what Scotland Barr & the Slow Drags sound like.
PHOTO COURTESY OF SCOTLAND BARR & THE SLOW DRAGS
SAD TO THE BONE : Scotland Barr & The Slow Drags bring their sparkling lamentations to Frog and Peach on Oct. 2.
# The Oregon-based sextet rolls through SLO Town in support of their CD Legionnaires' Disease, playing Tuesday, Oct. 2, at Frog and Peach.
Working within the Americana/alt country/folk-rock genre, the group plays literary-minded lamentations of lost loves and lives. This is some depressing shit, but so emotionally charged and well played you're happy to go along for the bumpy ride through the great American depression highway.
Led by Scotland Barr frontman, guitarist, and songwriter the band has little trouble shifting from maudlin crying-in-your-whiskey ballads to barn-burning honky tonk, but they rarely let up on the dark subject matter. Musically, the backing band is top notch, featuring Pat Munson (bass), Chris Hubbard (keyboard, backing vocals), Bryan Daste (pedal steel, backup vocals, sax, theremin), Nick Kostenborder (drums), and Zach Hinkelman (lead guitar).


Barr's vocals have a boozy nonchalance, and the four-part harmonies on some songs recall the Beach Boys and the Band. Formed in 2004 as a studio project, it quickly became clear to the session men that something special was going on. If you're in the mood for some brutal songs that offer "insights into the darker side of the human condition" and explore the "bi-polar nature of beauty, love, hate, hope, addiction, and shattered dreams," this is your show.
Ear food
Druha Trava may sound like some kind of delicious foreign pastry, but they're really a delightful foreign band that The Bluegrass Association of the Czech Republic declared "Group of the Year" in both 2005 and 2006.
PHOTO COURTESY OF DRUHA TRAVA
STRAIGHT OUTTA THE CZECH REPUBLIC : Stunning bluegrass act Druha Trava plays SLO Folks' last outdoor concert of the year on Sept. 29 at Castoro Cellars.
# I know what you're thinking: The Czech Republic has a bluegrass association? Hell yeah, and Druha Trava's reputation as the country's best act is well deserved. The high-energy quintet formed in 1991 after its members were inspired by Pete Seeger's tour of Central Europe, and in the past 16 years the group has become one of the most awarded and internationally acclaimed bands in Europe. They've also been embraced by American bluegrass artists like Ricky Scaggs and Bela Fleck.
See Druha Trava at SLOfolks' last outdoor concert this year at Castoro Cellars (238-0725 $20) at 7 p.m. on Saturday, Sept. 29. If you like, arrive at 6 p.m. and for an additional cost enjoyed a tasty meal prepared by Miss Odette's BBQ.
And if you want to hear a sampling of Druha Trava's music, tune in on Saturday to Sonnie Brown's Minstrel Song Show on KCBX 90.1FM beginning at 2 p.m. She'll interview the band at about 2:30 p.m.
The California kid
Dave Alvin may have burst on the California music scene with the Blasters in 1980, but he's developed from a rockabilly upstart into one of the great singer-songwriters and great song interpreters of his generation.
His newest album, West of West: Songs from California Songwriters Volume 1, finds Alvin in good form, delivering potent
PHOTO COURTESY OF DAVE ALVIN
THE KING OF CALIFORNIA : Dave Alvin comes to Downtown Brew on Oct. 3 to support his new album, West of West: Songs from California Songwriters Volume 1, which finds the singer-songwriter interpreting others songs.
# renditions of songs you may or may not know. Working within the blues, country, rock, pop, folk, and R&B genres, Alvin brings a quintessential California tone to the material.
"I interviewed Buck Owens for Mix Magazine a few years ago," Alvin said in his press release, "and one of my questions was, 'What was it about California that gave the Bakersfield sound that edge?' And Buck said, 'The biggest difference was that back East you had to keep a foot between the dancers, whereas in California it was all about rubbing up against one another and polishing each other's belt buckles.' I think that's true California has that frontier, anything-goes openness and wildness that makes it different. It's also a place with a lot of cultures, and that openness allows musicians from different cultures to trade ideas when they meet. You can hear the connection between doo-wop harmonies and surf harmonies, between T-Bone Walker's guitar and David Hidalgo's guitar. To me it's just amazing that the scope of California music accommodates everything from Brian Wilson to Merle Haggard. They're both natives, and one is no more valid than the other. Haggard was as shaped by the California experience as Brian Wilson was he's just expressing in a different way."
Dave Alvin & The Guilty Men with opening act The Sherry Austin Band plays Wednesday, Oct. 3, at 8 p.m. in Downtown Brew. Advance tickets are on sale now at all VALLITIX outlets, including Boo Boo Records. Twenty-one and older only, please. Sponsored by KPIG 94.9FM.
Smell the magic
I got an e-mail recently from Stillman Brown wild man, winemaker, and left-of-center music aficionado: "The infamous [chef] Bill Hoppe and I are running amok again," he wrote as his alter ego Swilly Idle.
It seems that Hoppe or, as we'll call him for the purposes of this story, Wilhelm von Zeppelin III has teamed up with Idle to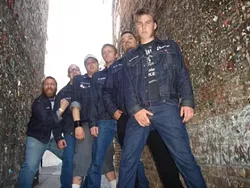 PHOTO COURTESY OF SEXY TIME EXPLOSION!
DO YOU THINK THEY'RE SEXY? : Sexy Time Explosion!, the explosive Turbo Negro tribute act, plays the Crooked Kilt on Oct. 4.
# present SWILLA-PALOOZA: A music and wine circus! Think of it as a spa for your liver!
It's gonna work like this. On Wednesday, Oct. 3, go to Hoppe's restaurant to celebrate Bill's birthday by buying and eating his delicious food. On Thursday, Oct. 4, come to the Crooked Kilt for some serious rock'n'roll debauchery with Sexy Time Explosion and AOD (7 p.m. $5). Friday, Oct. 5, has been designated a day of rest there are limits, after all. Then, on Saturday, Oct. 6, Dread Zeppelin (the fabulous Led Zeppelin cover band that plays the songs reggae style, sung by their Elvis impersonator frontman), Dario Rosa (formerly of Cabaret Diosa), Donald-Elvis, and more special musical guests will perform at the fabulous Cayucos Creek Barn (1155 Cayucos Creek Road, Cayucos, one mile up the road behind the school) for $30, which includes an open wine bar with Swilly's very best! Dress fabulously. Buy your tickets in advance. Get more info at 550-6492 or e-mail StillmanB@aol.com. Have fun!
More music
The Expendables are ready to deliver a double dose of their patented mix of genre-bending rock, reggae, and surf music when they play on Thursday and Friday, Sept. 27 and 28, at Downtown Brew. The Santa Cruz-based band is rapidly approaching status as a full-time touring act, and with three original full-length albums to their credit No Time to Worry (2001) Open Container (2002) and most recently Getting' Filthy they've got tons of material to draw from during their live shows. Thursday is an all-ages show, and Friday is 18-and-older. Tickets cost $16.50 at Boo Boo's.
Real Love Records will host a multi-band show on Friday, Sept.
PHOTO BY STEVE LEONTIE
GENRE JUMPERS : Blending rock, reggae, and surf music, The Expendables play Sept. 27-28 at Downtown Brew.
# 28, at 7 p.m. at the Atascadero Lake Pavilion. Your $5 admission will get you Briertone (local dark country/bluegrass rock band on Something Sacred Records, set to tour in October and release a new album in December), Sparrows Gate (local folk rock band, also on Something Sacred), Candle (indie folk rock band, local with two members attending UC San Diego who signed to Real Love and recently released a 7" record) and Lauren Mulderrig (a SoCal folk-rock singer-songwriter, signed to Proline records and in the process of recording her debut album).
Matthias Clark calls himself an "abstract expressionist song painter," which pretty well sums up his jangly freeform sound: "Most songs are one-take improvisations captured live. Lyrics, melody, changes all stream of conscious. Live gigs often include completely on-the-spot improvised songs." The founding member of the Speakeasy co-op and The Cornelia St. Song Circle plays a CD release party at Linnaea's Cafe on Friday, Sept. 28, at 8 p.m. It's free.



The G. Roger Bailey Scholarship Foundation presents David Isaacs in its third annual benefit concert for classical guitar at Coalesce Bookstore on Saturday, Sept. 29 (7 p.m. $20 tickets call to reserve yours at 772-2880). The SoCal native has been playing guitar since 1988 and has studied classical guitar since 1995. He's been a featured performer for the Pacific Guitar Festival, the Hermoupolis Guitar Festival, the Ventura County Classical Guitar Society, the Long Beach Classical Guitar Society, the Orange County Guitar Circle, the Dayton Classical Guitar Society, and the Aquarium of the Pacific.
Ephraim Sommers, lead vocalist with Siko, recently dropped me an e-mail: "I wanted to tell you about a pretty cool show taking place next Saturday, Sept. 29, at Downtown Brew. I've noticed, of late, that attention spans among music listeners have started to get shorter and shorter. In an effort to combat this, Siko and The New Longview will be putting on a split ticket show where we'll be doing some member-swapping, song sharing, all inclusive jams, and short set flip-flopping to bring everyone a unique show, not to mention a party that will blow your fucking face off. This means that the music will never stop and you'll never get tired of watching a single singer croon or guitarist solo. With all the combinations possible, you're basically getting six bands or more for the price of one, with out all the set-up time in between." That's a pretty sweet deal for $8. This is a 21-and-older show and starts at 8 p.m.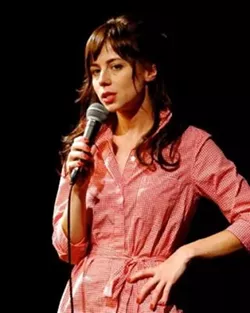 PHOTO COURTESY OF NATASHA LEGGERO
FUNNY GIRL : Nastasha Leggero, a stand up comic with a reoccurring role on TV shows Reno 911 and 'Til Death, opens for comic Dan Grueter (not pictured) Sept. 28-29 at Bob Zany's Comedy Outlet.
# Freeform dancers at the woO! on Sunday, Sept. 30, will be getting their groove on to the sounds of the Darrell Voss Trio, and since Voss is such a monster percussionist, the booty shaking will thunder relentlessly from 10 a.m. until noon. If you've never been to the woO!, now's the time, people. It's a gathering every Sunday at the Monday Club in SLO Town, where dozens gather to trip out to kinetic sounds perfect for dancing. You get a workout and have a chance to reach an ecstatic state like those Whirling Dervishes you're always reading about in National Geographic. The Darrel Voss Trio includes Voss on drums, marimba, and various percussion Larry Arone on piano and Dylan Johnson on bass. They'll deliver a seamless two hours of improvisational music starting from meditative ambiance soundscapes through swingin' jazz to peaking hot, salsa rhythms. Attendees are invited to move and dance improvisationally and keep the space non-verbal during the two-hour set. Afterward, dancers gather for free teas in the garden. Admission is $15, or $8 for students, seniors, and first timers. If you need more info, e-mail or call Philip at philiption@aol.com or 748-3815.
N.Y.C. jazz guitarist Joshua Breakstone, on a short West Coast tour, makes a stop at the Famous Jazz Artist Series at the Hamlet in Cambria on Sunday, Sept. 30. Bassist Luther Hughes, drummer Colin Bailey, and concert co-producers Charlie and Sandi Shoemake (vibraphone and vocals) will join in the fun. There's a 4 p.m. show for $15, a 7:15 p.m. show for $12, or stay for both for $20. Reservations are recommended: 927-0567.
Music news
Local singer-songwriter Chase Emery's career continues to blossom. "My music will be on MTV's The Hills and ABC's Men in Trees this fall," he said. The 19-year-old performer was recently written up on the Billboard Publicity Wire: "Chase Emery has now placed his songs on four popular television series, with more in the works. His latest achievements are two placements for the 2007 fall season. The song "I Can't Wait" is set to be played on ABC's second season of the hit series Men in Trees on October 26, and also on an upcoming episode of MTV's highly popular The Hills."
"I Can't Wait" is one of a dozen tracks from Emery's latest album, Definition, which came out in May.
Learn more about this local boy making good at www.myspace.com/chaseemery.
Funny business
Bob Zany wrote to say, "He's Quick! He's Clean! He's Damn Funny, bay-bee! Guess it would be kinda hard to be 'Damn Clean.' Just ask Sally Field. Accepting the award for Funniest Headliner this week is Dan Grueter. Yet another Bob & Tom Show regular to drive the pretty drive to Bob Zany's Comedy Outlet Upstairs at Embarcadero Grill and take on the (soon-to-be famous) heckling sea lions. The Ohio native is making a name for himself in Los Angeles via appearances on The Late, Late Show, NBC's Friday Night, and GSN's FunnyMoney.
"Honestly, seriously, truly one of the most popular touring comics working today, Grueter's hard work was recently rewarded with his own NBC pilot, Be Careful What You Wish For. Legend has it that after you see Grueter live, 'you'll feel like you've known him your whole life!' We hope that's a good thing."
See Dan Grueter on Friday and Saturday, Sept. 28 and 29, at 7 and 9 p.m. Natasha Leggero, who has recurring roles on both the hilarious Reno 911 and Brad Garrett's 'Til Death on Fox, will open the shows. Call 772-0716 for reservations.
CD Reviews

Jose Gonzalez In Our Nature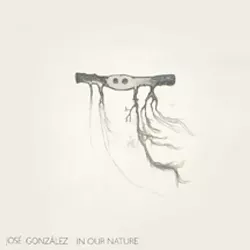 # Television commercials have outpaced music television with introducing new acts. Familiarity with Swedish singer/song writer Jose Gonzalez can be credited to the slow-motion, cinematic unleashing of a billion bouncing colorful rubber balls upon the streets on San Francisco, with his tender version of the Knife's "Heartbeat" lilting in the background. Upon his sophomore release, In Our Nature, he continues to mesmerize us with repetitive finger plucking and the soft delicate vocals that bring to mind the acoustic haunting of Nick Drake or Red House Painters. Lyrically, however, Gonzalez looks outward rather than mine internal dilemmas as fodder. "How Low" aims biting words at modern leaders and the turmoil they reap: "Invasion after invasion/This means war/Someday you'll be up to your knees/in the shit you seek." With songs that call out our sleepwalking disillusionment and our "killing for love," it's a bitter medicine that swallows so much easier with his lush melodies, weighted with simplicity and restraint.
Malik Miko Thorne, of Boo Boo Records and KCBX's "Night Train."
Various Artists After Dark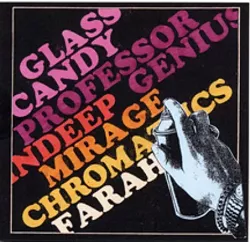 # Disco can be blamed for killing the poly-rhythmic sounds of funk and instigating a whole subculture of youth, now ironically joining their parents, to have disdain for modern music. But disco, like the thumping sounds of House, were never really meant to be removed from the club, where sexiness and outlandish costuming flaunted easily together. Arriving from the noise and indie-rock record label Troubleman Unlimited comes an off-shot outfit that lays its laurels at the feet of esteemed disco producer Giorgio Moroder. Italians Do It Better is the umbrella collective for a stream of dark, synthy, retro-futuristic Italian-disco tunes that will sound oh-so-much better with your gold Versace on. Featuring several tracks from Glass Candy, Chromatic, Farah, Professor Genius, and Mirage, the whole album pulses with deep noir bass lines that thump alongside synthesized atmospheric harmonies and Casio hammered keys. With even hip-hop's Lil' Jon layering thick washes of synthesized throbs amongst his most popular production, the steamy amorousness of disco is back, and these kids want you hit the town smoking.
Malik Miko Thorne, of Boo Boo Records and KCBX's "Night Train."
Glen Starkey has ants in his pants. Tell him about the bees in your bonnet at gstarkey@newtimesslo.com.