Joe Craven is one of a kind. From his outlandish costumes to his dizzying array of unusual instruments, this unpredictable musician takes listeners on a journey through music and its deepest and most unexplored jungles, where dangers and delights await!
PHOTO COURTESY OF JOE CRAVEN
TUNA FIDDLE! : The amazing multi-instrumentalist, raconteur, and musical archeologist Joe Craven presents his one-man show on Oct. 9 at the SLO Botanical Gardens.
His stage can resemble a swap-meet, festooned with dozens of "instruments," including, as his bio notes, tin cans, bedpans, buckets, bundt pans, brake drums, jewel cases, paper, PVC, pots 'n pans, knitting needles, hoe blades, hambone, jawbone, jello molds, water jugs, oven grates, umbrella stands, stones, sea shells, silverware trays, martini shakers, matchboxes, thermos, and zippers.
The long-running emcee of the Live Oak Music Festival, Joe also spent 17 years as the highly respected multi-instrumentalist for the David Grisman Quartet, and he's made music with everyone from Jerry Garcia to Stéphane Grappelli, The Alison Brown Quartet, Maria Muldaur, and too many others to mention.
And when Joe's not playing for audiences, he's regaling them with tales told by a gifted raconteur. The man is simply a tour de force!
"Music that's informally made and shared is a hallmark of folk music and it is this spirit of art-making that leads to a more creative life of not just art consumer but art maker as well," said this inspiring music educator.
Experience Joe's family-friendly one-man show on Sunday, Oct. 9, at 4 p.m., at the SLO Botanical Gardens. Tickets are $20, available at slobg.org/Concerts.htm.
For 15 lucky people, Joe will also offer a musical workshop that will unlock your inner performer from 12:30 to 3 p.m. Tickets are $50. Call 541-1400, Ext. 301, to see if there's any space left.

20 years on …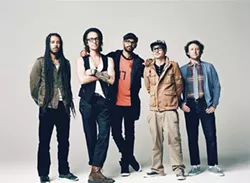 PHOTO COURTESY OF INCUBUS
STILL ROCKIN'! : Incubus, now celebrating its 20th anniversary as well as the release of its seventh studio album, plays Avila Beach Resort on Oct. 13.
It's hard to believe that Incubus has been at it for 20 years. The Calabasas band was formed back in 1991 by then-high-schoolers Brandon Boyd (vocals), Mike Einziger (guitar), and Jose Pasillas (drums), and it grew into a platinum-selling rock act with albums like Make Yourself and Morning View, which contained the band's mega-hit-single "Drive." By the time their sixth album was released, 2006's Light Grenades, it had debuted at No. 1. They followed up with the greatest hits collection Monuments and Melodies, and earlier this summer they released their seventh studio album If Not Now, When?
Somehow in that 20 years, Incubus has managed to stay relevant—no small feat in this Internet-driven, profligate music piracy world, where one-hit-wonders come and go. Their continued success is due to their continuing ability to expand their sound.
You can see Incubus live at the beach on Thursday, Oct. 13, when they perform at Avila Beach Resort. Tickets are available at all Vallitix locations, including Boo Boo Records and the Mid State Fair Box Office, online at vallitix.com, or by phone at 1-888-825-5484. The doors open at 5 p.m.
There can be only one!
The New Times Music Awards judges have spoken, and four contenders—the first place winners in the rock-alternative, Americana-country, blues-R&B, and hip-hop genres—will face off in a special concert on Thursday, Oct. 13, at SLO Brew (6:30 p.m.; all ages; $7 presale or $8 at the door).
PHOTO COURTESY OF JADE JACKSON
CONTENDER! : All four first-place winners in the genre categories of the New Times Music Awards—Jade Jackson (pictured), Briertone, Dr. Danger Band, and Public Defendaz—will face off against one another during a live judged concert at SLO Brew on Oct. 13 to find who will win the Best Live Performance Award.
Briertone, Dr. Danger Band, Jade Jackson, and Public Defendaz will now be judged by a panel of three music industry insiders to find which of these first-place winners will be crowned with the Best Live Performance award.
But that's not all. Concertgoers will also be the first to know who won second and third in the genres as well as the top three songwriters, album of the year winners, and who won the Readers' Choice award. You can also pick up a copy of this year's album with all the winners' songs, buy a commemorative NTMA T-shirt, and enter to win an awesome Ernie Ball guitar.
Come celebrate the Central Coast's crazy-awesome music scene!
Of course, before next Thursday, the Brew has a ton of other shows cooked up for you. For instance, on Thursday, Oct. 6, check out an incredible night of reggae and hip-hop with My Peoples and supporting acts The Mystic Roots Band, KauzaFex, and The Beat Police (7:30 p.m.; all ages; $10 presale or $11 at the door).
On Friday, Oct. 7, trip-tastic Japanese sludge-doom rock trio Boris hits the Brew with Tera Melos (7 p.m; all ages; $14 presale or $15 at the door).
Tailgaters unite, because starting on Saturday, Oct. 8, SLO Brew has something totally new cooked up for you when FM 93.3 KZOZ DJs Jeff and Jeremy present the first ever Cal Poly Tailgate Concert Series. Tailgate with KZOZ at every Cal Poly home football game up to six hours before kickoff! Rock out with live music on the SLO Brew Outdoor Stage and a live broadcast on KZOZ! Here are the rules: Go to Lot H12, enter on Highland, turn left on Via Carta
. It's $10 per spot to park, free to party!
 BYOB ... that's beer and barbecue 
(There will be NOTHING for sale). You must be 21 and older to drink, and all California state laws will be in effect. The University Police will be on site.
Singer-songwriters Rocky Votolato and Matt Pond return to the club on Sunday, Oct. 9 (8 p.m.; all ages; $12).
On Tuesday, Oct. 11, check out reggae act The Green, with Thrive opening (8 p.m.; all ages; $10 presale or $12 at the door). Why the name The Green? As singer-guitarist JP Kennedy explains, "We wanted a name that didn't really point you in any direction. It's just a color; it makes you figure out what you want it to mean."
Tramp's troubadour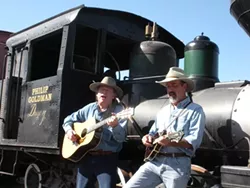 PHOTO COURTESY OF THE CENTRAL COAST RAILROAD FESTIVAL
HOP ON BOARD! : Don Lampson (left) and Peter Morin will perform for the Central Coast Railroad Festival at various venues between Oct. 7 and 9.
Don Lampson has forgotten more railroad tunes than most people will ever learn. The man knows dozens of them, which is why he's the perfect performer for this year's Central Coast Railroad Festival, where he'll offer several acoustic performances of songs centered on "Hobos and Trains" at different venues throughout the county. All are free shows, with the public encouraged to attend!
It starts on Friday, Oct. 7, with a solo show from 6 to 7 p.m. at La Quinta Inn in Paso. On Saturday, Oct. 8, Don appears with Charlie Kleemann and multi-picker Peter Morin at the historical San Luis Obispo Freight House with sets at noon and 1:30 p.m. Later that evening, Don will do another solo show from 6 to 7 p.m. at Quality Suites in SLO. On Sunday, Oct. 9, at 4 p.m., Don will lead the Vigilante String Alliance (featuring Bob Liepman, Julie Beaver, and Charlie Kleemann) at the Sea Venture Inn in Pismo Beach.
All aboard!
Charmer!
PHOTO COURTESY OF MARE WAKEFIELD
ANGEL VOICE! : Mare (rhymes with "very") Wakefield plays The Porch on Oct. 6 and Linnaea's on Oct. 7 to support her new album, Meant to Be.
The charming and talented Mare Wakefield will tour through the area with a couple of shows to promote her new record Meant to Be, which features A-list Americana guitarist Will Kimbrough (Mindy Smith, Rodney Crowell, Billy Joe Shaver) and Austin Music Awards instrumentalist of the year Fats Kaplin (Pure Prairie League, Mark Knopfler, Nanci Griffith). The album was mastered by Grammy-winning engineer Vance Powell (Jack White, Buddy Guy) and features Mare's Great American Song Contest winner "About the War." See her Thursday, Oct. 6, at The Porch as part of Steve Key's Songwriters at Play (6:30 p.m.; all ages; pass the hat) and Friday, Oct. 7, at Linnaea's Café (8 p.m.; all ages; pass the hat).
And while we're on the topic of Songwriters at Play, also take note that "Cowboy to Celtic" duo Small Potatoes is the featured performer at Sculpterra Winery on Sunday, Oct. 9 (1 p.m.; all ages; pass the hat), and at The Spot on Monday, Oct. 10 (6:30 p.m.; $10). The Chicago-based folk duo of Jacquie Manning and Rich Prezioso offers superb musicianship and showmanship.
Then on Tuesday, Oct. 11, check out Tatam at Kreuzberg (6:30 p.m.; all ages; pass the hat). The Canadian newcomer "displays a unique sound consisting of acoustic guitar and vocal melodies that paint a rich portrait of life's light and shadow."

More music …
Brooklyn-based folk-pop group The Go Round is currently on a nationwide tour in support of their new album Eastern Parkway, and one stop will take them to Linnaea's Café on Thursday, Oct. 6 (8 p.m.; all ages; pass the hat). Founded by two lifelong, born-and-raised travelers and now performing as a folk quartet, The Go Round just keeps going around.
There's a rumor there may be some live music up at the SLO Classic Rally vintage bike show on Saturday, Oct. 8, from 9 a.m. to 4 p.m. at 1775 Calle Joaquin, up on the hill near the KSBY station. The event is put on by the Central Coast Classic Motorcycle Club, a group of vintage European bike enthusiasts, and it's part of a weekend-long event that includes rallies and motorcycle luminaries. There'll also be riding and skill contests and vendors. The suggested donation is $10, though military in uniform and kids get in free. Buy lunch for between $8 and $15.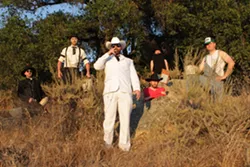 PHOTO COURTESY OF BIG JUGS
GO BIG! : Big Jugs is swinging back through town again to play the Pour House on Oct. 8.
Big Jugs is swinging back through town to play the Pour House on Saturday, Oct. 8, at 8:30 p.m. "We're touring this year with a phenomenal band out of Santa Barbara named the Mutineers, who will be opening our shows for us when we pass through," said band member Matt Sayles.
NYC pianist Cecilia Coleman appears at the Famous Jazz Artist Series at the Hamlet on Sunday, Oct. 9. Regarded as one of the East Coast's fast-rising jazz stars, Coleman will be joined by Central Coast stars Dylan Johnson (bass) and Darrell Voss (drums) as well as series co-producers Charlie and Sandi Shoemake (vibraphone and vocals). There's a 4 p.m. show for $15, a 7:15 p.m. show for $12, or see both for $20. Call 927-0567 for reservations.
Denver-based band Bonnie and the Beard roll into Frog and Peach on Monday, Oct. 10, to support their self-titled Victory Garden Records release, "a collection of musings on wandering, thieves, and fools," they said in a press release. "Their raw energy, husky voices, and songs of starry-eyed rebels conjure up desire for open road and new adventures."
On Thursday, Oct. 13, at Haven Wine Bistro (located at 6155 El Camino Real, next to the Carlton Hotel) you can see The McEuen Brothers (7 p.m.; $15) "playing and singing in harmony the way only brothers can do!" according to promoters. "With their impressive musical talent, stunning vocals, songs, history, and a dash of humor, The McEuen Brothers wow audiences at every show. … Come and see what you're missing! Brothers Nathan and Jonathan McEuen have performed together live more than 1,000 times worldwide. Between the two, they have logged in over 4,000 musical performances and have sold over 200,000 CDs."
Keep up with Glen Starkey via twitter at twitter.com/glenstarkey, friend him at Myspace.com/glenstarkey, or contact him at gstarkey@newtimesslo.com.