PHOTO COURTESY OF LOS LOBOS
NOW EVEN BETTER! : Los Lobos plays the Performing Arts Center on April 1 with New Times' music journalist Glen Starkey (third from left) playing lead guitar and singing lead vocals. How will the wolf survive?
Wow, what an honor! Los Lobos
has asked me to join them on stage this Thursday, April 1
for their 8 p.m. show at Performing Arts Center in the Cohan Center. Ever since they saw me singing along in the audience at the Fremont Theatre during their Kiko
tour, they've had their eye on me. Now it's my time in the spotlight. To say I'm excited would be a gross understatement! I'm freaking out! Whizzing in my pants! But there's more!
Leo Kottke, who's a pretty good guitarist, is also going to be there, and he's asked me to play guitar with him. Me and Leo. The accolades just keep on coming!
I mean, how many lowly small-town music journalists are asked to join East L.A.'s premiere rock band and a world-renowned acoustic guitarist on the same night? Not many, I'd reckon. Just think, me and all these multi-Grammy Award winners. What's next? The Pulitzer? The Medal of Freedom? A date with Jessica Simpson? My own reality TV show?
Los Lobos mixes blues, rockabilly, jazz, Latin, and their own Mexican-American heritage into a career about which Rolling Stone Magazine said, "With the exception of U2, no other band has stayed on top of its game as long as Los Lobos."
And now that I'm going to play with them, who knows how high their career will soar?
And Leo Kottke, widely-known for his innovative fingerpicking style that draws on influences from blues, jazz, and folk music, and his syncopated, polyphonic melodies, is going to sound even better with me strumming along on my student-grade Sigma. Yeah, this is going to be awesome!
Student and adult tickets range from $29 to $48 (756-2787). Throw me some roses, OK? This is my big night!
PHOTO BY GLEN STARKEY
THE KIDS ARE ALRIGHT! : Travis Hawley of PK ignites the crowd at the band's last Downtown Brew gig, where they appear again with The Mighty Fine, Picture Atlantic, and Please Do Not Fight on April 2.
Making the scene
This Friday, April 2 at Downtown Brew is going to be huge! Two bands from what I can't help but describe as a scene that rivals the '90s juggernaut days of Bottle, Rodriguez, Little Wings et al. has been quietly building steam. These bands are on the verge of taking over the world! Or at least the middle coast.
The Mighty Fine is releasing their new CD, PK will be there, as well as one out-of-towner—San Jose's Picture Atlantic—and local up-and-comer Please Do Not Fight (7 p.m.; all ages; $6 presale or $8 at the door). That's a helluva lot of alternative indie punk rock action.
"We're trying to create as much of a buzz about the show as possible," said Mighty Fine drummer Chris Scott. "We're by far one of the hardest working bands in the area. Between all of us working full time, going to school, and doing everything from web design to hand-making our CDs, we still manage time to practice two to three days a week, which means members in the band drive from Paso Robles, San Luis Obispo, and Arroyo Grande, all the way to Santa Maria."
The last time I saw PK, they had the Brew packed to the gills, filled with sweaty, moshing, smiling kids. These kids understand the Internet and social networking, which has allowed them to tap into an audience far beyond their geographic locales.
Said Matt Depaw of PK, "I've been reading interviews with musicians who have made it big and were at one point based out of SLO County. Guys like M Ward, Damon Castillo, and John Anderson of Yes are good examples of people we'd like to learn from. They would mention that no one would
come out to shows in SLO, so they had to go elsewhere like Portland or Seattle to get any scene going. But you know, maybe they weren't trying hard enough. It doesn't take a big city to create strong scene. You just have to give people a good enough reason to spend their hard-earned money. Bands in every city tell us, 'It's a hard scene; kids don't come out.' We say forget that! We're going to MAKE our own scene. That's why we're working so hard to make ticket prices cheaper and promoting in different ways (like playing high school shows). And you know, so far that has paid off really well."
Check out the rest of Downtown Brews' shows at dtbrew.com.
PHOTO COURTESY OF BLACK CROWN STRINGBAND
OLD PROS : On April 3, supergroup Black Crown Stringband plays the Red Barn Community Music Series in the Red Barn at South Bay Community Park.
Hear the Crown
What do great musicians from established bands do when they start to get restless? They form a supergroup, which is exactly what the Bay Area's Black Crown Stringband is.
"Comprised of founding members of the Earl Brothers and the Mercury Dimes, the band first appeared at the 2008 Berkeley Old-Time Convention Stringband Contest where their hard-driving sound earned them first prize," according to the band's press materials. "Black Crown combines the best elements of old-time stringband music and Bill Monroe's 'high lonesome' sound to create a unique fusion that is at once old-school and brand new."
This Saturday, April 3, Black Crown Stringband plays the Red Barn Community Music Series in the Red Barn at South Bay Community Park, Los Osos at 7 p.m. (as usual there's a 6 p.m. potluck; the show's $10 at the door).
PHOTO BY JOHN MELOY
TRUE GRIT : The awesome Kasey Anderson will bring his country rockers and woeful ballads to Steynberg Gallery on April 3.
Raw nerve
On Nowhere Nights, Kasey Anderson peals back the layers of his considerable intellect to reveal a songwriter of incredible depth. Songs like opening track "Bellingham Blues" drip honey-sweet melancholy heartache—hurts so good.
"For almost a decade I lived in this insulated little community," Anderson said of Bellingham, Washington, where he spent eight years before moving back to his hometown of Portland, Oregon in 2007. "I woke up one morning and just knew it was time. I was numb all over. I was just a perpetual fuckup, y'know? Burning everything around me and then wondering why I smelled like smoke. I had to get out."
Anderson can just as effortlessly switch from mournful ballad to a country rocker like "Al Lit Up," which is why it's easy to compare him to Steve Earle, but it'd be a mistake to dismiss him just because he's approaching Earle's greatness. Listening to Nowhere Nights, Anderson's fifth recording, it's clear there's room for both these countrified folk-alt-rockers.
"Nowhere Nights is shorthand for whatever it is people get lost in, or sink into," said Anderson of his album, which he describes as "equal parts charge, benediction, apology and indictment."
See him Saturday, April 3 at the Steynberg Gallery.

More music…
Scots wha' hae! This Saturday, April 3 is National Tartan Day, and the place to be is Paso Robles' Crooked Kilt at 1 p.m. when the Central Coast Scottish Society and Central Coast Pipes & Drums enjoy an afternoon of "haverin' an' Scottish celebrating" as they commemorate National Tartan Day with live Scottish and Celtic music by the Gillie Wheesels.
Jazz, flamenco, and classical guitar fans, don't forget that Robert Earl Longley will perform on Saturday, April 3 from 1 to 4 p.m. at Sculpterra Winery & Sculpture garden during a free show. "Taste through the featured selection of wines while listening to the amazing sounds of this guitar virtuoso," said Kyle Coots. "It is a new American music with the soul of improvisational jazz, but with the dense syncopation and fingering of flamenco that touches you at the core."
Billy Foppiano, aka—the Guitar Wizard, wrote to tell me about his band's next show: "To celebrate Easter weekend, the Mighty Croon Dogs are unleashing some tail-wagging tunes in Morro Bay, on Saturday, April 3. In the afternoon while the Morro Bay Farmers Market is taking place downtown, you can catch the Dogs at the Fuel Dock on Main Street from 3 to 6 p.m. Next it's on to the Otter Rock on the Embarcadero, where the Croon Dogs take the stage from 7 to 11 p.m. for your dancing and sunset-watching pleasure. No cover charge either place. At the Otter Rock, it's owner Jamie's birthday month (gotta celebrate all month when your birthday's on April Fools Day, so stop on by and fool around). And by the way, the Fuel Dock will now be featuring some great local bands every Saturday afternoon during the Morro Bay Farmers Market. And since it's Morro Bay, famous for its hardworking police patrol, always make sure you have a designated driver if you're imbibing!" Thanks, Billy!
Brush up on your salsa moves this Saturday, April 3 at the Inn at Morro Bay when De La Bahia plays from 7 to 10 p.m. All ages welcome. "Come and hear new tunes in the De La Bahia songbook," said ensemble member Michael Raynor.
Duke Ellington! Glen Miller! Count Basie! This Saturday, April 3, take some free swing dance lessons and then practice what you learned when Cal Poly's University Jazz Band No. 1 plays swing-era tunes from 8 to 10:30 p.m. in Chumash Auditorium in the University Union at Cal Poly. The dance lessons start at 7 p.m. Admission to the dance is $10 for the public and $6 for students.
PHOTO COURTESY OF BABYLON SAINTS
THEY'RE MARCHING IN: Babylon Saints—(left to right) Tyler Drake, Joseph "Panhead" Peck, Brandon Petersen, and Matt Gerovac—play April 3 at Frog and Peach and again on April 10 at Mongo's.
Babylon Saints
returns to the area to play a couple shows to promote the release of their self-titled Citation Records debut this Saturday, April 3
at Frog and Peach (10 p.m.) and again on Saturday, April 10
at Mongo's (10 p.m.). The band's got an unusually big sound for a quartet thanks to their island-style mix of Melodica, MIDI keys, and steel drums. Socially conscious lyrics and harmony vocals add to their rootsy sound.
Rock-fusion-funk quintet Crackerjack Highway is zipping down the coast in support of their self-titled debut, a recording engineered and mixed by Jaimeson Durr (The Dead, Gomez, Chickenfoot, David Grisman) at San Francisco's legendary Hyde Street Studios, and the band will hit Mr. Rick's this Sunday, April 4, a free 2 p.m. show. Mixing funk, '70s-era fusion, and classic rock, the band has drawn comparisons to everyone from Radiohead, Parliament, Umphrey's McGee, Steely Dan, and Jeff Beck. Expect originals with select covers of The Beatles, Allman Brothers, Stevie Wonder, and Edgar Winter.
Singer-songwriter Kyle Williams returns to town this Tuesday, April 6 to play the Steynberg Gallery during the 6:30 p.m. Songwriters at Play series ($5; all ages). Williams can sound a bit like Ben Harper as he blends blues, jazz, and folk with a touch of sweet-sounding soul. According to his bio, "His mother saturated him in the sounds of James Taylor, Simon & Garfunkel, John Denver, The Temptations, The Carpenters, Whitney Houston, Carol King, and the like, which have obviously influenced his thoughtful lyrics, approachable melodies, and very conversational style of songwriting.
Dubluva, an original reggae rock band out of San Clemente, is coming to Frog and Peach this Tuesday, April 6 at 10:30 p.m., hot on the heels of their 2009 Jagermeister Music tour with PennyWise and Pepper.
In 2009, Dana Hubbard picked up these awards: 1st Place Winner: Indie International Songwriting Contest; 1st Place Winner: Telluride Blues & Brews Festival; 2nd Place Winner: Utah State Instrumental Championships. Not bad, eh? Now you can see him Tuesday, April 6 at The Clubhouse for the Songwriter Showcase (6:30 to 9:30 p.m.); and next Thursday, April 8 at the Otter Rock Café's Songwriter Showcase (7:30 to 10:30 p.m.)
Elvis fever!
Just so you know, as of last Monday, the Performing Arts Center's Elvis Costello concert was 80 percent sold out, so if you're planning on going, may I recommend you get your ass in gear and buy a ticket. He plays Monday, April 12 at 8 p.m. Tickets for the performance range from $56 to $74 and may be purchased at the Performing Arts Center Ticket Office, 10 a.m. to 5 p.m. weekdays and 10 a.m. to 2 p.m. Saturdays. To order by phone, call 805/756-2787; to order by fax: 805/756-6088. Order online at calpolyarts.org.

Glen Starkey wishes you a hearty April's Fool from the PAC stage. Throw him cyber roses at gstarkey@newtimesslo.com.
CD Reviews

Erykah Badu—New Amerykah Part Two: Return of the Ankh
Erykah Badu is hitting her stride and then some. Slowly moving away from her early Billie Holiday-influenced retro soul, Badu has shaped herself into something immeasurable. Taking the influence of '70s politically minded soul, she swathes her lyrics around her feminist outlook that pendulums from hard-as-a-bayonet, militant tough to mama-butterfly womanly soft. On New Amerykah Part Two, Badu is on an investigation of love and relationship. "Window Seat" is the craving of necessary isolation all women need, to examine themselves, their thoughts, and grow, yet at the same time be missed and yearned for. The closing 10-minute, three-part epic "Out My Mind, Just In Time" meanders from sparse piano solo to wonky, liquidy funk as she moves from being devotional to fleeing. Musically, Badu continues to be spacey and open-ended, with her own jazzy, loose, organic arrangements mixing well with production from Madlib and J. Dilla. She borrows lines from Notorious B.I.G. and will suddenly drop the pitch on her vocals in honor of DJ Screw. Badu has stretched soul to include her wide influences, thus creating a hopeful blueprint from the redundancy of most of her contemporaries.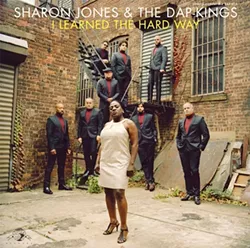 Sharon Jones & The Dap-Kings—I Learned The Hard Way
Sharon Jones is our Ms. Dynamite Soul. A spark plug of three-octave power, she's built like a tank and hits the stage with adrenalized hysteria. And with her backing band, the Dap-Kings, replicating the musical references of the sweet blare of Muscle Shoals horns, the sultriness of Memphis soul, and the clean, sophisticated Motown backbeat sound, the formula is impressive and unmatchable. With their latest album, I Learned The Hard Way, gone is the super-heavy James Brown funk. Instead, the timeless sentiment of heartbreak, infidelity, and impoverishment is filtered on steamy ballads and mid-tempo grooves. "Money" name-checks Wall Street, gas-prices, and folding banks in a muscular groove recalling the O'Jays similar tale. "Without A Heart" flirts with the Chicago-soul of Mayfield's Impressions, while the blues promenade stroll "Mama Don't Like My Man" is stripped-down to guitar and handclaps, giving you a clear perception of Jones' husky gospel voice.
—Malik Miko Thorne, of Boo Boo Records and mikovision.blogspot.com, where you'll find archived reviews and soundclips.