PHOTO COURTESY OF THE WHIPSAWS
BUNDLE OF AMERICANA ROCK! : Alaska's The Whipsaws bust out the alt.country and rock'n'roll on May 16 at Downtown Brew with local opening acts Derek Senn and Butch Boswell.
In 1867, United States Secretary of State William H. Seward offered Russia $7.2 million—or two cents per acre—for Alaska. The Russians took the money, probably wasting it on vodka, pickled herring, and fur hats. Still, many Americans weren't happy about it, calling the purchase "Seward's Folly." Thirteen years later, gold was discovered. In 1959, we made it a state. Today, most of America's crab and salmon is fished from its waters. It also accounts for 25 percent of the oil produced in the U.S. Those Russians were suckers after all. Take that, Ivan!

Another Alaskan export is heading our way this week: The 49th state's most popular bar band, The Whipsaws, who play Friday, May 16, at Downtown Brew with local opening acts Derek Senn (of the Wedding Industrial Complex) and Butch Boswell (formerly of Virgil Cane and The Muses).

Alaska is huge—you can fit Rhode Island into it 425 times; it's over twice the size of Texas. If you superimpose a map of Alaska over a map of the U.S., Alaska reaches from coast to coast; if you made a circus tent out of it, and God was an elephant, God would fit inside. The Whipsaws have logged those many, many miles across the frozen tundra, turning up in hole-in-the-wall, smoke-filled saloons and playing concert halls and theaters, building fans in the state's rough-and-tumble milieu—the last American frontier.

The Whipsaws lay down what is best described as countrified Americana rock'n'roll; you'll hear twang mixed with crunching guitars, lap steel backing anthem rock. The band's 2006 debut album, Ten Day Bender, set the critics atwitter. Americana UK declared it "amazingly diverse and accomplished for a debut." It climbed the charts, setting the stage for 2007's 60 Watt Avenue, with a guest appearance by Tim Easton (New West Records). Mixed by renowned engineer/producer John Agnello (Son Volt, The Hold Steady, Sonic Youth), the new recording featured a big driving rock'n'country sound, and sent the band touring the lower 48.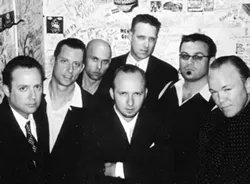 PHOTO COURTESY OF ROYAL CROWN REVIEW
JUMP START YOUR SATURDAY : Jump blues and swing jazz proponents Royal Crown Review play Downtown Brew on May 17, with local roots rock faves The Hydramatics opening.
Mix these nanooks with local heroes Derek Senn and Butch Boswell, and you've got yourself quite a little party this Friday.
"I'll be opening acoustically, and Butch Boswell will be opening electrically," said Senn.
Boswell, who's been in self-imposed exile since opening his own guitar shop, is finally getting around to playing some music again, but he's shed his band Virgil Cane. "It's not Virgil Cane any longer," he said. "I've finally got to a place where I know how I want my music to sound, and I'm pushing hard for that. Totally different lineup and a much different sound as well. More melodic, and less over-the-top rock."
There you have it, folks: my pick for the best gig of the week. Tickets are $6 advance or $8 at the door.


There's something about Mare
Mare (rhymes with very) Wakefield is an absolutely brilliant singer-songwriter, and on her newest CD Ironwood, she finds herself in the same league as Natalie Merchant, Maria McKee, and Shawn Colvin—namely creating beautiful, organic melodies that move like a summer breeze through the folk forest of American music.

Yet despite her gorgeous voice and stunning looks, there's a hard little cookie underneath. In "Enough Bad Love," she calls out all liars. In "Pretty Little Bird," a mother saves her daughter but pays a high price. "Slimeball" features a gun-toting girlfriend. A barfly finds men expendable in "Whiskey Does it Better." Ironwood indeed!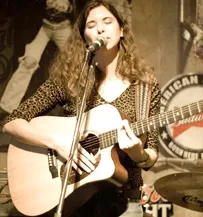 PHOTO COURTESY OF MARE WAKEFIELD
ASS-KICKING GODDESS: Singer-songwriter Mare Wakefield sings songs about tough women on May 16, at Linnaea's Cafe
Witness the miracle that is Mare Wakefield on Friday, May 16, at 8 p.m. in Linnaea's Caf». Swing this!
On the Royal Crown Review's Myspace page, their motto is "ass-kicking the 'neo' out of swing," which ostensibly means "If you think this is boring jazz music, you're an idiot."
Formed in 1989, the band helped inject a contemporary sensibility into the jazz swing revival that also featured such bands as Big Bad Voodoo Daddy, Squirrel Nut Zippers, Lavay Smith & Her Red Hot Skillet Lickers, The Brian Setzer Orchestra, and Cherry Poppin' Daddies. And if you thought the Louies, the original jump blues kings Louis Prima and Louis Jordon, were hot-jumping swing blues champs, wait until you get a load of these guys!
Royal Crown Review plays Saturday, May 17 at Downtown Brew with root rockers The Hydramatics opening the 8 p.m. show. Tickets are $15 advance at Boo Boo's and the venue, or $16 at the door.


Return of the love gun
On the cover of Anchors & Anvils, raven-haired beauty Amy LaVere grips a diamond-encrusted semi-automatic handgun, and on the album's first track, she sings about a woman who killed her lover, lamenting in the refrain, "Killing him didn't make the love go away." With apologies to Paris Hilton, that's HOT!


PHOTO COURTESY OF AMY LAVERE
REVERE LAVERE! : On May 20, indie pop, gypsy, country, jazz, torch song, kitchen sing sweet thang Amy LaVere returns to The Steynberg Gallery.
"It's totally a love song," insisted LaVere. "I'd seen a woman on the news who'd just murdered her husband of 30 years. As they're leading her away in handcuffs, she's screaming, 'Killin' him didn't make the love go away!' And I thought, 'My God, if that's not a statement of devotion.'"
LaVere is the same sweet-voiced powerhouse who played rockabilly queen Wanda Jackson in the Johnny Cash bio-pic Walk the Line and had a part in the critically acclaimed Black Snake Moan.
This Tuesday, May 20 marks her third return to SLO County, bringing her back to the venue that started it all, the Steynberg Gallery, for a 7:30 p.m., $15 concert. Buy your tickets at the venue.


More music…
Music tames the savage beast, right? So can someone please get Bush and Cheney to the Pavilion of the Performing Arts Center on Friday, May 16, at 8 p.m., to listen to Cal Poly's Arab Music Ensemble as they perform traditional and contemporary music and dance from the Eastern Mediterranean and larger Middle East? Please! The 25-member ensemble is under the direction of Music Department faculty member Kenneth S. Habib, a composer and performer who earned a PhD in ethnomusicology. Two selections on the program—"Dulab Hijaz" and "Samai Hijaz"—were composed by Habib. Tickets are $10 ($8 for seniors and students); call 756-2787.

The Red Barn Community Music Series has all-female old-time music sirens The Stairwell Sisters coming to Los Osos's Red Barn this Saturday, May 17. The group is comprised of career women, organizers, activists, and mamas; making ends meet working and living in San Francisco. They also happen to crank out acoustic, old-time music with a punk-rock intensity. The show begins at 7 p.m.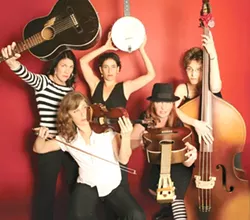 PHOTO COURTESY OF THE STAIRWELL SISTERS
REIGNING WOMEN: The Red Barn Community Music Series has all-female, old-time music sirens The Stairwell Sisters coming to Los Osos's Red Barn on May 17.
with pot luck supper and pot luck band beginning at 6. A $10 donation is requested at the door.
Paso Robles hipster alt rockers Bonnie Dune bring their totally infectious indie rock to Monteleone's Rock this Saturday, May 17 at 8:30 p.m. The quintet's hook-laden songs will have you bopping. Check out their Myspace at myspace.com/bonniedune for a taste.
Siko was recently voted Best Garage Band in the 2008 New Times Best of SLO County Reader's Poll, so you like them, you really like them. Prove it by heading to O'Reilly's on Saturday, May 17 to see them before they depart for a national tour! Grover Beach party animals Malo Culo will open the show. Doors are at 8 p.m. Tickets are $4 in advance or $5 at the door.
Dallas-based The Backsliders, described as "Cat Von Dee meets a non-coked-out Amy Winehouse beauty," are on tour for their June 3rd release of You're Welcome. They appear Saturday, May 17 at Frog and Peach. If the songs on their Myspace are any indication, this show will rock!
Saxophonist Gary Foster and pianist Tom Ranier headline the next concert at the Famous Jazz Artist Series at the Hamlet in Cambria this Sunday, May 18. Foster and Ranier are two of the West Coast's most prolific Hollywood recording studio artists and are equally celebrated in the jazz field. Local bass star Dylan Johnson and former Ray Charles drummer Paul Kreibich, along with concert co-producers Charlie and Sandi Shoemake, will join in. There's a 4 p.m. show ($15) and a 7:15 p.m. ($12); or see both for $20. Call 927-0567.
PHOTO COURTESY OF BONNIE DUNE
PASO JUST GOT COOLER : Paso Robles hipster alt rockers Bonnie Dune bring their totally infectious indie rock to Monteleone's Rock ON May 17.
The '80s called and they want their band back. No, seriously. Strength has got the "geek cool" thing down to a science, and on their new EP Wilderness, a follow-up to their disco-rrific Going Strong, the Portand-based trio busts out five killer dance tracks that should have the microscopic dance floor at Frog and Peach buzzing with club-hoppers. Bust out your platforms and polyester for a 10 p.m., Sunday, May 18 show.
Skate rat turned singer-songwriter Matt Costa returns to the area with a concert at the Graduate next Tuesday, May 20. Some of you may remember he popped into town a few months ago to play a free in-store show at Boo Boo's to promote his new album Unfamiliar Faces. That intimate concert whet a few whistles and now Otter Productions, Inc. is ready to unleash the full Costa experience with a 9 p.m. show (doors at 8; advance tickets are $16 at all Vallitix locations including Boo Boo's, or $20 at the door.)
Port O'Brien's new CD All We Could Do Was Sing is out now and available at Boo Boo Records, and if you buy one, you'll get a free ticket to the band's CD release party scheduled for Thursday, May 22 at Retrospect Gallery (672 Higuera St., SLO), unless a thousand people buy one. In that case, some of you will have to stand in the street. The all-ages show starts at 8 p.m.
Anthony Smith's Trunk Fulla Funk—featuring members of the Karl Denson Trio, On The One, and Signal Path—hits Downtown Brew next Thursday, May 22, touring in support of their debut studio album Life As We Know It. Mark those calendars! Tickets are $8 in advance or $10 at the door.?
CD Reviews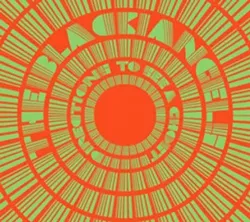 Black Angels—Directions To See A Ghost

With their sophomore release, The Black Angels still mine from noir psychedelic corners of rock'n'roll, holding up fist-sized jewels that are dazzling even in their supreme ruggedness. You'll feel like you've been sucked into the middle of a hypnotic spiral as you succumb to layers of repetitive fuzz guitar droning away. But cavernous booming drums, their insistent propulsion, keep everything moving with a brute strength of John Henry steel-driving hands. With vocals that seem stolen from Jim Morrison larynx, this is the satisfying dream team of Velvet Underground's blistering noisiness ratcheting up the Doors spooky Moog and druggy allusions. "Deer-Ree-Shee" furthers your trance with a sitar drowning in a reverb ocean, and "Never/Ever" practically implodes from knob turning oscillation that peaks into a noise feast or mess, depending upon your appetite. Ending the whole affair with the 16-minute epic "Snake In
The Grass," this is rock'n'roll at its fullest and most exhausting.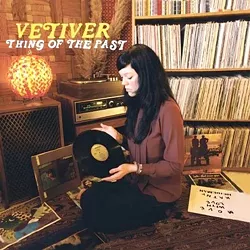 Vetiver—Thing Of The Past
Vetiver arrived on the musical scene just as the world grew arms to hug the eccentric folk nature of Devendra Banhart's mantra-like hymns and Joanna Newsom's classical harp repertoire. Though not nearly as obscure in sound, Vetiver front man Andy Cabic pokes around the outer margins of the folk movement, preferring the psych-folk heritage of the Incredible String Band to the campfire "Kumbaya" folk of Pete Seeger. On Thing Of The Past, Andy assembles an album of covers, ranging largely from personal heroes (UK "freak folk" godmother Vashti Bunyan and Woody Guthrie disciple Michael Hurley) to thrift store vinyl finds (Dia Joyce's track "Sleep A Million Years"). Finding a happy medium between the softer edges of Neil Young and Jerry Garcia at his mellowest, Vetiver have perfectly crafted your next road trip mix tape, ending it with beautiful rendition of Bobby Charles pastoral homage "I Must Be In A Good Place Now."
—Malik Miko Thorne, of Boo Boo Records and KCBX's "Night Train."
---
Glen Starkey laughs at his problems! And why not? Everybody else does. Send him a snicker at gstarkey@newtimesslo.com.