Gather 'round, little children, and let me tell you a story. Look over your shoulder to make sure your mom's not spying on you, otherwise she might snatch this paper out of your hand. Are you safe? Okay. Here goes.
About a year or so ago, a certain someone convinced me to take
PHOTO COURTESY OF FRESH KID ICE
BIG BOTTOMS! : 2 Live Crew founding member Fresh Kid Ice will be laying down the law, while backed by a couple of booty shaking mamas, on May 14 at Downtown Brew.
# her to Deleo's Red Fox the disgraced Grover Beach bar to see 2 Live Crew the disgraced sexed-up "Nasty as They Wanna Be" rap group.
To call it a spectacle is an understatement. A little ways into the performance, a couple of I don't want to say hootchie mamas, so I'll call them dancers came out and started shakin' their barely covered groove thangs to the music. Toward the end of the set, the I don't want to call them strippers, so I'll call them exotic dancers were suddenly topless.
You see, it's about the music, little children, and in 2 Live Crew's world, music equals booty and boobies. And that's fun, because it's wrong, and being wrong feels so right! Ask around. Anyone will tell you as much.
Well, little children, if you happen to be 21-and-older or have a killer fake ID, you can witness the spectacle that is 2 Live Crew when they return to the Central Coast for a performance at Downtown Brew on Monday, May 14 (8 p.m. $10 at Boo Boo's).
Technically speaking, this isn't your parents' 2 Live Crew. In fact, it's really The X-Rated Rydas, which is Fresh Kid Ice (aka Chris Wong Won, founding 2 Live Crew member), who's carrying on the g-stringed torch of the Crew. The ensemble also includes Fish-N-Gritz and Sean Juan and presumably a couple of, um, oh hell, nasty hootchie mamas. Bring it on!
Blast off with the Blasters!
Formed in Downey way back in 1979, The Blasters ushered in an
PHOTO BY GARY LEONARD
AMERICANA ROCKERS : The Blasters, who had to cancel an earlier show, hit Downtown Brew on May 10.
# American roots music revival that other bands have continued to jump on through the decades. But I gotta say, it's hard to be the originals (well, the new originals since they were reviving an older genre, but let's not get too nitpicky, shall we?).
The band still features Phil Alvin, though brother Dave has set off on his own successful solo career. But Phil and company can still race though some hard-driving rockabilly, country, blues, and R&B like devils with their hair set on fire. They can also deliver low rumbling thunderstorm-like ballads.
Prepare yourself for The Blasters on Thursday, May 10, at 8 p.m. at Downtown Brew with local act The Hydramatics opening the show. This is a 21-and-older, $13.50-advance show (at Boo Boo's).
Bluegrass epicenter!
Barring an earthquake, Parkfield won't rock'n'roll this Mother's Day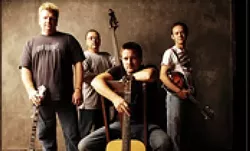 PHOTO COURTESY OF NEW FOUND ROAD
HIT THE ROAD : New Found Road is one of 10 bands playing Parkfield May 10 through 13 for the Parkfield Festival.
# weekend, but it will be filled with the high lonesome sounds of bluegrass when New Found Road, High Country, and 10 other groups take the stage during the Ninth Annual Parkfield Festival Thursday through Sunday, May 10 to 13.
The acoustic-style, family-oriented bluegrass music that originated in the southeastern United States in the early part of the 20th century will be on display amid workshops, tent and RV camping, jamming, barbecuing, vendors, Sunday morning gospel music, and crafts for kids.
Adult festival ticket prices range from $15 to $30 for single-day admission, with discounts available for advance ticket sales. Seniors get $5 per day off, kids are free, and teens are half price. Camping cost ranges from $8 to $12 per unit, per night, with discounts for multiple nights.
For directions and complete information, contact Joe and Darlene Quealy at 937-5895 or pkfieldbluegrass@aol.com or Ed Alston at 720-2427.
Have a Ball!
Think of Marcia Ball as the female Dr. John. Sure, she's a lot thinner, a lot hotter looking, and a helluva lot more female, but if you like ass-kicking Louisiana R&B, Texas blues, and Gulf Coast swamp pop, whoaaaa baby she's all right.
PHOTO BY MARY BRUTON
LET THE GOOD TIMES : ROLL If you like ass-kicking Louisiana R&B, Texas blues, and Gulf Coast swamp pop, check out Marcia Ball on May 12 at "Jazz & Blues Rock Morro Bay," a daylong music event.
# She recently released her first live album, appropriately called Live! Down the Road, and it's a ripping set of piano-driven boogie that's equally filled with nasty guitar licks, fat horns, and Ball's gutsy vocals. When she launches into "Just Kiss Me," it feels like a simmering South Carolina summer night. You can feel the sweat dripping down the small of your back and see the fireflies glowing off and on, hear the creak of a porch swing, think about making slow love.
The CD traverses the length and breadth of her 30-plus year career, from the rollicking "La Ti Da" and "Crawfishin'" to newer material like jump blues number "Louella." It's a great way to dig the vibe of a Marcia Ball performance. Here's a better way: Come to the Second Annual "Jazz & Blues Rock Morro Bay," a full day of music with plenty of food, drink, and fun, set for Saturday, May 12, from noon to 7 p.m. in the 714 Embarcadero parking lot, across from Rose's Landing. The bill includes Cuesta College's Jazz Band, Aja Vu, and headliner Ball.
There'll be beer and wine, barbecue, and other retail vendor booths.
Tickets are $15 and can ordered by contacting the Morro Bay Chamber at 772-4467.
Hot Texas night
Texas guitar legend Andrew "Jr. Boy" Jones' new live CD begins with an emcee intoning, "There are a few things hotter than a Texas summer night, and you're gettin' ready to witness one." From there, Jr. Boy launches into a ripping set of Texas blues, which is exactly what he'll do at the next SLO Blues Society show on Saturday, May 12, at the SLO Vets Hall.
Boy began working professionally at age 16 with Freddie King's
PHOTO COURTESY OF WOO
DANCE LIKE NO ONE IS WATCHING: Every Sunday, including May 13, a free form dance session called wo÷! happens at the Monday Club. Get your groove on!
# Jr. band, the Thunderbirds, and contributed to King's Larger than Life album. In the '70s and through most of the '80s, he played guitar with a variety of Dallas-area vocalists, including Bobby Patterson, Johnnie Taylor, and Charlie Robertson.
In the late '80s, he moved to California where he performed and toured with Katie Webster and Charlie Musselwhite. He was the guitarist on Webster's critically acclaimed Swamp Queen Boogie, and he led Musselwhite's band for eight years and shared in the honor of winning Band of the Year at the 1995 W.C. Handy Awards.
In the mid-'90s, Jones returned to Texas to form his own blues band and received a W. C. Handy Award nomination for his guitar playing.
Blues DeVille playing Delta blues, Chicago blues, Texas boogie, and R&B-funk will open the 8 p.m. show. Tickets are $20 at the door, $17 for members. You can volunteer and get in free by calling 541-7930.
Out with the old, in with the woo!
Dance Church was sheer genius, a weekly dance event where participants were invited to "dance like no one was watching." It was a two-hour whirling dervish fest of writhing, leaping, wriggling bodies grooving to music either live or recorded in a friendly, nonjudgmental environment. It was also a great workout. And it's become so popular that organizers have had to move it to the new venue: SLO's Monday Club.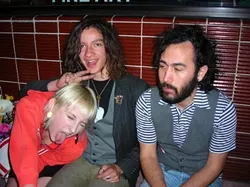 PHOTO COURTESY OF BLACK SHIRTS
SO GOOD YOU WILL WANT TO THROW UP : New local act the Black Shirts plays May 15 at the Steynberg Gallery.
# Well, new venue why not a new name? So Dance Church (with all those unsavory religious connotations) is now wo˜!
Imagine a sea of swaying bodies exploring free-form improvisational movement to dazzling and diverse music from around the world, two hours of playful, artistic, safe, non-verbal space where communication manifests through gesture and movement. It's about building community without words.
No experience is required for the weekly events, starting Sunday, May 13, from 10 a.m. to noon, with a gathering for teas in the Monday Club's lovely back garden following each session. Cost is $15 for a single entry, $50 for a five-card pass, or $8 forÜstudents and seniors.
YUM Session, Dylan Johnson, Inga Swearingen, Darrell Voss, Timo Beckwith, Human No Longer, and Scott Andrews will supply rotating live music at the events, as will DJ Dragonfly, DJ Activ8, KCBX's Night Train DJs Manuel and Malik, and KCPR's Urban Landscapes DJ Velanche.
Rock'n'country
Cross Canadian Ragweed is a bit like Donnie and Marie Osmond: a little bit country and a little bit rock'n'roll. Of course, that's where the comparison ends, because the killer quartet isn't Mormon, square, or fond of matching polyester outfits.
Lead singer Cody Canada, rhythm guitarist Grady Cross, drummer Randy Ragsdale, and bassist Jeremy Plato are lifelong friends who spent years developing their sound in Stillwater, Okla., before becoming kings of the Red Dirt and Texas music scenes. The 24,000 fans who showed up for Ragweed's Lone Star Park performance last year (beating Willie Nelson's longstanding record) were proof that the band's got a serious fanbase.
Okay, Cross equals Cross, Canada equals Canadian, and Ragsdale equals Ragweed. What's up with Plato? Maybe they figured Cross Canadian Ragweed Platypus was too long a name.
Anyway, the group recently released Garage, a CD/DVD two-disc combo that's a jangly, Americana frolic through dark narrative places made up of one part twang and one part smokin' rock'n'roll.
See them on Wednesday, May 16, at 8 p.m. in Downtown Brew. Tickets are $16 advance (Boo Boo's) or $20 at the door. Mickey & The Motorcars open the show.
More music
The Cyrus Clarke Expedition is coming to M?sica Del RÃo House Concerts in Atascadero for one show on Friday, May 11, at 8 p.m. Clarke's compositions have been recorded by Kate Wolf, David West, Mike Mullins, and Phil Salazar, and he was a founding member of both The Cache Valley Drifters and The Acousticats. For information, reservations, and directions, call 466-6941 or visit musicadelrio.org. Reservations are required.
SLO Folks has a special treat lined up for you when Moira Smiley & Voco play Friday, May 11, at Coalesce Bookstore (772-2880) in Morro Bay at 7 p.m. and Saturday, May 12, at Castoro Cellars (238-0725) in Templeton at 7:30 p.m. (each show costs $20). At the tender age of 15, Moira was heard on Garrison Keillor's Prairie Home Companion, and by college age, she was featured in a New York concert at the Lincoln Center's "Great Performers" series. Last year, Voco was a crowd favorite at the Live Oak Music Festival, playing original music with roots in the wild dance-song of Eastern Europe and the sweet lonesome tunes of Appalachia.
Because it's a steady thing, it's easy to forget there's live music every Friday and Saturday night at McLintocks in Shell Beach. Here's your reminder. Guitarist Gordon McKinley, who began playing there last fall, has started to bring a bassist with him on the second and fourth weekends of the month. When Cliff Marshall joins McKinley, as he will on Friday and Saturday, May 11 and 12, they'll be billing themselves as Crossroads and playing traditional country and old time rock'n'roll, including the music of Hank Williams Sr., George Straight, the Beatles, and Elvis. See them from 5:30 to 10 p.m., and have a steak and a Bloody Mary for kicks.
The Cal Poly Arab Music Ensemble will perform traditional and contemporary popular music and dance in its first solo concert at 7 p.m. on Saturday, May 12, in Room 218 of the Davidson Music Center on campus. The instrumental and vocal selections were chosen because of their popularity and familiarity within Arabic-speaking societies, thanks to such singers as Fairouz, a Lebanese "superstar," and Umm Kulthum, the "diva of Egyptian music." Admission to the recital is free. For more info, call 756-2406.
Folkies Steve & Elizabeth
will play a blend of blues, country, and folk during a new wine release at Cass Winery (7350 Linne Road, Paso Robles) on Saturday, May 12, from noon to 3 p.m. The performers' The Troubadour and Cobblestones CDs will be available.
New Tomorrow is the most tireless punk outfit in the world, a group of guys who will set out on a national tour in a broke-down van with 50 bucks among them: fearless! On Sunday, May 13, the band begins its sixth U.S. tour with a kick-off show at their old stomping grounds, Downtown Brew. "We want to get the word out so people know we're a dedicated functioning band," said lead singer Brandon Wood. "It just seems punk rock bands don't get much of a voice in SLO." That's the word. Now hit the road, never shower, and sleep in your van like good hardcore punk rockers. This 7 p.m., all-ages show costs $9 and features opening act The Stakes.
The Pat Cormick GroupÜwill be joined by L.A. entertainer/vocalist Rick Jarrett on Sunday, May 13, during an 11 a.m. to 2:30 p.m. Mothers' Day brunch at The Inn at Morro Bay. Reservations are strongly recommended by calling 772-2238, Ext. 1706. Cormick and Jarrett are also scheduled to play Paso's Papa Tommy's Pasta House on Saturday, May 12 and 26, from 6 to 9 p.m. Call 227-6363 for reservations.
Nevada City folk singer Alela Diane comes to the Steynberg Gallery on Tuesday, May 15, courtesy of Pocket Productions. "She's friends with Mariee Sioux and came down with her on the Grassroots Family tour earlier this year," said concert organizer Graham Culbertson. The Dodos from the Bay Area as well as Kenny from The Attractives, who has a new band called the Black Shirts, will also play. Learn more about all the artists on myspace.com/alelamusic, mericlong, or dieblackshirts. The all-ages show starts at 7 p.m. and costs $8.
Local rockers Axia will play a CD release party with Siko at Downtown Brew's next Grassroots Tuesday, May 15. It's only $2 to get in and $1 pints. I'd tell ya all about Axia's new album, but they didn't send me one yet.
And the winners are
Retired prison guard Don Lampson and college student Michael Shelton were the top award winners at the West Coast Songwriters (WCS) Showcase competition held May 6 at Linnaea's Cafe. The event was the debut of a new monthly showcase series, which includes an open mic for songwriters, composers, and poets, as well as a song contest for WCS members. A total of 18 performers filled the three-hour show, emceed by KCBX's Minstrel Song Show host Sonnie Brown.
Lampson, of Santa Margarita, won "Best Song" for his humorous waltz, "Bakersfield Girl," which appeared on his Years and Miles CD, a collection of songs written, as Lampson says, "throughout my rambles as a beach bum, factory hand, soldier, lumberjack, on into the newspaper biz, and finally as a prison guard."
Shelton, an Orcutt resident, played in the modern "acoustic-pop" style of his musical heroes Ben Harper and Elvis Costello, and was named "Best Performer" of the evening. The full-time Chapman University student is the sales director for CFS Products, Inc.ÜHe and his wife Susie produce a concert series called The Acoustic Lounge at the Town Center in Santa Maria.
WCS member Steve Key of Pismo Beach is the manager of the San Luis Obispo showcase. Professional songwriters Doug Clegg of Santa Barbara and Jill Knight of Cambria were the guest judges for the May 6 showcase. The next showcase, set for Sunday, June 3, will feature as judges Cliff Stepp, local blues performer and wine marketer, and Bent Myggen, a Denmark native who's recorded and published more than 300 songs. ?
Glen Starkey wrote a little song called "Take That, Aerosmith!" Kiss him with those big lips of yours at gstarkey@newtimesslo.com.
---
CD Reviews
---
Electrelane No Shouts No Calls
With their last album, Axes, the female UK quartet Electrelane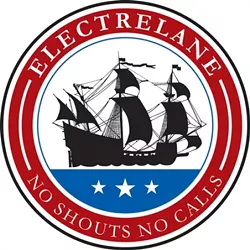 # stepped away from the charming pop of its astonishing second album, Power Out, by revealing and reveling in the dissonance that was always just a finger scratch beneath the surface. Their love of angular British post-rock extended into feisty Krautrock jams and smothered with skronky saxophone and piano-down-a-staircase pounding: a recipe any Sonic Youth fan could admire. Now, returning with their fourth album, No Shouts No Calls, they've once again shown restraint, yet still pursue all of their compositional chamber rock influences. The surging pulse of lock-grooved drumming still prevails as much as their layered harmonizing, power guitar outbursts, and the noodling on vintage Farfisa keyboards, all of which shine within the gorgeous clamor of "Between The Wolf And The Dog."
If you still prize your old Can and Neu albums, you'll be doing yourself a big favor in discovering these English ladies.
Malik Miko Thorne, of Boo Boo Records and KCBX's "Night Train."
Pink Martini Hey Eugene!
The early '60s snapshot of a cigarette-flicking, freshly made-up,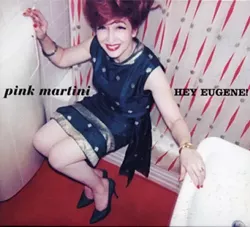 # and party-outfitted redhead should clue you into the mind frame of the Pink Martini's new album, Hey Eugene!, and their signature sound: an orchestrated prelude to a night out culled from yesterday's jukebox. The dreamy, string-glistening, and soft vocal opening track "Everywhere" recalls MGM's golden era with its rich melody, something Dorothy would have cooed to a distraught Toto. The upbeat starts with Carmen Miranda's 1934 rumba "Tempo Perdido," then continues to hopscotch across the globe for its playlist. "Taya Tan" is a sultry Japanese nugget that envisions James Bond at play in the Orient, and with a 25-member choir, Pink Martini translates the Arabic number "Bukra Wba'do" into a Rodgers and Hammerstein show tune, without the slightest hint of schmaltz. Billie Holiday's favorite vocalist, Jimmy Scott, closes the night with his baby soft whispering soprano that practically seduces those high heels off of you.
Malik Miko Thorne, of Boo Boo Records and KCBX's "Night Train."