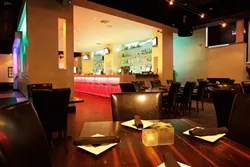 PHOTO BY STEVE E. MILLER
PULL UP A CHAIR : The Dining room at Native Lounge next to Mission Plaza in SLO now offers an alternative to cozy sofa seating.
After hearing about the new menu at Native Lounge recently from Sean Faries, co-owner and manager of his family's restaurant in their historic downtown building in San Luis Obispo, I admit I had to admire the young restaurateur for his resilience: he totally went New York City style when he redesigned the former Mission Grill and introduced Native Lounge in early 2008, a new concept for SLO in drinking and dining. The building has been owned by his family for a decade, but when Faries opened it as a contemporary new nightclub scene, it was received with great fanfare.
That was 21 months ago before the recession put the skids on extravagant spending for the exclusive wines he carries, like Dom Perignon 2000 and Louis Roederer Cristal 2002 Champagnes, at $260 and $560 a bottle, respectively. Attractive as the lounge and restaurant is for a younger crowd, Faries heard from many San Luis Obispans that they preferred a traditional style dining room. He listened and now he has brought back "The Dining Room at Native Lounge," to remind locals and tourists that it's a destination among its peers in SLO's downtown dining scene.
SUPPORT A GOOD CAUSE—EAT OUT SAVE LIVES:

Friday, Dec. 4

If you've wanted to do something to help SLO County citizens who live with HIV or AIDS, the good people at the AIDS Support Network (ASN) of San Luis Obispo County have a simple answer: Eat Out Save Lives. You can make a real difference simply by dining at one of our community-minded restaurants for a bite to eat, whether it's coffee and dessert or a multi-course gourmet meal, and 10 percent of the day's proceeds will go to ASN to stock their pantry with food and toiletries to aid SLO County citizens living with HIV or AIDS.

ASN created this special one-day event to help stock their larder for the upcoming year. In these difficult economic times, they're busier than ever helping feed those in need. Dine at any of the participating restaurants at breakfast, lunch, or dinner on Dec. 4 and they'll donate 10 percent of their profits to ASN. I commend the participating restaurants for their heartfelt generosity. Every little bit helps even if your budget is tight. The purchase of a cup of coffee or a sandwich to go makes a difference for these restaurateurs and ASN.

To our restaurateurs who don't yet know about this event, I ask you to join your peers Dec. 4 in funding Eat Out Save Lives, in honor of World Aids Day. Like last year, it will include restaurants across SLO County. Come back to Cuisine Dec. 3 for the full list of participating restaurants assisting Eat Out Save Lives. In the meantime, visit asn.org for more information on how you can help them year round.
When I visited last week to try the new menu with my longtime friend Charlie Bowler and his girlfriend Heidi Crawford, we found Faries had kept the old favorites and added some tasty new additions. We all loved the starters: the spicy ahi tartare tacos with Napa cabbage and ponzu sauce ($9); the white truffle Parmigiano fries ($6); and I particularly enjoyed the ceviche with fresh marinated halibut, salmon, and ahi, topped with a delicate avocado mousse and the addition of crispy tortilla strips ($8), all of which were reasonably priced.
I like the fact that nothing seems to faze Faries: if one concept isn't working, this savvy restaurateur simply goes with the flow and comes up with another good reason for drawing locals in to dine there. But unlike those business types who are in it strictly for the money, Faries puts his heart and soul into his family-owned restaurant by continually offering good food and beverages, and good times.
"People are cutting back, but they need some relief so they're dining out on a Friday or Saturday night. Our lounge is busier now than ever, but people prefer a traditional style of dining," Faries pointed out. "Adding a (traditional) dining room was always in the back of our minds. We gave the lounge style concept an opportunity to work in SLO but the best opportunity for our food to excel is a combination of both."
Faries redesigned one section of the interior by bringing back the traditional tables and chairs you'd expect, while keeping other areas furnished with the comfortable sofas and low tables originally designed for the lounge. He consulted with local experts (which included his friends in the business) in changing the cuisine and service, and re-trained the staff. Faries kept long-time favorites like the special weekday events: industry night on Tuesdays and 65-cent oysters on Wednesdays; and he plans to bring back lunch and their popular Sunday brunch.
TRADITION IS BACK: Native Lounge, 547-5544, is located next to Mission Plaza at 1023 Chorro St. in downtown SLO.
For most of us, dining out is not just a matter of filling the void in our belly, it's as much about the entertainment. We want the thrill of dining out and experiencing dishes we can't make at home (or can't be bothered making because of the multiple steps required), and the fun of enjoying them among friends in a cool ambiance. Still, at Native I don't think it's the ambiance that will make locals think first of dining here, it's the cuisine. The topping on this treat is the fact that Faries has kept the entrée prices below $20, and the still wine prices below $40 per bottle.
Native certainly hasn't lost its romantic ambiance, but the new dining room makes it much more appealing to an array of tastes for every age group. At dinner with my friends, we shared three tasty entrées: the Meyer lemon roasted chicken breast with house-made lemon-chive gnocchi and forest mushroom cream sauce ($17); smoked black pepper ahi salad with spinach, jicama, cucumber, strawberries, and crispy won tons dressed in a strawberry vinaigrette ($16); and the pan-roasted, local halibut with citrus rice, wilted spinach, Kalamata olive vinaigrette, and fennel vin blanc ($19). The latter, hands down, was our favorite and so delicious we consumed every bite.
For dessert the grand finale was an old treat, the famous Mission Grill sizzling cookie: a chocolate chip cookie served on a sizzling iron skillet with scoops of vanilla ice cream and Hershey's chocolate sauce added at the table for a dramatic presentation. It easily served the three of us, although I'm sure Charlie could've eaten it alone. It was a great finale to a memorable dinner that was reasonably priced from start to finish.
"We wanted the menu to be friendly on all levels, not just meat and potatoes, although our ribeye steak is the number one seller ($19). Our chicken and brie quesadilla with caramelized apples ($8) is awesome," Faries concluded. Check out Native's new menu, wine list, and dining room and you'll find it appeals to people of every age.
You can reach New Times' Cuisine columnist at khardesty@newtimesslo.com.