Katye Fredieu's breaking point was when she could no longer bathe without feeling pain.
A motorcycle accident in 2011 left her with 18 fractures, scars all over her body, and kept her wheelchair bound for more than a year, but Fredieu soldiered along, doing her best to take care of herself and her 18-month-old baby. At that time, a warm bath was one of the few pleasures that still seemed accessible. But after the accident, all of the soap and lotion products that had been her go-tos now just made her skin break out in rashes.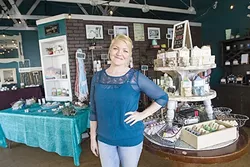 PHOTO BY JAYSON MELLOM
WHAT'S THAT SMELL?: Katye Fredieu, owner of Artisan Soapery in Morro Bay, crafts soaps with a special blend of moisturizing oils that smell like lavender, matcha green tea, beer, sandalwood, and more.
"All of a sudden, overnight, I had hypersensitive skin," Fredieu said. "I remember breaking into tears in front of my husband because I couldn't bathe. It was that bad."
When product after product on store shelves that were labeled "for sensitive skin" failed to work, Fredieu decided to try making her own soap. Her first attempt was a simple lavender soap with coconut, olive, palm, and castor oils. She was still weak from the accident, so her husband helped her to pour the soap into the molds. The difference was instant.
"It was like night and day," Fredieu said. "All the rashes that had formed from the soap I was using before just cleared up overnight."
Fast forward several years, and Fredieu is now the owner of Artisan Soapery in Morro Bay, which has called the Embarcadero home for the past three years. Her soaps, which use goat milk, a whole range of oils (from coconut to avocado), and even Firestone Walker's 805 beer, are sold at 20 stores across the country. Fredieu hopes to have her bath time beauties up for sale on Amazon Prime sometime this fall.
RUB A DUB DUB: Artisan Soapery in Morro Bay is located at 845 Embarcadero, suite E, in Morro Bay. Check out artisansoapery.com for a full listing of soaps, bath salts, lotions, and more.
Walking into Artisan Soapery is a bit magical. Scents like bergamot, lavender, and eucalyptus waft into the air from soaps in every color of the rainbow with dustings of glitter (and all cut out in the shape of Morro Rock). Customer favorites include the Morro Bay Breeze soap (reminiscent of Herbal Essences shampoo circa the 1970s), the floral Love Struck bar (modeled after Victoria Secret's Love Spell scent, but all natural), and the charcoal-based Fountain of Youth bar that Fredieu made for a friend dealing with the unfair combo of aging and acne. There's even a Lucky Dog bar with milk thistle to give pups a shiny coat. Fredieu's favorite is still her lavender soap, and while she sources her lavender from Hungary, the majority of her ingredients (even more typically exotic ingredients like palm oil) come from the U.S. Above all, Fredieu looks to craft soaps, lotions, and bath salts that have no artificial chemicals or preservatives.
"You don't have to have parabens or sulfates or any sort of artificial chemicals," she said. "I think natural skin care is going to be the future."
PHOTO BY JAYSON MELLOM
SPECIALTY SOAPS: Worried about wrinkles, oily skin, or beard maintenance? There's a bar of soap for that at Artisan Soapery in Morro Bay.
Fredieu said her soaps can last six to eight weeks. And while it sounds odd, she also said that a dry soap is a happy soap, so between uses, it's best kept away from any spots in the shower that are prone to puddles. Use Artisan Soapery bars with a luffa for some added exfoliation. Whether looking for a soap that won't aggravate the skin or just something that smells nice, Fredieu wants people to know they have options close to home.
"One of my dreams is to live in a world where natural skin care takes over and you chuck Dove and you chuck Ivory and you chuck Irish Spring in the trash," Fredieu said. "That's a thing of the past. You can get great quality skin care affordably. Shop local, shop handmade. That's really where it's at."
Ryah Cooley can't stop sniffing a bar of Artisan Soapery's Love Struck soap at rcooley@newtimesslo.com.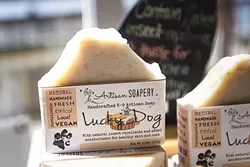 PHOTO BY JAYSON MELLOM
GIVE FIDO A BATH: Katye Fredieu of Artisan Soapery wants everyone nice and squeaky clean, even the fur babies. The Lucky Dog soap contains milk thistle to give your pup a shiny coat.