Most of the time when you think of an art exhibit, the image that comes to mind is a room full of traditional paintings, maybe a photograph, or sculpture here and there. It's not often that an exhibit comes in the form of wearable art.
But together, Julie Frankel and Melinda Forbes organized Earth Gowns, a collaborative exhibit that features narrative dresses from 11 different artists. The exhibit explores the diverse aspects of nature, from ancient Greek myths to various animals or plant life to subcultures of street style. The result is an eclectic mix of wildly colorful gowns as well a collection of more muted and subdued dresses.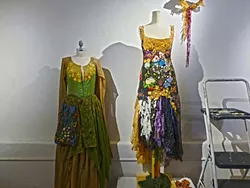 PHOTO BY ADRIANA CATANZARITE
MOMMY DEAREST: Melinda Forbes' gowns are based off of the Greek goddess of the harvest Demeter, and her daughter Persephone.
Each of the artists constructed their dresses using non-traditional materials: recycled fabric, embroidery, leaves, lichen, and giant tumbleweeds. Additionally, there is an accompanying performance piece—a series of vignettes and dances—that relate to the stories behind the dresses.
"This is an exhibit of the imagination and the feminine life force," Frankel said. "There is a reason why we refer to this planet as 'mother earth.' I think we realize on a deep and intuitive level, that our planet, our home, gives us life."
Frankel has a background in graphic design, as well as mixed media painting. She met Forbes through mutual friends, and they began collaborating on various projects together. Frankel says that in every project they are involved in, they try to incorporate experimentation, learning, and, most importantly, collaboration.
"For this show in particular, it takes a tremendous amount of time," she noted. "Some of our artists have been working on their dresses for three months, or six months or more, so it requires a big investment of time. So having a lot of artists coming together rather than just two or three was a big part of this exhibit. Also, there is something intrinsically feminine about collaborating for both practical, creative, and social reasons."
Frankel and Forbes both submitted two dresses to the exhibit. Forbes' gowns celebrate the ancient Greek myths of Demeter—goddess of the harvest—and her daughter Persephone, the goddess of vegetation.
PHOTO COURTESY OF STEYNBERG GALLERY
ELEMENTS OF STYLE: Each of the narrative gowns in the exhibit are made up of recycled fabric, embroidered pieces, and found objects like leaves or twigs.
Persephone was kidnapped by Hades, the king of the underworld, and subsequently forced to marry him. However, she returns to the surface world once a year in order to end winter and begin spring.
Forbes incorporated the story of Persephone into the design of her gown. The bodice of the gown is decorated with various flowers and birds to symbolize her affinity with nature, but the skirt seems to decompose and tatter, symbolizing her return to the underworld every year. Forbes used a recycled linen dress that she buried in the ground for six months. She then used old, embroidered pieces that she collected, as well as antique lace and netting to create the different layers of the skirt.
For Demeter's gown, Forbes collected a cotton scarf, cheesecloth, Paraguayan spider web lace, as well as other materials and hand-dyed them green and brown to represent the earth. The result is a relatively simple gown, with lush colors and intricate floral embroidery across the top of the dress.
"I've always loved the Greek myths," Forbes said. "And I love the mother daughter aspect of the story. I've always wanted the chance to bring the Greek myths into the present time and give them a contemporary voice."

WEAVES OF GRASS: You can see Earth Gowns at Steynberg Gallery in San Luis Obispo at 1531 Monterey St. from Nov. 22 to Jan. 31. There will be an opening reception on Dec. 5, from 6 to 9 p.m. For more information, call 547-0278 or email Julie Frankel at julierf@mac.com.
The planning for this exhibit began a year ago, but Forbes says that they never gave any specific instructions to their artists. Using the dresses as the unifying component of the exhibit, the artists were able to have more freedom in their designs.
"I've always looked forward to not exactly knowing what everyone is going to create. In a collaboration like this, you never know what you're going to get," Forbes said. "It's scary, but also exciting seeing what the end result is. But with this collaboration, everything has actually gone really smooth, and it's been really enjoyable."
Intern Adriana Catanzarite says yes to the dress. You can contact her via Arts Editor Jessica Peña at jpena@newtimesslo.com.