You've got to respect a band that sees what it wants and then makes it happen through sheer will power and hard work. Better yet, you've got to respect a band that never gives up and for whom failure is not an option. Fish Out of Water is definitely that kind of band, who, through self-promotion, relentless touring, frugal living (thank you, couchsurfing.com!), and DIY recording has managed to create an international following.
Formed a decade ago on the Central Coast, the band's been on the road continually for the past three years in a revolving national tour and most recently a tour down under to Australia.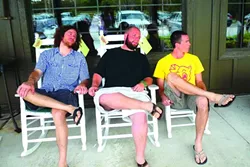 PHOTO COURTESY OF FISH OUT OF WATER
KICKIN' IT OLD SKOOL: Fish Out of Water members return to their spawning grounds with a Jan. 20 show at Mongo's and a Jan. 21 show at Mozzi's.
"They received press in many of the papers, including interviews and stories on the band, and played for sold-out crowds along the East Coast," manager Greg Deane said of the band's Aussie tour. "Locally, they've played [the] SLO Farmers Market main stage, headlined SLO Brew, as well as opened up for acts like Easy Star All Stars and Fishbone. They've recorded four albums, three of which were done on the Central Coast."
The band's latest is Heart to Hand, a 13-track acoustic album filled with the band's breezy folk, reggae, hip-hop, and funk music. Filled with crisp guitar work and harmony vocals, the record sounds like it should be heard around a beach fire after a long day of surfing.
"The album [was] recorded by Chris Robinson at Blue Universe Studios in SLO, February of 2011," said Deane, and the band's press release notes it was "mastered by Grammy-award winning engineer Wyn Davis of Total Access Studios."
Fish Out of Water consists of founding members and cousins Brandon and Kyle Moon, who share duties on bass and electric guitars, as well as vocals. They met freelance percussionist Russell "Beats" Lundgren in Hawaii; Beats joined the band and has been touring with them these past three years "covering 35 states and over 120,000 miles of driving."
"During this stint, the buzz on the band was that their live show was unmatched by any touring group partly [due] to the antics of front-man Kyle Moon (legend has it he jumped off a two story water tower stage while still playing his solo in Key West, Fla.), a costume change during an epic five-minute drum solo, and, yes, a panty rope (Russell suffers from a panty fetish) collection that stretches across the bar and has been used for a jump rope on several occasions," according to their press release.
Check out Fish Out of Water when they play Mongo's on Friday, Jan. 20, at 10 p.m.; and Mozzi's on Saturday, Jan. 21, at 9 p.m. Both shows are free, but the band may need to sleep on your couch.
Big fat liars!
Have you ever contemplated the name No Use for a Name? First, it is a band name. But if the band has no use for a name, and yet has a name, shouldn't they simply be nameless? But if they're nameless, how does one refer to them? "Hey, that punk band without a name is coming to SLO Brew on Thursday, Jan. 19" (8 p.m.; all ages; $12). I mean, even Prince, when he decided he didn't want a name, at least replaced it with a symbol, but No Use for a Name still has a name, despite that name's protestation of its unnecessariness (which technically isn't a word, but you get me, right?). Anyway, they clearly do have use for a name, and they use a name, so their very name is a big fat lie.
PHOTO COURTESY OF NO USE FOR A NAME
A BAND CALLED _____? : See punk juggernauts No Use for a Name on Jan. 19 at SLO Brew.
In fact, they've had a name they've regularly used since the band's inception in Sunnyvale way back in 1987. They continued to use this name when they signed with Fat Wreck Chords in 1993. They frequently use an acronym of their name, NUFAN, which is also a name, so here's a band that claims to have no use for a name, yet has two names! They've had a name through nine studio recordings, most recently 2008's The Feel Good Record of the Year.
I think they just chose their name to confuse people like me (they have an album called Keep Them Confused) and to signal they're so punk rock that they eschew the status quo, which demands that things be named and labeled. So in tribute to ______, which plays ______ music, I will honor your wish and grant you both namelessness and labellessness (also not a word, but since I'm referring to a band with an album called More Betterness!, it seems appropriate).
PHOTO COURTESY OF OLD MAN MARKLEY
NINE FOR THE ROAD : Old Man Markley opens the show on Jan. 19 at SLO Brew.
See ______ with Old Man Markley, a band that wears its name proudly, even though that name, too, is a lie, since the band isn't an old man, but rather a young, nine-piece act that plays kazoo, train whistle, autoharp, washboard, banjo, fiddle, bass, and drums. What a bunch of prevaricators and obfuscators (both actual words! Look 'em up!).
Other bands at SLO Brew whose names don't lie include The Josh Abbott Band, a country act fronted by a guy named—you guessed it!—Josh Abbott, who plays Friday, Jan. 20 (7 p.m.; 21-and-older; $14 presale or $16 at the door) with Chaparral opening; and Briertone, an indie rock act that plays Saturday, Jan. 21 (6:30 p.m.; all ages; $10 presale or $12 at the door), with Picture Atlantic, The Silent Comedy, and Callista opening.
Josh Abbott has been madly touring, and he and his band are gearing up to release their third full-length studio album in April.
Briertone, Picture Atlantic, The Silent Comedy, and Callista are sure to bring a swarm of youthful scene-makers to the club.
More music …
PHOTO COURTESY OF MICHAEL KAESHAMMER
"DREAMBOAT" : The Clark Center for the Performing Arts presents up-and-coming crooner Michael Kaeshammer on Jan. 20.
The Clark Center for the Performing Arts presents up-and-coming crooner Michael Kaeshammer on Friday, Jan. 20, at 8 p.m. He's been called a triple-threat combo of piano virtuosity, vocal ability, and charisma, and New Times Arts Editor Anna Weltner says, "He's such a dreamboat!" Then she sighs quietly and looks off into the distance. Whether playing boogie-woogie, blues, jazz, or pop crossover material, this "dreamboat" is a monster at the keyboard. Tickets cost $19 to $32. Call 489-9444.
Stunning vocalist Anne Walsh will play the Steynberg on Friday, Jan. 20 (8 p.m.; all ages; $15; call 547-0278). After receiving her masters and joining a quintet, Walsh began giving voice lessons, and was soon hired at the American Musical and Dramatic Academy in Los Angeles, a college for the performing arts, where she's currently a faculty member. She continues, however, to perform internationally, most recently to support the release of Pretty World, which received a Grammy nomination for Best Arrangement for a Singer. Her upcoming CD is "an eclectic soundscape of contemporary and Brazilian jazz influences, which features originals, as well as a new take on the classic Wayne Shorter tune 'Go,'" according to press materials.
If you like singing, storytelling, and guitar and fiddle playing—and let's face it, who doesn't?—then check out Duncan Phillips, Kate MacLeod, and Kat Eggleston, who'll play two SLOfolks concerts this week: Friday, Jan. 20 at Coalesce Bookstore at 7 p.m. (772-2880); and Saturday, Jan. 21 at Castoro Cellars at 7:30 p.m. (238-0725). Tickets cost $20. The three performers are on tour in support of two new albums, Lost and Found and Long Gone. "What we do is similar to when my father Utah Phillips traveled with Jim Ringer, Mark Ross, or Kate Wolf," Duncan said in press materials. "It's a bit like a traveling folk festival; we my take turns opening up for each other or do songs in the round. It's a little different every night."
D'Anbino has a couple sweet shows lined up, starting with the Rogues of Rhythm on Friday, Jan. 20, from 8 to 10 p.m. "From Eric Clapton to Joe Cocker, McClinton to Chicago, and the Rolling Stones to the Butterfield Blues Band, the Rogues 'bring it' with passion and fun!" said the club. The next night, Saturday, Jan. 21, check out music from the Great American Songbook when Brett and Julia Mitchell perform from 8 to 10 p.m. If you like composers like Cole Porter, Gershwin, Rogers & Hart, or music sung by Frank Sinatra, Tony Bennett, Mel Torme, Ella Fitzgerald, Diana Krall, Dianne Reeves, and Roberta Flack, you're going to dig this scene. Tickets for each show cost $10 at the door ($5 for Record Club members).
PHOTO COURTESY OF MOLLY'S REVENGE
LIVE WIRES! : Come to the annual Burns Night Supper with Molly's Revenge on Jan. 21 in the Pavilion on the Lake.
Whether you're Scottish or just wish you were, you're invited to the annual Burns Night Supper with Molly's Revenge on Saturday, Jan. 21, in the Pavilion on the Lake in Atascadero. Hosted by the Central Coast Scottish Society, the event also includes special guests Peter Daldry and the Central Coast Pipes and Drums. Each $50 ticket includes the entertainment (7 p.m.), social hour (starts at 4:30), a Robert Burns ceremony (at 5:45), and dinner buffet (at 6). The date marks Burns' 253rd birthday, and since he's widely regarded as the national poet of Scotland and is celebrated worldwide as a cultural icon in Scotland and among the Scottish Diaspora around the world, if you love all things Scottish, you have to go. Best of all, the menu includes roast beef, salmon, vegetarian Wellington, salad, and dessert, with only ceremonial haggis, thank God! Call 489-9617 or e-mail stitchaholic@sbcglobal.net to secure your ticket.
The Cal Poly Early Music Ensemble returns to Mission San Luis Obispo de Tolosa to perform "Bach in the Mission" on Saturday, Jan. 21, at 8 p.m., which will include a cantata, a motet, and a double concerto for oboe and violin, all by J. S. Bach. Early Music Ensemble Conductor Thomas Davies and Cal Poly Symphony Conductor David Arrivée will join forces for this performance, which consists of student and professional performers. "This is an incredible opportunity for our talented Cal Poly students to sit next to professional musicians and make music at a very high level," said Davies, who will conduct the cantata and the concerto. Tickets cost $8 for seniors and students and $12 for the public (756-2787).
World-class guitarist and composer Robert Earl Longley, aka Robby Longley, returns to the area for a Steynberg concert on Saturday, Jan. 21 (7 p.m.; all ages; $15; call 547-0278). Hailing from New Orleans, he's released nine albums, most recently Diaspora (2007). He's also composed two soundtracks for films that screened at the Sundance Film Festival. You'll be amazed at this guy's fingerwork as he jazzes up flamenco-style guitar.
On Sunday, Jan. 22, guitarist Graham Dechter, one of America's fast rising jazz stars, is the next attraction at the Famous Jazz Artist Series at the Hamlet, where he'll play with his quartet. Dechter was raised in Cambria, and has recently been the recipient of many national and international jazz awards and is fresh off a highly successful European tour. Series co-producers Charlie and Sandi Shoemake (vibraphone and vocals) will join in during two performances (4 p.m. for $15, 7:15 p.m. for $12, or see both for $20; call 927-0567 for reservations).
PHOTO BY PETER COOMBS
"THERE'S NOTHIN' LIKE A DAME" : Rodgers & Hammerstein's Broadway favorite South Pacific comes to Performing Arts Center's Cohan Center on Jan. 25.
Rodgers & Hammerstein's Broadway favorite South Pacific comes to the Performing Arts Center's Cohan Center on Wednesday, Jan. 25, at 7:30 p.m. This production is based on the 2008 Tony Award-winning Lincoln Center Theater production, directed by Bartlett Sher. "Set on a tropical island during World War II, the musical tells the sweeping romantic story of two couples—U.S. Navy nurse Nellie Forbush and French plantation owner Emile de Becque, and Navy Airman Joe Cable and a young local native girl Liat—and how their happiness is threatened by the realities of war and by their own prejudices," according to press materials. It also contains songs that have entered the Great American Songbook: "Some Enchanted Evening," "I'm Gonna Wash That Man Right Outta My Hair," "Younger Than Springtime," "Bali Ha'i," "There is Nothin' Like a Dame," "This Nearly Was Mine," and "A Wonderful Guy." Patrons are invited to attend a free pre-concert lecture presented by Music Department Faculty Member Jacqueline Kreitzer at 6:30 p.m. in the Performing Arts Center's Pavilion. Student and adult tickets range from $34 to $68 (756-2787).
The Cottrell Freeman and Stanislaus Loken Duo plays Steynberg on Wednesday, Jan. 25, at 8 p.m. (all ages; $15 general admission or $10 for students; call 547-0278). The duo calls their mix of jazz, classical, pop, hip-hop, and world music "experimental soul," and they met while both studying jazz at Cuesta College, though they now live in L.A.
The slide guitar work of Jeremiah Sammartano, from Jeremiah and the Red Eyes, has been described as "mean-ass," as he sings songs about "being beat down, love won and lost, and traveling both literally and figuratively … with gentle but deeply emotive vocals." Check out his twangy, bluesy, Americana sounds during two shows: Wednesday, Jan. 25, 7 p.m., at the Pour House; and Thursday, Jan. 26, 7 p.m., at Frog and Peach.

Keep up with Glen Starkey via twitter at twitter.com/glenstarkey, friend him at Myspace.com/glenstarkey, or contact him at gstarkey@newtimesslo.com.