I'm having a hard time recognizing where I am as I pull down to the end of Reservoir Canyon Road, a spot I've been dozens of times over the last six years. The rutted-out parking area I'm used to, with cars parked every which way, has been replaced by a very official-looking fenced parking lot of graded gravel.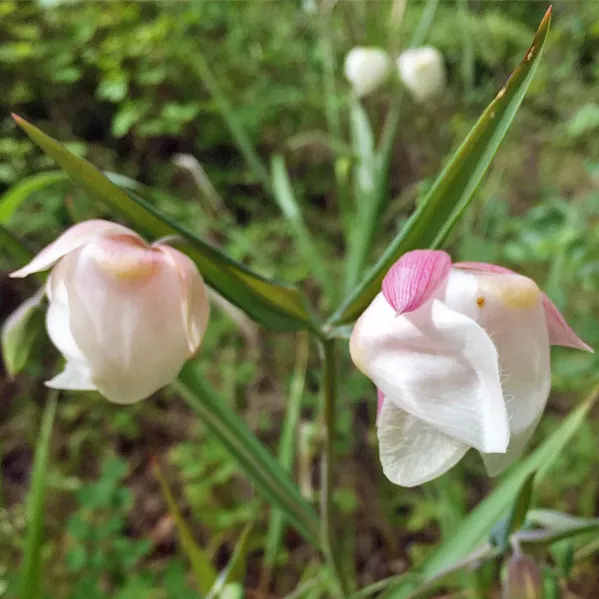 Photos By Camillia Lanham
CREEK BYPASS Globe lilies dot the new creek bypass trail that takes hikers around a washed-out portion of the Reservoir Creek bed, and connects back with the original trail.
The trail I'm used to heading up is closed. Instead we are rerouted by a sign telling us we are about to enter the Creek Bypass Trail. Up ahead, a wooden footbridge with railings crosses over Reservoir Creek just before the water cascades down San Luis Obispo's famous 30-foot waterfall. And the water is moving and grooving.
It's early on Sunday morning, and early is the best time (in my not-so-humble opinion) to hike any of San Luis Obispo's open space trails, which usually get inundated with the beautiful people who reside in the happiest place on earth just before noon on most weekends. A young Parks and Recreation employee is weed whacking up ahead, and as we pass him, it's easy to see why.
Poison oak is abundant and shiny with new leaves, which my dog, of course, decides are the best spots to get right into for territory-marking purposes. It's inevitable. As we bob and weave to dodge the green-purple-red menace and I continually tug on the leash with shouts of "no," globe lilies pop into view. Round orbs of soft white and pink hang along the path like little lanterns. Eventually we reach a fork in the trail—head up for the Reservoir Canyon Loop trail (also new) or continue along the bypass trail.
Photos By Camillia Lanham
FLOWING A wooden bridge crosses Reservoir Creek just above the waterfall, and the water was moving fast and loose on a recent Sunday morning.
We opt for the bypass trail, which meanders up and down before crossing the creek and linking back up with the original trail, a wide path that traverses along the creek, shaded in riparian vegetation and oak trees, with views into the hills on one side where dozens of yucca are in bloom. We basically have the trail to ourselves as we head up to the swing that hangs from a giant eucalyptus and the hillside opens up into a grassy meadow with views of the Cuesta Grade.
Sitting to rest, it's an easy place to catch up as we stare across the cloud-covered morning, discussing the ups and downs that separate us from one another and point us down our unique paths through life. A connection hangs in the air between us. Not to get all weird and hippie about things, but a love for the tranquility of enjoying a moment in time and space is why we're friends and why we're here. It's easy to forget that as we walk through each week. Δ
Deep down, Editor Camillia Lanham is a little bit crunchy. Send your places to get out to clanham@newtimesslo.com.