Looking at art is one thing. It's easy, as a viewer, to walk into a gallery or a museum (granted it's free and not tourist-ridden like the Louvre) and take in the tantalizing brushstrokes, figures, and compositions of painters, sculptors, and craftsmen alike. It's even easy to talk about art—just drop the words "color," "shape," and "chiaroscuro," and you'll be fine. But to purchase art and make art—now there's the rub. Art can be expensive, exclusive, and, for those who create it, difficult to market in an area as disparate as the Central Coast. Enter ARTshare—an inaugural program intended to help bridge creators and collectors across the coast.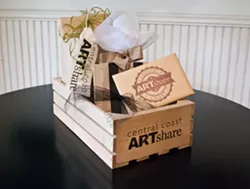 PHOTO COURTESY OF ROBIN SMITH
BOXED GOODS: Patrons who purchase shares will receive their original, handcrafted art pieces in a package similar to the one pictured at an annual Pick-Up Party, where they can meets the artists amid the delights of wine, food, and music.
ARTshare works like this. Local artists apply to the program. They are chosen by a panel of judges. Then, they receive a $1,000 commission to create a total of 50 original pieces. These can be anything in the finer arts, from painting to mixed media to sculpture. There are some restrictions. The dimensions should fit within a 12" x 12" x 12" parameter, but there is some wiggle room. Meanwhile, patrons, collectors, or anybody interested in buying art can purchase "shares" (one share=five of these works of art). Upon the completion, there will be a "Pick-Up Party" where the shareholders can not only receive their custom artwork, but also mingle with the artists. It's a creative and community-based endeavor that's already become popular in areas like Los Angeles and New York.
For Robin Smith, a local resident and the architect behind ARTshare, the idea to initiate this kind of program on the Central Coast came around the time of her 50th birthday. For most of her life, she's been in the business of professional video production and marketing. But, as a kid, her passion was art—painting, in particular. When she hit that benchmark age, she decided not only was it time to do something different, but time to get back to her artistic roots.
"I'm really passionate about the whole idea of you're an artist and a storyteller, you spend a lot of time learning your craft, but there is little to no instruction on the business side," she told New Times. "Artists are entrepreneurs and creative, but they don't learn those skills at school. You wonder why we have starving artists. I had a chance encounter with a man who taught me how to get a job in television and film. It changed my life. With this milestone in my life, this is really what I want to do, to help artists rise above the noise and connect with those that want to do art."
This is the other key component of Smith's grand plan. In addition to receiving commissions and local patronage, ARTshare provides a free workshop on the business of art as well as a custom video profile, produced by the Emmy Award-winning Smith herself.
"I've taught for many years at Alan Hancock in film and video production," she said. "We have a tendency in academia on history and influences of art and the learning of the craft. But it's critical to learn those business skills. I was talking to an artist in Atascadero and she said artists for some reason are not into the marketing and reluctant. I want to shake that up."
Now, I know what some may be thinking. Business and art don't mix for a reason. The former corrupts the latter; Art exists on a purer plane beyond the realms of petty cash. But Smith maintains this is not the case. For both artists and patrons alike, money and marketing are a real challenge that can cut off creativity.

CALL TO ART: ARTshare is currently looking for artists to apply! The deadline is Dec. 15. For the application and for more information, you can visit centralcoastartshare.com.
"Galleries are usually pretty expensive," she noted. "What do you do you do for that person who has a limited amount to spend and wants to support the arts? You can connect with business people. The Internet can help with that. … We need to do things in different ways. That doesn't mean traditional is bad, but we need to broaden our ways of finding and buying art, our bridges to enlightening people, and, in the process, supporting the community."
Like the Creative Economy Forum sponsored earlier this fall by ARTS Obispo, Smith's ARTshare program means to mix business and art in meaningful ways that are mutually beneficial. With this program, up-and-coming artists can gain exposure and opportunity while local residents can encourage them at a relatively low cost.
"It's important to have arts in our community," Smith said. "These are the innovators. It's a wine destination right now, and I want to do my little part to have this become an art destination. … I would like it to be an annual event. It fits the Central Coast. I'm just hoping to create an event that is fun and ongoing, and maybe this will help other people to think differently about different events. We can all bring something different to the table. It is a risk, but I've done that my whole life."
Jessica Peña doesn't have any art for sale—only Beanie Babies. If interested in buying one, email her at jpena@newtimesslo.com.