For some people, growing old is a joy, for others, a curse, so what's the secret to living a good, long life? Cal Poly professor of photography and first-time documentarian Sky Bergman set out to answer this question with Lives Well Lived: Celebrating the Secrets, Wit and Wisdom of Age, which after a couple of years on the film festival circuit begins its theatrical run this Friday, Feb. 16, at the Palm Theatre, before moving on to other cities across the nation.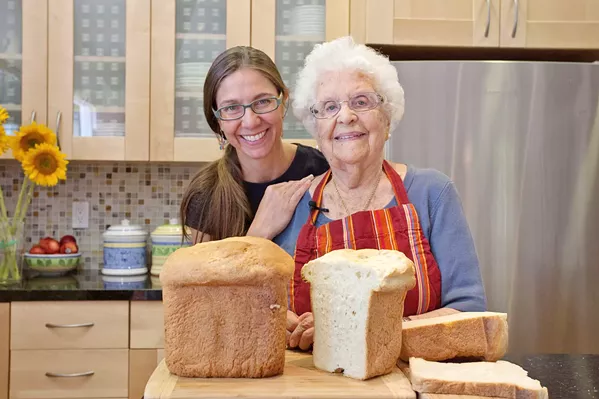 Photo Courtesy Of Sky Bergman
INSPIRATION! Documentarian Sky Bergman (left) was inspired by her grandmother, Evelyn Ricciuti, to make her film about the secret to a good life. Ricciuti lived to 103.
The film's inspiration was Bergman's own grandmother, Evelyn Ricciuti, who at age 96 began visiting Bergman every summer for a month to escape the Florida heat.
"I thought, 'I love her cooking,' so I'm going to film her cooking—she never wrote down a recipe—so I can have a memory about how to cook and to hear her voice," Bergman explained.
When her grandmother turned 99, Bergman visited her in Florida and was surprised to learn she still worked out at the gym.
"I had to film that too because who would believe at 99 she'd still be working out? And afterwards, as sort of a throwaway line, I asked her to comment on the secret of life."
The idea of the project started to come alive, and when she returned home, Bergman edited the footage into a 1-minute video. Then she sent out an email blast to 1,000 friends, family, Cal Poly alumni, and others asking them to watch her video and nominate people they felt were as much of an inspiration to them as her grandmother was to her.
"I was inundated with responses," Bergman recalled. "It was heartwarming. When I started out, I didn't know it would become a documentary. I thought it might become a web series."
She interviewed dozens of people, asking each the same 26 questions. When she finally interviewed Marion Wolff, who had been on the first Kindertransport, an effort to rescue refugee Jewish children from Nazi Germany, she realized, "I had something more here, and these stories needed to be told in a bigger way, but I also realized I wanted to show a diverse group, not just people immigrating from Europe, so I started really looking."
She found people such as Susy Eto Bauman, 95, who had been interned in Japanese camps during World War II, and Rose Ballestero, 78, a Philippine girl raised in grinding poverty who learned resiliency by participating in the Girl Scouts.
The documentary focuses on 10 main people but includes interviews with 40 individuals who—as the documentary notes—share 3,000 years of collective life experience. The film is augmented by personal photos and family films as well as archival footage of historical moments.
Some of her and associate producer Catherine Trujillo's archival footage finds are astonishing. In one case, they found actual footage of Susy Eto Bauman that was part of a propaganda film made by the U.S. government, which Bergman was allowed to use for free since it was part of the National Archives. Other footage didn't come so cheap. Footage from the UCLA archives costs $90 a second with a 30-second minimum. Another great find was actual footage of Marion Wolff during the Kindertransport filmed by the Hearst News Corporation.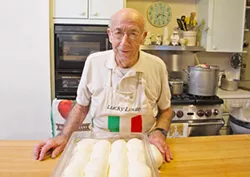 Photo Courtesy Of Sky Bergman
BE HAPPY WITH WHAT YOU HAVE Positive thinker Dr. Lou Tedone, 92, still gets up every morning at 4 a.m. to make amazing mozzarella for his daughter's Shell Beach deli, DePalo & Sons.
"I didn't want to just have talking heads," Bergman said. "The archival footage really puts you back in time, and I felt it was a critical element of making the film work."
Bergman worked on the project about five years and first screened it at the San Luis Obispo International Film Festival a couple of years ago, where it sold out an 850-seat auditorium.
"There was a lot of local interest, and 16 of the subjects attended that screening," Bergman noted.
One of those subjects was Bergman's grandmother, who flew out from Florida to see it at the festival. Six weeks later, she died at 103-and-a-half years old.
"She just said, 'I'm done,' stopped eating and drinking, and was gone in two days. She was very stubborn like that, but I felt very fortunate she got to see it on the big screen," Bergman said.
Since then the film has been screened at about a dozen film festivals, winning four prizes. That initial screening and the feedback she got from the audience helped Bergman refine the film, trimming it from more than 80 minutes into a tight, propulsive 72 minutes.
With the help of Jim Dee, Palm Theatre owner, Bergman met Ken Eisen of Shadow Distribution, which has booked the film in theaters across the U.S.
"Jim [Dee] is so sweet and has been so supportive," Bergman said, "and Ken [Eisen] saw my film and fell in love with it. He saw something in it that he felt could touch people."
So what are these sage elders' secrets?
Many of Bergman's subjects are creators, but she says she discovered they share three main traits: They all had "a good support system, whether that was family or friends"; they "all had something they were passionate about, whether that was cooking or yoga or photography or painting, a drive to continue to learn, something that made them want to get out of bed every morning"; and "even though they may have lived through some really horrific things—and this will sound cliché but it's true—they saw life as half full rather than half empty."
It certainly does resonate (see Split Screen, page 50), and there's no denying her subjects have lived amazing, full, and often dramatic lives. Bergman herself said the film changed her perspective.
"There are days I wake up and start with a bad day and I'm reminded of something Evy Justesen [81, a local artist] said, 'The only thing in life you can control is your attitude.' Botso [Wachtang Korisheli, 92, music teacher and sculptor] said, 'Every day is a gift,' and I really feel that. I'm 52 and I feel very grateful I didn't have to wait until I'm 90 to learn this stuff, and I also feel like I have 40 new grandparents. I think my favorite line was from Dr. Lou Tedone [92, cheese maker], who I still visit regularly to watch him make his mozza. He said, 'Happiness is a state of mind. You can be happy with what you have or miserable with what you don't have.'" Δ
Contact senior staff writer Glen Starkey at gstarkey@newtimesslo.com.