The office: Board of Supervisors, 1st District

The race: Incumbent Harry Ovitt and Paso Robles Mayor Frank Mecham are both Republicans, both fiscally conservative, and both running to represent a large district that includes Paso Robles, Templeton, San Miguel, and Shandon.

The rub: If Mecham wins, expect his voting pattern to differ little from Ovitt's, although Mecham's experience in city government suggests he might work to focus the county's growth in incorporated areas.

The prediction: If there's a massive vote for "change" of any sort, expect Mecham to take the seat, but many voters and longtime politicos seem to be questioning the value of trading Ovitt's long experience and dependable conservative vote for someone similar but new. Still, influential groups such as San Luis Obispo Cattlemen's Association have hedged their bets, endorsing and funding both men.

Find out more: www.electmecham.com, www.electharryovitt.org.



Choice #1: Harry Ovitt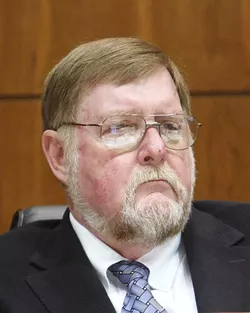 Who: A proud Eagle Scout, Harry Ovitt makes much of his role as the living memory of the board. Even when staffers are stumped, Ovitt is often the only person in the chamber who can explain exactly how a certain rule or general plan amendment came about. He's a dependable vote in favor of allowing people to develop or simply use the property they own. In other words, he's pro-development, even when his fellow conservatives back down. During heated debates, he seems to come up with an encapsulating last word that suggests he knows the political calculus of the issue.
The pitch: From his website: "Each of our communities is distinct and I believe my experience and knowledge of all our communities makes me uniquely qualified to serve the voters of District 1."
Campaign funds: Ovitt raised about $32,000 this period, from 43 donors. His largest donation was $5,000 from SLO Deputy Sheriffs' Association.
Word is: Ovitt can be gruff, but he's predictable and hard-working. That may well be enough for him in this election, even if the Tribune, in its editorial endorsement, opted for his opponent this time.
Vote for Ovitt if: You like steak, not sushi.
Choice #2: Frank Mecham
Who: Paso Robles Mayor Frank Mecham is only two years younger than Ovitt, but he comes across as part of a different generation. He's a consensus-style manager who takes pride in unanimous votes at the Paso Robles City Council and not only shows up for "green" government conferences but shouts out ideas from the audience.
The pitch: It's his turn. The story goes that Ovitt had signaled that he expected to retire and let Mecham know that he should prepare himself for a run. Something changed Ovitt's mind, but Mecham decided to run anyway.
Campaign funds: Mecham raised about $33,000 in the latest reporting period from 76 donors, with only four donations higher than $2,000.
Word is: Mecham says he won't run again for supervisor if he doesn't win, so this shouldn't be viewed as a warm-up. If folks are looking for someone with just a little more flexibility of thought and a warmer, fuzzier presence, then Mecham will be an attractive candidate.
Vote for Mecham if: You like sushi and steak.
---

The office: Board of Supervisors, 3rd District.

The race: Incumbent Jerry Lenthall faces a tough challenge from Cal Poly teacher Adam Hill. The district connects the beach towns of Avila, Pismo, and Grover to a wedge of San Luis Obispo. Lenthall narrowly won the seat in 2004.

The rub: The race could easily tip the balance between the current 3-2 majority, which is considered pro-growth, toward one that embraces smart-growth policies, which lean toward placing new development in or near urban areas and preserving open space.

The prediction: In a closely split district, an incumbent should have the edge. One variable: Although this is a nonpartisan office, Lenthall has run with both the endorsement of local Republican groups and the backing of its fundraising machine. If this is as bad a year for the party as it so far appears based on special congressional elections, that tide could tip things Hill's way.

Find out more:

www.jerrylenthall.com, www.adamhill.us.



Choice #1: Jerry Lenthall


Who: Jerry Lenthall is a towering man and a former sergeant for the SLO City Police Department who worked as a contractor before his election. He is a landlord who owns several homes around the area.
The pitch: From his website: "Jerry is dedicated to standing up for those who usually get shouted down."
Campaign funds: Lenthall has raised about $121,284 this year, but he's spent virtually all of it. As of the latest report, he had only $473 in the bank, although late donations were still coming in.
Word is: Lenthall is prominent and well-liked around town, and he's had a hand in everything from the popular Bob Jones Bike Trail expansion to the less-popular call for cuts from county departments. Support for him seems to be mixed, with locals scowling and wagging fingers at him for publicly perceived bad decisions—like leading talks about options for new development in Avila Beach only to rankle folks who thought they'd get to express which option they preferred—but a common sentiment is that he's learned from his mistakes and might have a better second round. A New Times analysis of his votes on appeals of land-use decisions found he voted virtually in lockstep with longer-serving Supervisor Katcho Achadjian.
Vote for Lenthall if you like: Big signs, big guys, Bo Derek.
Choice #2: Adam Hill
Who: Adam Hill is the former president of the Food Bank Coalition of SLO County, a former contributor to the book section of the L.A. Times, and he has been a teacher in Cal Poly's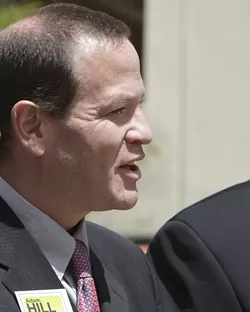 English Department since 1995. He's originally from the East Coast and worked briefly in the office of New Jersey Sen. Bill Bradley. He entered the race after saying he became fed up with land-use decisions made by the current board.
The pitch: "A practical vision for a remarkable future." A Hill television advertisement says Lenthall "increased his salary while cutting our services." Lenthall's attorneys asked that it be taken down, calling it false because it suggests the salary raise led to the cuts in services. But Hill has defended the ads.
Campaign funds: Hill's come close to matching Lenthall in fundraising. As of the latest report, he had $65,213 to spend for the race's final days.
Word is: Hill comes across as sharp, both intellectually and in his personality (more East Coast than California.) He got in the race early and has personally walked most of the neighborhoods in the district. He brings real political acumen to the race, demonstrated in his ability to raise significant funds—and somehow win the support of the Deputy Sheriffs' Association when he's running against an ex-cop—without a built-in base of support. But he doesn't have a record in elected or appointed office and his detractors suggest he should spend more time in the minor leagues before moving to what passes as big-time office for SLO County.
Vote for Hill if you like: Change, egghead fiction.
---


The office: Board of Supervisors, 5th District


The race: The district includes Atascadero, Santa Margarita, Pozo, California Valley, and part of San Luis Obispo. Incumbent Jim Patterson won his seat from former Supervisor Mike Ryan. Now Ryan's former assistant, Debbie Arnold, is running to take Patterson's seat.

The rub: Although this race hasn't been viewed as competitive as the Lenthall-Hill race, Patterson is viewed as having gotten off to a slow start and Arnold has raised serious money from the builder set.

The prediction: Patterson is supposed to win this race, but Arnold's deep roots, solidarity with the property-rights crowd and big money may make it a squeaker.

More info: www.winwithjim.org, www.debbieforslo.com



Choice #1: Jim Patterson


Who: Softspoken Jim Patterson worked in the trenches of county service before being elected supervisor and continues to, working on such unglamorous posts as the Integrated Waste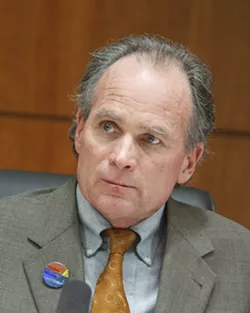 Management Authority and the Oak Resources Advisory Council (he established it.) As supervisor, he's left-leaning but not reflexively so. He voted for rules to allow medical marijuana dispensaries to set up in SLO County but then voted down an application that would have put one in Templeton.
The pitch: From campaign materials: "The core of my efforts has been to promote and support sustainable development, economic prosperity, public health and safety, while preserving our priceless natural environment."
Campaign funds: Patterson hasn't raised big dollars ($110,000 this year) but he's raised it from large numbers of donors, with few big-money donations.
Word is: Patterson seemed reluctant to make the transition from supervisor to candidate and his delay could cost him.
Vote for Patterson if: You like dot-orgs more than dot-coms.
Choice #2: Debbie Arnold

Who: Originally from the Bay Area, Debbie Arnold is cordial but firmly rooted in a set of beliefs—property rights, for example—that she holds more dearly than any concerns about hurting people's feelings. She's run a campaign without much guile about her tactics or the source of her money. When her campaign polled a series of negative statements about Patterson, she wrote letters defending the tactic and statements. She's tried to make a campaign issue of Patterson's outspoken appointee to the Planning Commission, Sarah Christie, and she says it's only to be expected that builders and developers and large landowners will fund her campaign, because they want a "more predictable" system of making county land-use decisions.
The pitch: Her goals include: "safeguarding families by ensuring law enforcement and fire protection are top priorities," and she'll "work to protect the environment and open space with sensible laws; while defending homeowner's rights and preserving the area's agricultural heritage."
Campaign funds: Arnold has raised $240,650 to date, making her by far the most successful fundraiser among all the candidates. Her funds come largely from the building and development trades, and more than $33,500 alone came from the SLO Cattlemen's Association Political Action Committee.
Word is: Arnold's straightforwardness may be refreshing to anyone expecting a bit more guile in their campaign, but at the end of the day, her campaign has been largely fueled by the same large landowners and developers who already influence the board and whose profit motives in pushing for looser restrictions are obvious. As a former aide to County Supervisor Mike Ryan and Assemblyman Sam Blakeslee, she's got experience in politics, particularly local politics.
Vote for Arnold if: Those pesky viewshed rules are causing you to lose sleep.
---

Managing Editor Patrick Howe can be reached at phowe@newtimesslo.com.