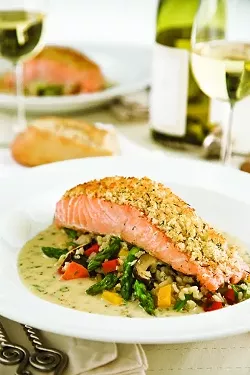 PHOTO BY JESSICA NICOSIA-NADLER
DILL-LICIOUS: The Brothers' baked horseradish-dill crusted Scottish salmon is served with whole grain mustard sauce and vegetable brown rice.
Watching Jeff Nichols walking around his new dining room in Santa Ynez greeting regular guests who were also longtime friends, I could see the diners' excitement over being seated at their table. Their broad smiles clearly said, welcome back, chef! Brothers Jeff and Matt Nichols, both of whom are chefs/proprietors, were an overnight sensation when they opened their first tiny spot named Brothers Restaurant just off Mission Drive in Solvang in 1996. When the much larger, historic Mattei's Tavern became available in 2002, the chefs seized the opportunity and moved there. In their first years in the area, their restaurant was one of very few hot spots for fine dining. Now there are quite a few more choices but there's no denying the popularity of the Nichols brothers. They are as respected by their peers as they are by residents and travelers who have made it a destination for fine dining.
When Jeff spotted my husband and me sitting in front of the fireplace, he remembered us even though we haven't dined with them as frequently as do the movie stars, vintners, and winemakers who live nearby. Nichols made his way across the room to greet us, just as he was doing with all of the returning clientele who could hardly wait for them to open again.
Hospitality is a key component to operating a restaurant that is this successful. Naturally, it takes more than a warm smile and that's why the Nichols have so many devoted followers. Their foods are made up of the highest quality ingredients, and the chef prepares foods picked at the peak of the season from the farms around them. I'll never forget a fragrant corn chowder I relished in Brothers at Mattei's Tavern. Nichols told us the corn had just been plucked from the stalks and delivered to their kitchen door only one hour earlier.
The thoughtful Nichols said: "Welcome back you two, we're glad to see you again." I could tell he was quite pleased with his new restaurant and with good reason; the dining room was beautifully remodeled, and aglow with Christmas décor and a huge fir tree.
PHOTO BY TENLEY FOHL
KITCHEN WITH A VIEW: Chefs Jeff and Matt Nichols run the new Brothers Restaurant at the Red Barn in Santa Ynez, featuring a kitchen overlooking the dining room.
I asked if it was true that they were offering the exact same menu they had before they left Mattei's (they lost their lease after new owners purchased the old stagecoach station on Hwy. 154).
"Yes we did, he beamed. "Everyone told us that was what they wanted so we brought the previous menu back. We also have a few specials that are different."
I must admit that I have always loved the Brothers Restaurants the Nichols created in Northern Santa Barbara County. I still believe that Sides Hardware and Shoes—a Brothers Restaurant in Los Olivos—is one of the best value-priced restaurants for fine dining in all of SLO and Santa Barbara counties (another is Bell St. Farm in Los Alamos). The Brothers burger with cheddar, lettuce, pickles, onion, and Brothers sauce (like Russian dressing) is the best I've ever eaten, and people who agree with me all say it's the benchmark of a great burger. They only use Snake River Farms American Kobe beef; that burger and anything else that's gilded with their housemade thick-cut bacon is addictive.
My husband ordered the baked, horseradish-dill crusted Scottish salmon ($28), which was delicious. Served with wholegrain mustard sauce, it's presented atop a toothsome vegetable brown rice with asparagus, carrots, shitake mushrooms, red and yellow bell peppers, and scallions. The veggies and rice dish would have satisfied me on its own, it's that good. My 6-oz. filet mignon ($36) with au jus and their famous caramelized onion and potato gratin, with baby carrots and green beans, was just right. When Nichols came to ask how we liked it, I told him it couldn't have been more perfectly cooked. "That's my brother," he smiled, referring to Matt at the grill in the open kitchen. Except for one small section of the room, most diners have a full view of the chefs at work in the open kitchen.
BROTHERS RESTAURANT AT THE RED BARN: 3539 Sagunto St.
Santa Ynez
688-4142
Lunch and dinner daily
Our first dinner at the Brothers Restaurant at the Red Barn met our expectations. Because we had an excellent lunch at Bell St. Farm earlier that day our appetites were a bit diminished so we didn't order as much as usual. Nevertheless, we left sated and happy. Most of the dishes we've had at Mattei's and at the Red Barn are in their cookbook, Brothers Cuisine: Recipes from Santa Barbara Wine Country, available at both of their restaurants. The detailed instructions are great, including substitution notes, making it easy to reproduce their excellent dishes at home. I'd much rather have them cook.
Brothers at the Red Barn provides reservations for lunch and dinner, and I strongly recommend making them if you plan to dine there soon. At Sides Hardware and Shoes reservations are only available at dinner, lunch is on a first come first served basis, and they close between 2:30 and 5 p.m. Reservations can be made by calling or through OpenTable.com. It's a free reservation service that I use to dine at restaurants across the country (the restaurants pay the fees). A nice change at Red Barn is the fact that JC's Bar is open all day and offers a limited menu. It provides a rather nice respite when you're visiting wine country and want to eat something that is truly delicious.
Contact Cuisine columnist Kathy Marcks Hardesty at khardesty@newtimesslo.com.