It's easy to write off jazz if you're the type who thinks Kenny G and Dave Koz represent the contemporary jazz vanguard. But there's a whole lot more going on in the jazz world than the overly polished, saccharine-sweet noodlings that occasionally cross over into the mainstream.
PHOTO BY GREG AIELLO
GUITAR GOD : Look closely and see jazz, blues, and groove great Charlie Hunter's guitar, and count those seven strings, then go buy a ticket for his Dec. 13 SLO Brew show.
Take Charlie Hunter (guitar) and Scott Amendola (drums), for instance. These two players are at the cutting edge of the jazz scene, delivering music as joyously complex and mind-bogglingly creative as you're likely to hear.
Hunter utilizes custom-made seven- and eight-string guitars upon which he simultaneously plays bass lines, rhythm guitar, and solos. You'd be hard-pressed to find a more nimble improviser. Amendola is a percussive shape shifter whose style moves effortlessly from rock to jazz to blues to groove and beyond.
The duo, both members of the fantastic '90s group T. J. Kirk (with Will Bernard and John Schott), are touring in support of two new albums, Gentlemen, I Neglected to Inform You You Will Not Be Getting Paid and Public Domain. They play SLO Brew on Tuesday, Dec. 13 (7 p.m.; 21-and-older; $15).
Gentlemen was released in 2010 and featured an unusual two-trombones-and-a-trumpet line-up and spare compositions that move into blues territory. His newest, Public Domain, is something of an oddity.
Its 11 tracks are all classics whose copyrights have expired.
"There is a law," Hunter said in press materials, "that after a certain amount of time, every song becomes public domain and you don't have to pay royalties. In the U.S., it's 70 years. These are all popular songs from that era."
Hunter presented his 99-year-old grandfather a list of 100 public domain songs, from which he selected songs such as "Cielito Lindo," "Danny Boy," "Meet Me in St. Louis," "Ain't We Got Fun," "Alexander's Ragtime Band," and more, which Hunter interpreted on his seven-string guitar.
Here's what grandpa Sidney Grenman, age 99, had to say about his grandson's new release:
"These are wonderful old songs that we enjoyed listening to on crank-up Victrolas and on tube radios many decades ago. My grandson Charlie Hunter has brought them into the present in a new and vibrant form. His guitar finds their essence and sings them in today's language."
You tell it, Grandpa!
"This album," Hunter said, "is really about the songs and how rhythms work together. It's not about anything flashy. When you listen to solo guitarists like Blind Blake and Joseph Spence, they played rhythmically. That's what this album is like—a couple mics on my instrument, a guitar amp, and a bass amp. It's no-frills. The music I play is very boutique and specialized."
Hunter kicks the album off with "Ain't We Got Fun," a timeless song with a message for those suffering today: "I love that song," Hunter said. "The lyrics say that we have no money, we're completely frozen out of mainstream society, the rich get richer and the poor get poorer, but hey, we got fun! I thought it would sound great as a nasty shuffle, so I did that.
"Alexander's Ragtime Band," written by Irving Berlin, "was one of the first great American pop songs," Hunter said, "a huge hit in its day. I gave this one a real rockin' feel. 'Meet Me in St. Louis' is just a funny song; I don't really ever play in that kind of style. It's my attempt at playing like Blind Blake. I tried to keep the rhythm really convincing, which is tough; that's why the song is so short."
W. C. Handy's "St. Louis Blues" wraps up Public Domain on a melancholy note: "I always like to have a blues [tune]," Hunter explained. "I come from the blues. It all comes from the blues as far as I can tell. I played it as slowly as I could."
Don't miss your chance to see this superb artist and his über-creative partner Scott Amendola. Guitar fans should absolutely not miss this!
Also at SLO Brew, you can see Orgone with opening act Zuhg on Thursday, Dec. 8 (8 p.m.; 21-and-older; $10 presale or $12 at the door). Orgone recently released Cali Fever, their second album for Ubiquity "and a giant step from anything they have ever released in the past," according to the band. "They pull on hard-nosed, stripped-down, New Orleans influences on tracks like 'The Last Fool' and 'Crazy Queen' and effortlessly shift gears through more up-tempo Afrobeat and Brazilian-informed tracks like 'Matanza' and summer anthem 'It's Time Tonight." ZuhG's "roots run deep into the realms of classic rock, funk, reggae, jazz, and psychedelic jam."
Get your reggae and dub fix on Friday, Dec. 9, with The Kicks (7 p.m.; 21-and-older; $8) and opening act Cornerstone. The Kicks "have been bringing a unique progressive roots reggae sound and positive vibes to the Central Coast" since 2003, and California-based Cornerstone "has been pumping out high-energy reggae since 2005."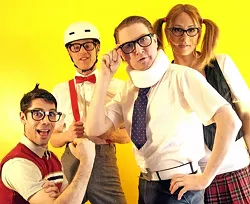 PHOTO COURTESY OF THE SPAZMATICS
REVENGE OF THE NERDS: Dorks rule on Dec. 10 when The Spazmatics offer a retro evening of '80s music at SLO Brew.
Nerds rule on Saturday, Dec. 10, when The Spazmatics (8 p.m.; 21-and-older; $10) offer a retro evening of '80s music. "The Spazmatics were born in the spring of 1983 when physics professor Kevin Stigwood of Alta Dena High in Thousand Oaks, California, lost a debate over String Theory to an upstart pupil in front of the entire student body and faculty," according to the band's bio. "As agreed to by both parties, the loser would have to do anything that the winner demanded, and the victorious prodigy demanded that Mr. Stigwood perform 'She Blinded Me With Science' by Thomas Dolby during half-time at an upcoming state basketball championship game. 

"Having no musical background and desperate to not go down in total humiliation, Professor Stigwood formed The Spazmatics by tapping the genius of electronics teacher Sidney Baderman (aka—Sid Sonic), who had achieved international acclaim in 1981 for his invention of 'robot' drums. When Baderman (who was also the girls water polo coach at Alta Dena Middle School) explained that most of the music could be generated by computers, and that all he needed was a couple of decent musicians to complete The Spazmatics, Stigwood was ecstatic. To make The Spazmatics complete, Stigwood brought in his special needs brother Curtis on bass, and teacher's assistant Rusty A. Woosmeir (aka—The Raw) on guitar. 

"When The Spazmatics took center court that evening, members of the hip elite began heckling them with jibes of 'geek' and 'nerd,' while everyone else howled with laughter. But once they broke into the opening salvo of 'Science,' the nonbelievers were stunned by the group's authenticity of production, world-class musicianship, and tight choreography. The Spazmatics' performance came to a climax when Stigwood grabbed one of the cheerleaders and began doing the 'Belinda' up and down the court with her in tow. When it was all over, the crowd rose in a standing ovation, and The Spazmatics were born."
Play, songwriters, play!
Steve Key's Songwriters at Play showcases feature three great headliners this week. Start off with Susan Marie Reeves at The Porch on Thursday, Dec. 8 (6:30 p.m.; all ages; pass the hat). Susan, lead singer of Santa Barbara's Wild Sage, plays "Gypsy Newgrass." Recently, she formed an all-female string band called Honeysuckle Possums, and released a solo CD called Young Heart. She'll be joined on harmony vocals by her daughter Sierra Reeves. Other Santa Barbara players—including Randall Lamb, Stephen Styles, and Robert Postel—will perform, along with locals John Sandoval and Julian Temple.
Local blues great Karen Tyler headlines the Sculpterra Winery showcase on Sunday, Dec. 11 (1 p.m.; all ages; pass the hat). The award-winning singer, songwriter, and guitarist relocated here after a successful career in Austin. She opened for John Lee Hooker at the Mid-State Fair and in 2003 won the Monterey Bay Blues Festival's Battle of the Bands.
PHOTO COURTESY OF LUIS OLIART
HE'S BLUE: Terrific blues guitarist Luis Oliart headlines Steve Key's Songwriters at Play showcase on Dec. 13 at Kreuzberg.
Finally, blues rocker Luis Oliart returns to Kreuzberg on Tuesday. Dec. 13 (6:30 p.m.; all ages; pass the hat). You may have heard Oliart's latest CD, Broken Chains, getting airplay on The Krush 92.5FM. The L.A.-based "alternative soul" artist can move from bottleneck slide to flamenco.
More music …
Matthias & The Cry plays The Pour House on Thursday, Dec. 8, at 8 p.m. "Celebrate the season of lights with The Cry at Paso's great live music venue The Pour House!" said front man Matthias Clark, a Berklee-trained jazz guitarist and composer who studied acting with Al Pacino and voice with Seth Riggs. "Killer dance and lounge vibe. Great beer and wine selection. The band will stretch out with new songs and classics with a twist. Show us what you got on the dance floor!"
A brand new rockin' country act, Steele Creek, makes its debut on Friday, Dec. 9, at The Boar's Hole at 9 p.m. "We play a lot of strong originals as well as our rocked out versions of covers," said vocalist and rhythm guitarist John Krause, who's joined by Adam Matula (guitar and vocals), Vincent James (lead guitar), Carol Ann Fernandez (bass), and Coy Cooper (drums).
PHOTO COURTESY OF PETE ANDERSON
ROCKER!: Multi-platinum-selling, Grammy Award-winning producer-guitarist Pete Anderson is coming to the Pour House on Dec. 9.
Multi-platinum-selling, Grammy Award-winning producer-guitarist Pete Anderson is coming to The Pour House on Friday, Dec. 9. Most widely known as the musical partner to Dwight Yoakam, whose records he produced, arranged, and played on from 1986 to 2003, Anderson is also a pioneer in the roots-rock genre and was an early champion of the Americana movement, where he had a hand in introducing the world to such artists as Lucinda Williams, Jim Lauderdale, Michelle Shocked, and Rosie Flores.
Sligo Rags, purveyor of excellent Irish music, returns to the area for a couple SLOfolks shows: Friday, Dec. 9, at Coalesce Bookstore (7 p.m.; 772-2880) and Saturday, Dec. 10, at Castoro Cellars (7:30 p.m.; 238-0725). Both shows cost $20. The quartet was named among the top acoustic bands in L.A. (by Folkworks Magazine) and is a two-time winner of the Orange County Music Award for Best Folk Band. Their debut studio recording, "The Night Before the Morning After," was called "the best I've heard from a stateside band" by Celtic Beat Magazine, while their sophomore effort, "The Whiskey Never Lies," was named one of the top 10 of 2007 by FolkWorks. Still not convinced? Tune your radio to 90.1FM on Saturday at 2:30 p.m. and hear Sonnie Brown interview the group. Don't miss these guys!
PHOTO COURTESY OF SLIGO RAGS
CELTIC CRUSADERS: Sligo Rags, purveyor of excellent Irish music, returns to the area for a couple SLOfolks shows: Dec. 9 at Coalesce Bookstore and Dec. 10 at Castoro Cellars.
D'Anbino hosts Three Martini Lunch on Saturday, Dec. 10, from 8 to 10 p.m. Check out these lounge lizards in exile who have been gathered together to celebrate jazz that's hip, cool, and swingin'!
"We play music of a happier, more swingin' time," says the band. "Sweet or dry; vodka or gin; with olives or a twist. Come join us and be swankified."
Admission is $10 ($5 for Record Club members), and wine is available for purchase by the glass or bottle.
Santa Cruz-based rock act Stellar Corpses will play a 10:45 p.m. show at Z Club on Saturday, Dec. 10. The band says they're a "fixture" in the Santa Cruz music scene: "This is no overnight success story. Stellar Corpses met in high school and have been around, playing small clubs, building their fan base, and doing whatever it takes to be able to create and perform music as their lifelong career. They've got the goods … now it's time to get out there and prove it to a bigger audience." This isn't a death metal band, despite the name, which means "dead stars" in astronomy. Instead expect an amalgamation of punk, rockabilly, hard rock, and melodic rock.

Keep up with Glen Starkey via twitter at twitter.com/glenstarkey, friend him at Myspace.com/glenstarkey, or contact him at gstarkey@newtimesslo.com.