THE CLUB CAR: 1815 Osos St., SLO 549-8133
Several visits to the new Club Car on Osos Street in San Luis Obispo confirmed this restaurant offers a very good meal at a fair price. Experience those attributes merely once in its comfortable ambiance and you just might want to make this club your home away from home. I haven't been a regular during any of its past guises, but the remodel it has undergone certainly made it much more inviting. And that appeals to the residents around the old Park Hotel who return every week; according to owner Joseph "Joe" Hall, some of them dine several times each week.

My first visit was a business lunch with my longtime friend, Linda Parker, a wine marketer. We ordered several dishes to share: tasty crab cakes, the Cubano sandwich, and fish and chips. I was disappointed only in the latter because the fish was overcooked, but the fries were my favorite style, thick and crispy. Executive chef Reuben Sandoval wasn't cooking that day but had stopped in. I was glad he sat down to talk to us after our meal, which gave him a chance to try a very good new winery, Cru Vin Dogs, Linda was pouring for me. Its wines are labeled with different dog breeds, and part of the proceeds benefit dog charities. The chef was troubled at hearing about the overcooked fish, but we declined when he offered more food.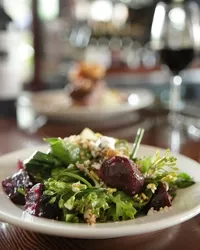 We learned this buffed-out chef used to be a competitive body builder in Los Angeles, the San Joaquin Valley, and Kansas. "I only did the shows where there was drug testing and no steroids were allowed," he explained. "I became a personal trainer and then turned to professional cooking, throwing a health influence into it." Because he works at staying in shape and in good health he has always been health conscious while creating his menus, which I appreciated. I often see Sandoval at Kennedy Fitness where we are both members. He invited me to come back to the restaurant because he was eager to have me taste some of his specialties.
I returned a few weeks later. I met Sandoval's friendly wife, Jennifer, who's also an athlete. The fitness director at Trilogy Homes in Nipomo, she provides boot-camp-style workouts for residents there. The chef sat with me to discuss his cooking style. He described it as California cuisine with international influences, noting that his culinary school training at Le Cordon Bleu in Portland Oregon was classical.
"I love Mediterranean and Asian cuisines. They have a lot of influence on my menus," Sandoval enthused. "I love preserving and curing foods—when you have it you have to do something to save it." Like most chefs, he prefers a seasonal menu. He makes the preserved lemon that's paired with the bacon-wrapped scallops, smokes sockeye salmon in-house, and cures pickles for his current lunch and dinner menus. Although they are some of his most popular dishes, they were not among the foods he chose for me. I started with his delicious clam chowder, which was plentiful with clams and potatoes, and subtle notes of bacon (I hate a strong bacon flavor in chowder).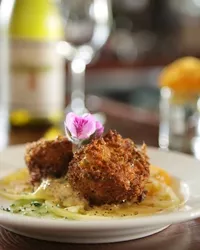 I've heard people comparing this restaurant to the Park and Lido and complaining it's not the same. Now I can explain why, after sitting down to talk with the man behind the Club Car. Hall spent almost two years remodeling the old Pete's Southside Café, and said he's thrilled about the project even though it was challenging.

"Getting the place set up and working on the layout was always a work in progress. We had the name from the beginning but I didn't want a train theme," he explained. He didn't want it to be the Park Hotel frozen in time; he wanted it to be a neighborhood kind of place that's warm and worn but with a functional elegance where everyone feels at home. He admitted that when he finally decided to open he wasn't sure it was ready.

Hall said it's gratifying to hear his regulars tell him the Club Car is warm and inviting. "But I don't want it to be too precious; I wasn't trying to be on the same level with the Park or Café Roma. I wanted to create a casual, neighborhood bar and grill." Neither did he try to "fix it up too much," preferring to let it "evolve" and develop its own character through the years. He helped remodel the space while his nephew Jeff and his wife Barbara handled the beautiful woodwork. Most of the art is on loan from artist David Settino Scott, whom Hall said he admires for having an amazing repertoire.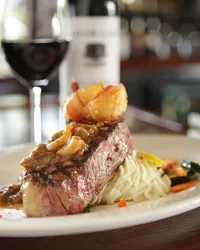 He praised Sandoval for his expertise and talent in the kitchen. "Reuben's been involved for a year and he's doing wonderful things in the kitchen." Hall has an impressive restaurant background himself. He was co-owner of the famous Black Dog restaurant on Martha's Vineyard for 22 years. "The Black Dog was big business and I was simply the CEO, not a hands-on owner," he recalled. "Its success was that locals loved it and supported it." That's where he met his partner, Susan Branch, who lived in Arroyo Grande in the 1970s and '80s. They met on Martha's Vineyard in 1986, where they still have a home. Now Hall is very much hands-on in his new restaurant and committed to making the Club Car part of the SLO community.
I've had several dishes I recommend: the delicious mussels with house-made chorizo and toasted bread for dipping, $8.95; the spinach salad with candied pancetta, Maytag bleu cheese, and pine nuts with balsamic vinaigrette, $8.95; and a wonderful mac and cheese with Vermont white cheddar, crispy pancetta, butternut squash, wilted market greens, and pasta, $7.95. I've found everything served here to be generous in portion and of good quality. Service has been attentive, even the first time when they didn't know me, and friendly. Hall concluded: "We want people to be happy and to have a dining experience that exceeds their expectations."
You can reach New Times' Cuisine columnist at khardesty@newtimesslo.com.