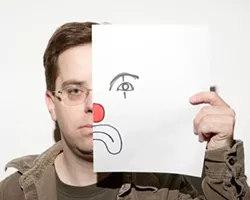 IMAGE COURTESY OF STEVE E. MILLER
TWO FACE : Mark Wiberg will perform his hilarious 20-minute set Feb. 7. He cites Woody Allen among his influences (this will make total sense after you see his show). He has performed at Players in Atascadero and Level Four. Info: Markwiberg.com. Stand Up Comedy show with locals takes place on Feb. 7 (every first Saturday of the month) at 8:30 p.m. at the Grange Hall located at 2880 Broad St. in SLO. $5. Refreshments available. Info: 543-0639.
New Times How did you get your start as a stand-up comedian?

Mark Wiberg I started in 1997, really part time, in San Diego at the La Jolla Comedy Store; I took a workshop there. Then after a couple years I moved to L.A. and totally tanked after a few years. It wasn't a good move. It takes a lot of energy, and you have to be semi-crazy. So, 10 years is the short answer, and I moved up here in 2004 not expecting to do comedy at all but got back into it.

New Times So why get back into it?

Wiberg I actually read an ad in New Times for comedians and checked it out just to keep sharp and to play around with it. In 2005 I started performing at the Grange [Hall, in SLO]. And I've been a regular there. I took one year off in 2007 because I was sick of my jokes.

New Times What happened?

Wiberg I probably had a bad show.

New Times Where does your comedy come from? Is it a constant thing?

Wiberg It's always on, it's constant. I'm always looking for a joke. You can always find a joke, but the tough part is finding a bit, or a joke, that lasts long in a set, that will either fall into a set you already have, or that you won't get tired of telling. That's the trick.

New Times What do you draw upon in your routine?

Wiberg Myself, my lack of physical strength, it's an easy target. If you keep it personal, it's easy to remember and it's less likely someone will copy it. My family, where I live in Atascadero. I usually say, "Yeah, I'm from Atascadero … when I get my car fixed I'll be from somewhere else."

New Times [Laughs]

Wiberg I talk about working out. Every comedian does. I bought a bike, at Target. You know you're serious about buying a bike when you buy it at Target

New Times [Still laughing]

Wiberg It's a Lance Armstrong kind of thing. A bucket of red vines and your bike, and you're all set.

New Times [Still laughing]

Wiberg Oh, the Bowflex. This is a new joke. I ordered a Bowflex and put it together and it's really hard to do and the bummer was the next day the second box arrived with all of the pulleys. Set up, punch, set up, punch. General stuff. Not so much about what I do, but more perceptions people have about me. I get up there and I look like a computer nerd comic, and I don't do computer nerd jokes, really. I think in my mind I'm a lot different than what I am, outwardly so.

New Times What's your ultimate goal on stage?

Wiberg Make them laugh. I don't have an agenda, in terms of telling everybody how right I think I am or smart or pissing people off. A lot of comics do that. Mainly just survive. Have a good set and remember all the jokes.

New Times What drives you to do comedy? Because it's a tough business!

Wiberg I'm super shy, but funny. In college I took a TV sitcom writing class and got a kick out of the response I got from other students. Actually writing a joke is something that should be learned, and a lot of people don't. After college, I had nothing going on so I tried the stand-up comic, mainly to get over stage fright. Once I got over that, I got a good rush out of it. It's a good challenge. And it's not something everyone does.

New Times What do you laugh at?

Wiberg Flight of the Conchords, The Office.

New Times British or American version?

Wiberg Both.

Christy Heron wishes Robert Nesta Marley a happy, albeit posthumous, birthday on Feb. 6. Throw some buffalo soldiers at her at cheron@newtimesslo.com.