Visitors to www.froguts.com the online hub of a "bio e-learning company" that offers virtual dissection CDs for students and home schoolers are treated to soothing music while a fetal pig floats onto the screen. Once settled in, guests can try demos for a squid, an owl pellet, and, of course, the ubiquitous frog. There's no killing involved, the big organs are clearly labeled, and there's not even a whiff of formaldehyde.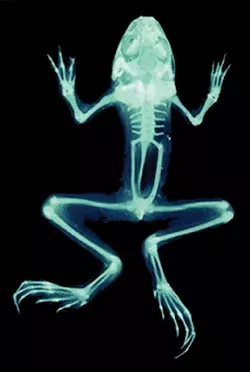 IMAGE COURTESY OF DIGITAL FROG INTERNATIONAL
NOT REAL : Digital Frog links virtual dissections to physiological and ecological information, offering views such as x-rays that aren't available to typical students.
# Is this the future of dissection? Animal rights activists hope so.
People for the Ethical Treatment of Animals (PETA) has long held a position that there are humane methods of teaching anatomy to students, methods that don't involve real animals. When several dead cats intended for dissection appeared in the trees around San Luis Obispo High School in an apparent prank at the end of the last school year, PETA used the opportunity to contact principal Will Jones with information about dissection alternatives.
Shalin Gala, a research associate with the animal rights group, said that they're advocating for CatWorks, a CD-ROM that puts a simulated feline at the hands of students.
Principal Jones said that, as an educator, he's willing to listen to dissection alternatives.
"I'm open minded. If there's something out there that's valuable and is practical and it works just as well as what we're doing, I'll take a look," he said.
After the start of the school year, Dr. Nancy Harrison will likely pay Jones a visit. She's a pathologist in general practice in San Diego. Basically, she said, that means she dissects parts of people and occasionally performs autopsies for a living. When she's not working, she still spends a lot of her time with scalpels and organic systems, though her attention is more focused on computers.
"I am kind of a self-taught expert on virtual dissection," she said.
Her fascination with science and biology in particular led her to immerse herself in the world of pixilated worms, frogs, rats, cats, squids, and pigs.
Her hobby has exposed her to a wide selection of programs about 30 total. She can break them down into subsets according to age appropriateness, complexity, or featured animal. Some of the programs are child-oriented, designed to appeal to grade schoolers with little songs and cartoon-like graphics. On the other end of the spectrum are models intended for practicing doctors, boasting simulations for radiologists "too detailed for pathologists," Harrison said.
Armed with her own discoveries and opinions, Harrison travels the country a couple of times a year on her own penny, she said to educate the educators. For about seven years, she's been visiting science teacher conventions to discuss the pros and cons of the various virtual dissection programs available.
"It's a warm reception," she said. "The teachers who come to my talk come voluntarily."
Her favorite of all the programs? Digital Frog 2.1 (a later version is now available). Harrison said she spends 20 or 30 minutes showing highlights of the several-hour-long program at conventions. The simulated dissections are linked to a detailed physiology textbook. The program also boasts an ecology section which she termed "superlative" that reminds students that living beings are part of a larger environment. On the technical side, Digital Frog offers an itemized list of the California science standards it covers.
Harrison's second favorite is the DryLab Fetal Pig. She doesn't have a favorite cat program or any third or fourth favorites. Still, she can pinpoint the best frog for 10th graders or the best worm for college students.
When it comes down to it, Harrison sees advantages in both virtual and "wet" dissections. The up-side to an actual dissection is its physicality.
"It's practical, three-dimensional, and you get to touch it with your hands," Harrison said.
In other words, there's nothing quite like making incisions and handling organs. She did emphasize several caveats, however. Any real animal used would have to be an "ethically sourced cadaver," which means that it wasn't killed for the sake of study. Harrison added that the cause of the animal's death should be understood and conveyed to the students.
She had many more positive things to say about virtual dissections, ticking them off in a familiar list: They're repeatable. They're cheaper for schools. There's no ethical debate.
"I feel very strongly that students who want an alternative are getting a really great alternative," Harrison said.
She emphasized that she doesn't think people who practice dissections are terrible students or teachers. As a student herself, she followed where her teachers led and felt no strong feelings for or against dissections. Her interest in animal issues came later, and now she touts virtual dissections' "incredible educational advantages."
Teachers can use virtual dissections to prepare an entire class for a wet dissection. Or they can let any students opting out of the wet dissection use the programs. Or they can, as many animals rights activists would hope, use them in the place of actual cats, frogs, or other animals.
"The big picture is that everybody wants the same things for our students: Get them excited about biology," Harrison said.
As for the apparent SLO High prank that kicked off this local look at virtual dissection, Harrison said that, in her experience, some students may be intellectually ready for wet dissection, but not emotionally ready to examine the body of an animal they recognize. Experiencing an animal's mortality can trigger different responses including disrespect.
"They're not bad kids," she said, "but they need to be taught better."
Editor Ryan Miller can be reached at rmiller@newtimesslo.com.