I went into this photo essay project expecting to feel sympathetic and even sorry for the homeless people I photographed. I left with the discovery of two men who had simply chosen a drastically different lifestyle than the rest of us. I also left with two friends. Over the course of almost three weeks, I spent close to 18 hours just sitting, talking, and photographing Michael Francis Gaither and Brad Dunlap. Within minutes, it was like they weren't aware I was photographing them anymore.
Free with their thoughts and answers to my questions, they are two individuals who simply don't want to live within the constraints of society. Wholly without malice toward other people, and without a want for handouts or sympathy, they just desire to live in peace in a beautiful spot in California.
I watched on as both men gave freely of their own possessions--whether a cigarette, soda, or bike parts--to their many friends in a harmonious fashion sometimes hard to discover in the home-having populace. Citing a desire not to get into trouble or illicit sympathy or harassment, both men live away from downtown and with a sense of contentment about their lives that most likely many other people wish they had.
I would never personally be able to live the way they do, but now I fully understand the reasons why they do--and ultimately that's the purpose of this photo essay: just showing a different type of lifestyle that doesn't really conflict with the lifestyle the rest of us have.
I will admit that their experiences don't reflect those of all homeless people. Both men would agree. As Brad said: "There are as many cliques in homeless society as in regular society."
Photo by Steve E. Miller
Mike wakes up in the morning. Construction noise and the fire station nearby provided plenty of waking moments through the night and early morning.
#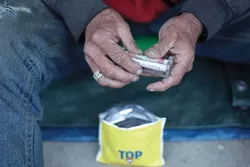 Photo by Steve E. Miller
Rollies--cigarettes--are a common fixture among the homeless, with both Mike and Brad touting the appetite suppressant properties of smoking as the primary reason why they smoke.
#
Photo by Steve E. Miller
Mike sits next to the phone-books, which divert the flow of water from the downspout away from his sleeping bag. Rain is the biggest headache that both men have to deal with.
#
Photo by Steve E. Miller
Brad flashes the peace sign as he departs for the Prado Day Center. The next day he sided with Mike in a decision not to frequent the center because of his dislike for handouts.
#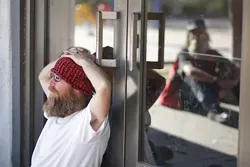 Photo by Steve E. Miller
Brad leans against the door with Mike in the reflection as we try to define properly what virtue is.
#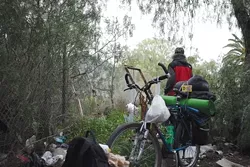 Photo by Steve E. Miller
Even though the owners of the building know he sleeps outside on their steps, Mike was rousted that morning, so he has to sleep in a different spot tonight.
#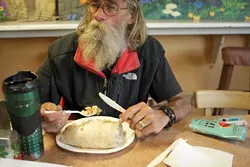 Photo by Steve E. Miller
Once when Mike was quite hungry, he was met with generosity and kindness at Chili Peppers, so each month when he gets his disability check he goes to eat at the restaurant. Shrimp burritos and fish tacos are his favorite.
#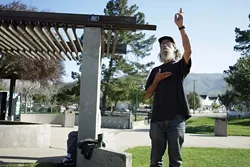 Photo by Steve E. Miller
Mike pontificates on some subject with zeal.
#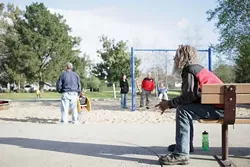 Photo by Steve E. Miller
Mike sits on a bench at Meadow Park while families play with their children in the sand box. Seemingly none of the families were afraid nor did they protest against the handful of men and women hanging around the space.
#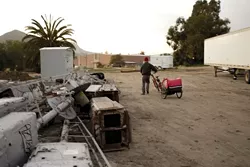 Photo by Steve E. Miller
Brad goes "home" for the night.
#
Photo by Steve E. Miller
Mike lies down to sleep for the night. Two tarps, an inflatable sleeping pad, and a sleeping bag make up his nightly nest.
#
---
Steve E. Miller is the New Times staff photographer.