Update (Sept. 12, 10:30 a.m.): At a Sept. 7 meeting, the Paso Robles City Council voted to ask SLO County to "postpone its decision to proceed with a new animal shelter, in order to give the City adequate time to work with the City of Atascadero on the feasibility of a north County animal shelter," a Paso press release stated.

Earlier this year, San Luis Obispo County's seven cities signed an agreement with the County Health Department to collectively pay for the construction of a $14 million animal shelter off Highway 1.
Now, the two cities facing the biggest chunk of that bill, with the greatest demand for animal sheltering services, are getting cold feet about the arrangement.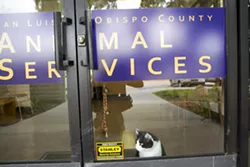 File Photo By Jayson Mellom
SHELTER DILEMMA Facing $4.4 million in costs to help SLO County construct a new animal shelter, the cities of Paso Robles and Atascadero are mulling building their own facility in North County.
Paso Robles and Atascadero are in the midst of exploring the viability of building their own animal shelter in North County, and in turn pulling out of the financing agreement with SLO County.
While the two cities "above the grade" have historically contracted with the county for animal sheltering services (which state law requires be provided), Paso and Atascadero's estimated $4.4 million share of the new shelter has city officials searching for a less expensive alternative.
"We're not satisfied at all with the costs," Charles Bourbeau, an Atascadero City Council member, told New Times on Sept. 5. "The increased cost that we're looking at annually is more than the cost of hiring an additional police officer or fire fighter—considerably more. We've got to look at how those costs can be cut."
The topic is on the Paso Robles City Council's Sept. 7 agenda, and the council may decide to direct its staff to begin a search for an interested nonprofit or for-profit operator of a North County shelter. The City Council could also decide not to pursue the alternative and stay with the county.
According to a Paso city staff report, an animal shelter for North County could pan out as less costly to the cities, if the communities are willing to accept a "lower level of service" at the shelter. That could include "restricting the type of animals that could be accepted," among other service reductions.
"A majority of residents in some areas believe that unclaimed dogs should be sheltered locally as long as it takes to be adopted; others are willing to follow other practices, many of which can reduce costs to the community," the staff report reads.
City officials in Paso Robles could not be reached by New Times for further comment.
Atascadero officials said its City Council would not discuss the issue in a public meeting again until a proposal for an alternative shelter progressed further.
Between 2013 and 2016, Paso and Atascadero sent the most stray animals to the county animal shelter out of the county's cities, accounting for 33 percent of the shelter's total intake in that time period. Stray and feral cats, in particular, have been an issue for North County, according to animal services organizations.
If Paso and Atascadero pulled out of the county's agreement, they'd be responsible for the already incurred costs of the future county shelter, which is still in design and planning phases. The county would then have to redesign its shelter to account for the fewer animals coming from North County cities.
"The facility would shrink in size," said county Assistant Administrative Officer Guy Savage.
Its costs would shift onto the county and remaining participating cities.
Savage added that he believed Paso and Atascadero would be better off financially by contracting with the county—if they wanted to provide a high level animal sheltering service.
"If you compare similar levels of service, I believe you'd quickly find that staying with the county makes a lot more financial sense," he said.
Bourbeau, the Atascadero councilman, said the cities would be wise to explore a lower-service shelter in North County if it translated to a significantly lower cost.
"It's sure as heck worth investigating," Bourbeau said. "We owe that to our citizens who are frankly forgoing other services if we stick to the county's arrangement." Δ