Proud home chefs and compulsive Yummly fanatics: I'm talking to you!
We've all watched a competitive cooking show and, at some point during the program, announced knowingly to the TV, "I could so make that!"
Just admit it. You have totally done this, causing your significant other and/or pet to roll their eyes dramatically.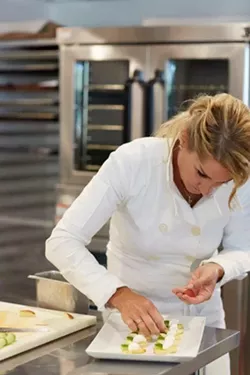 PHOTO COURTESY OF SUMMERWOOD INN
SHE'S GOT SKILLS: SummerWood Inn Executive Chef and Inn Manager Kelly Wangard knows her way around a kitchen, but now everyone and their mother knows she can cook proficiently in handcuffs. The Paso Robles chef recently won the Oct. 26 episode of Food Network's Cutthroat Kitchen with Alton Brown.
That being said, you probably already know that no one—not even those of us fancy enough to have a weekly Chef Box subscription—has ever uttered those brazen words while watching Food Network's Cutthroat Kitchen. Who would so foolishly dare to offend the All-Powerful TV Food Gods?
Cutthroat Kitchen is, of course, a cooking show for the sadomasochistic; a hell where you might be forced to use chopsticks as your only tool while attempting to make rack of lamb, where you might be required to make beef stew while crouched inside a true-to-life coffin, or—as recent Cutthroat Kitchen Winner Kelly Wangard very recently experienced—create a delicious, presentable turnover while handcuffed.
Spoiler alert: She killed it.
"It could have been worse," the SummerWood Inn executive chef said of her third-round challenge. "My hands were a little red afterward, but I had some space to work with. By that final round, I was just delirious and cracking up, thinking, 'Whatever happens to me, happens.'"
It's not every day I get to talk to someone who has been personally shackled by the great Alton Brown, the show's equally sadistic and comedic host. My dad and I have been big fans of Brown ever since the food geek combined Bill-Nye-the-Science-Guy-type-experiments with silly, low-budget skits of his debut show, Good Eats.
When I chatted with Wangard late last month, she had just stomached a viewing party of the fated episode, which originally aired on Sunday, Oct. 26. As thrilled as the Paso Robles chef was to have won such a massive feat, she still understood the fact that she was on reality T.V.
By now, we all know how the sausage is made.
"I was nervous, so it was really nice to have so many close friends and family at the viewing party. My best friend even surprised me by showing up," Wangard said. "The producers have the option to make fun of you; you don't know if your personality is going to come out well."
In the end, the chef is content with her stint on national television, which (and those familiar with the episode already know) marked a turning point for the show. One Google search of the chef's name produces this headline: "Record-Setting Auction and Alton in Handcuffs." Talk about creating Internet buzz.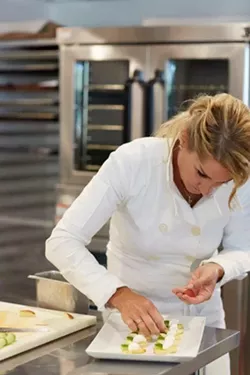 PHOTO COURTESY OF SUMMERWOOD INN
SHE'S GOT SKILLS: SummerWood Inn Executive Chef and Inn Manager Kelly Wangard knows her way around a kitchen, but now everyone and their mother knows she can cook proficiently in handcuffs. The Paso Robles chef recently won the Oct. 26 episode of Food Network's Cutthroat Kitchen with Alton Brown.
But before we talk about why Wangard made Cutthroat history, here's a little recap: Four chef contestants, given $25,000 each, had the opportunity to bid on the show's ever-evolving lineup of "sabotages," including one that forced a poor contestant to make all of her cooking utensils for a loaded baked potato appetizer out of a 4-foot ball of tinfoil.
Wangard ducked this sabotage by (wisely) avoiding getting into a bidding war early on, but was later forced to pass a potato back and forth between a neighboring competitor while she attempted to make her own appetizer. Paso Robles viewers drew a collective gasp. Would their native daughter make it?
Spoiler No. 2: She did indeed make it. With flying colors.
"My approach was always to do exactly what the judge wanted: make the food look good, taste good, and resemble the item we were asked to create," Wangard said.
The chef also spent a little money. OK, a lot of money.
In the second round, Wangard burned a record $18,100 on an entirely new sabotage that would require two competitors to collaborate on creating a Korean barbecue dinner. Wangard spent more on this sabotage than anyone has ever spent on the show to date.
"I just couldn't have somebody else prep or cook my food," Wangard said simply. "I was already working with a plastic knife, so I thought, 'Of course, I would get stuck with this sabotage.' I had to spend the money, and I didn't care how much cash I went home with. I just knew I had to win. It was do or die."
The dramatic twist—which Brown sardonically alleged would "force the chefs to communicate and get along"—also included a physical "North-South Korean border" complete with wood, wire, and "Keep Out" sign.
"I was really shaken up after that auction," Wangard said. "I had just sabotaged these two people, had spent all of this money, and I knew they were both going to go against me."
Wangard was right.
In the third round, the chef was left to compete against Hot Box Food Truck Chef Michael Bowling of Charlotte, North Carolina. A formidable opponent, Bowling promptly bestowed Wangard with the shiny pair of handcuffs mentioned at the top of the story.
Wangard, as you might have guessed, had the last laugh there.
Ultimately, Cutthroat Kitchen Judge Antonia Lofanso gushed over Wangard's moist, yummy turnover, proclaiming, "If I were to finish that entire plate, I would have been happy."
Although Wangard did a bit of a touchdown dance after being announced champion of the competition, she's not the bragging type. Example: When a fan of the show recently recognized the chef at a local Target (she'd left the kitchen on her break and was picking up pajamas for her daughter's upcoming pajama day at school), there was no signing of autographs.
"This woman who recognized me said she had spotted a celebrity, and I was like, 'Come on!''' Wangard said with a chuckle. "For me, it's just really fun to support Paso and SLO. I've always been proud of where I'm from."
The chef also gave out major props to her competitors—in particular, Chef Bowling.
"From the beginning, I had a feeling I would go up against Michael; his background is in high volume and being on the fly," Wangard said. "I knew he would be the most versatile and fast-paced, and that is what you need to win Cutthroat Kitchen."
Wangard's massive success at SummerWood Inn—in combination with her work as a dedicated wife and mother—may have also equipped her in that department.
"I get to work, and I am in a rush to get things done so I can get to my kids. Then, when I am with my kids, I am trying to do what I need to do to get them ready while thinking about returning emails once they're asleep," Wangard said. "In a way, life is a constant Cutthroat Kitchen with all of its own random sabotages that get thrown at you."
Reach Hayley Thomas at hthomas@newtimesslo.com.