The tea is everywhere. Which isn't surprising, because the porcelain teacups are dancing about, piling on top of one other into the sky. A forgotten, half-eaten cake melts as a strange man with long eyelashes and a top hat lectures a sullen blond girl with a ragged little black bow perched atop her head. Oh, and a giant rabbit is also in attendance.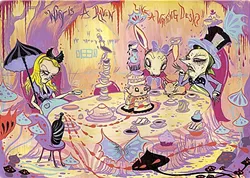 IMAGE COURTESY OF CAMILLE ROSE GARCIA
TEA TIME: The absurdities of the Mad Hatter's tea party are ever present in Garcia's gothic depiction, Tea Party Spread. The quote "Why is a raven like a writing desk?" is etched into the background in bright purple and orange letters. A punk rock Alice looks positively bored.
Sound familiar? Psychedelic colors and heavy-handed black accents take the tea party scene of Lewis Carroll's Alice in Wonderland to a darker level in Down the Rabbit Hole: Camille Rose Garcia's Alice in Wonderland art exhibit, currently on display at the Harold J. Miossi Gallery at Cuesta College.
Starting with a "once upon a time" and ending faithfully with a "happily ever after," fairy tales are a highly idealized version of how we'd like life to be. But there are thorns everywhere. Snow White bites the poison apple; Cinderella is basically a slave to her evil stepfamily. If you go back even further, the original versions of fairy tales are especially grim (pun intended). In an older version of The Little Mermaid, Aerial doesn't get her prince; she simply turns into sea foam and washes away with the tide.
Growing up in Orange County meant Garcia jumped onto the Disney bandwagon early on in life. Her father was a Mexican activist filmmaker and her mother was a muralist. Naturally, art was her destiny. Garcia's mom would take her to art museums, and art books were abundant in their home.
IMAGE COURTESY OF CAMILLE ROSE GARCIA
THE EXISTENTIALIST: Are we human or are we giant, drugged-up caterpillars? An exasperated Alice attempts to seek wisdom from the high up in the sky Caterpillar as he partakes in a puff of hookah. The smoke forms the words, "Who are you?" in the piece Advice from a Caterpillar.
"I was pretty immersed in the world of Disney," Garcia said. "The idea of being able to draw something and bring it to life was magical for me."
And so like the great Walt Disney himself, Garcia looked to fairy tales for her artistic inspiration—with a slant toward the dark side.
"I like that it becomes part of this lineage of retelling stories over and over," she said. "I always had a sensibility toward a dark sense of humor. I find the juxtaposition to have a darker edge but keep this light fun feeling to be an exciting challenge."
Garcia describes her artistic style as a sort of fractured surrealist folk art. She has left her mark on popular stories such as Snow White, using plenty of colors that pop and outlining everything in black. Her characters have that sweet wide-eyed fairy tale look, but haunted. They've seen some stuff.
For the Alice in Wonderland series, Garcia didn't have to look that hard to find the dark side.
"The story sort of has this psychedelic and disorienting quality," Garcia said. "I sort of tried to exaggerate their darker, more macabre vibes. The Mad Hatter worked with chemicals that drove him mad. The Caterpillar is sort of this psychedelic guru. I try to read between the lines."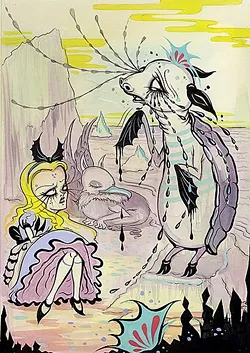 IMAGE COURTESY OF CAMILLE ROSE GARCIA
MOCKERY OF A TURTLE: The light blue-striped Mock Turtle cries as he tells his tale of woe to an annoyed Alice in a flowing lavender steam-punk gown in A Mock Turtle's Story. Meanwhile the Gryphon naps peacefully in the background.
But what's so terribly dark about sweet, sweet Alice? Well she did choose to jump down the rabbit hole for starters.
"We're used to seeing her a certain way," Garcia said. "She's young, blond, and bright eyed. But really she's irritated the whole time."
So Alice in her little blue dress and white apron becomes a slightly more pouty, vixen-like version of herself with thick black eyeliner, a tattered black bow in her hair, and a steam-punk lavender gown with a light blue apron.
"We're all familiar with the story," Garcia said. "It's also a great show for aspiring artists to see because I've included sketches and so much of the work process in it. There's something for everyone."
Ryah Cooley is finding her happily ever after at rcooley@newtimesslo.com.
CURIOUSER AND CURIOUSER : Step into a magical world when you check out Down the Rabbit Hole: Camille Rose Garcia's Alice in Wonderland. This gothic fairy tale exhibit will be on display at Cuesta College's Harold J. Miossi Art Gallery through March 25. The gallery is open Mondays, Fridays, and the first and third Saturday of the month from 11 a.m. to 4 p.m. Garcia will also give an artist talk at the gallery on March 11 from 4 to 7 p.m.