It's interesting to note that the same profession that gave birth to vodka billboards with half-clothed women and images of whipped cream atop a Starbucks' orange crame frappucino could also be responsible for a shock-red poster urging the viewer to help free Burma. In American culture, consumerism and political dissent are rarely linked, save for protests against commercial culture. But students studying toward degrees in graphic art and design at Cal Poly are receiving the tools to tread either path, to
IMAGE BY FANG CHEN
VICTORY : This piece was created by Fang Chen of the USA in 1998.
# pair an image and slogan in such a way as to cast doubt on a tyrannical leader or convince passers-by to dig into their pocketbooks.
According to assistant professor Charmaine Martinez, an exhibit at Cal Poly's University Art Gallery may be the display necessary to open students' eyes to the potential and worldwide significance of graphic design. "The Design of Dissent" opens Jan. 11 with a reception from 6 to 8 p.m., and closes Feb. 23. The exhibit is based on a 240-page book of more than 400 political posters and images, The Design of Dissent: Socially and Politically Driven Graphics, released in the fall of 2006. The two men responsible for compiling the book are themselves graphic artists: Milton Glaser's work is featured in a permanent collection at the Museum of Modern Art. He is, in fact, the designer of the ubiquitous "I Love NY" campaign. Bosnian-born Mirko Ilic was art director of the international edition of Time and The New York Times op-ed pages.
Together, they compiled dissenting paraphernalia from around the world: Israel, Palestine, Russia, Hungary, the former Yugoslavia, Slovenia, Croatia, Iran, Turkey, Bosnia, Serbia, Spain, Poland, Malaysia, Germany, South Africa, Argentina, Mexico, and the United States. The urge to assert a desire for peace, and the absolute certainty that all people are equal, knows no boundaries--or timeline, for that matter. Though the majority of the pieces were created during the course of the last 20 years, some date back to the early '60s.
The activist artists do more than touch on issues like religious extremism, gay rights, and corporate injustice. They delve into the shocking and the provocative, creating images that make the viewer wince and cringe, tattooing their messages into memories.
IMAGE BY VLADAN SRDIC
BRAINWASHING : This piece was created by Vladan Srdic of Slovenia in 2003 for Miandia Magazine.
# Some of the artists are professionals, designing for clients like Amnesty International. Others are simply individuals with a message. For some, the dichotomy between a graphic designer's role in marketing and the bold voice comparing CNN to a brainwashing machine is something akin to a Madonna/consumer-whore split. But that may be a simplistic perspective of graphic design, sometimes a profession, at other times a hobby, and on occasion--as illustrated by "The Design of Dissent"--an all-too-rare opportunity to express a desire that humanity better itself.
"Is there a conflict of interest because designers do work for corporations?" Martinez pondered. "It's important for designers to be good citizens. And for a lot of this work, somebody sees an injustice and just wants to do something about it. It's a form of activism. One could argue that some of the really effective forms of propaganda have been done by people who have no background in graphic design."
Martinez is responsible for bringing the exhibit, which began as a book, to Cal Poly. Ilic was a featured speaker at a graphic design conference she attended in San Diego last spring. After the conference, she began soliciting approval to host a "Design of Dissent" exhibit, a challenge simplified by the fact that the book's publishers approved of the idea. It won't be the first time the book's contents make their way onto gallery walls. When the collection was originally released, there was a corresponding exhibit of the posters featured in the book. Later, a college campus on the East Coast hosted the exhibit.
Text that illuminates a piece's title, creator, and background will accompany each image. This is particularly important because, while a good piece of propaganda instantly alerts viewers to the intended message, few people have the necessary cultural reference points to understand perspectives of dissent from countries they know little about. This type of political art is ephemeral by nature, Martinez points out it exists to serve a particular need for a particular people at a particular time.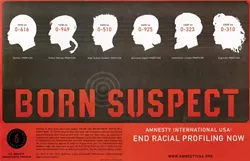 IMAGE BY TOM SIEU
BORN SUSPECT : This piece was created by Tom Sieu and John Givens in 2003, for their client, Amnesty International.
# Odds are, in addition to confusing some people, some of the posters will provoke anger or, at the very least, disagreement. The collection primarily represents liberal perspectives and beliefs. Martinez thinks that a likely explanation for the slant is that the two people responsible for compiling the work--Glaser and Ilic--included the pieces they most admired, which happened to advocate a left-wing perspective.
In an interview between Glaser and Steven Heller, art director of The New York Times Book Review, they reference a pro-life example of propaganda: a man holding a photo of a fetus. That Glaser and Ilic are aware that conservative propaganda exists is clear, but that alternative view never makes it into The Design of Dissent.
Outside of standard ideological disagreements, some of the pieces may generate a powerful visceral reaction.
"The work, some of it is shocking and some of it is difficult to look at," Martinez acknowledged. "I'm sure there are going to be people who look at the exhibit who disagree, and that's okay, as long as it opens up a dialogue. I think it's important for graphic artists and designers to know what's happening on a global scale."
It's important for viewers to distinguish between the message of the individual pieces on display, and that of the overall exhibit. An expression of dissent, whatever the message, is a courageous statement, provided that it's made with the intention of bettering the world. The power to make these kinds of statements, therefore, is invaluable. As far as Martinez is concerned, if her students walk away from the display knowing that they too can channel their energy and passion through their developing skills as artists, the exhibit will have been a success.
INFOBOX: Put on your Buck Fush hat
"The Design of Dissent" will take place at Cal Poly's University Art Gallery Jan. 11 through Feb. 23. A reception will be held Jan. 11 from 6 to 8 p.m. The University Art Gallery is located at the Dexter Building, room 171. Gallery hours are 11 a.m. to 4 p.m., Tuesday through Saturday, and 7 to 9 p.m. on Wednesdays. For more information, call 756-6038.
---
Arts Editor Ashley Schwellenbach dissents daily. Send a copy of The Motorcycle Diaries to aschwellenbach@newtimesslo.com.