Writer-director Margaret Betts helms this story spanning the early-'50s through the mid-'60s about Cathleen (Margaret Qualley), who thanks to a scholarship finds herself at a Catholic high school. Though raised by a non-religious mother, she's attracted to the mysteries of the church and soon dedicates her life to the service of God as a nun-in-training; however, as she continues her religious conditioning in the midst of Vatican II reforms, she's confronted with difficulties concerning her faith, sexuality, and radical ecumenical changes within the church. (123 min.)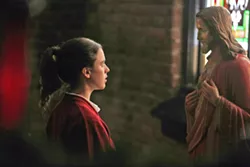 Photo Courtesy Of Maven Pictures
CHRIST'S BRIDE Cathleen (Margaret Qualley) commits to becoming a nun just as the Catholic Church is going through the upheaval of Vatican II reforms.
Glen This is a fascinating story about something I know little about. Though I've been to a Catholic church on occasion, I had no clue about the pre-Vatican II vocation of nuns, who commit themselves to the church as Christ's brides, and I mean they literally put on wedding dresses, have a ceremony, wear wedding rings, and consider themselves married to Jesus Christ. Vatican II was meant to make the church more open and welcoming at a time when people were exiting Catholicism for more liberal and less formal religions. One of the changes was to have priests stop doing the mass in Latin with their backs to the congregations; another was for nuns to lose the penguin-like habits and to end the harsh initiation into their order. This story revolves around Cathleen (Qualley), who enters the Sisterhood of the Rose at a time when the Reverend Mother (Melissa Leo), who runs the order, still believes in Medieval practices of discipline. It was sort of like watching boot camp for nuns, except instead of eight weeks of intensive training, it's two years. At first I found myself swept up in Cathleen's religious awakening, but at some point all I could think was to scream to her, "Run! Get the hell out of there!" The emotional reckoning of the film is complicated by the enormous sympathy I had for the Reverend Mother, in large part because of the nuanced manner in which Leo portrays her. She's deeply committed to her faith and the church, and the Vatican II reforms she's tasked with implementing are an insult to her and her order. Then there's Cathleen's actual mother, Nora Harris (an amazingly nuanced Julianne Nicholson), a liberal-minded divorcee who feels like her daughter is being stolen from her. The whole thing is heartrending.
Anna I wasn't sure what to expect from this movie, but positive feedback from Rotten Tomatoes had me hopeful. I wasn't disappointed either. Novitiate was a full story carried on the backs of some fantastic actresses. It was written and directed by a woman, and female driven films have been having a heyday as of late. I'm generally pretty cautious about religious themed films, generally because they can be represented as one thing but turn out to be a sort of guise to promote a religious message. However, Novitiate is wholly the story of the women surrounding Cathleen in both her convent and her past at home. The Sisterhood of the Rose convent is particularly strict; devotees are expected to punish themselves for their misgivings as well as take any abuse handed down to them from the Reverend Mother. It's intense and brutal but so grounded in reality that you know it isn't made-up horror to spice things up on the big screen. Vatican II promises to upend the world Reverend Mother has lived in for the last 40 years, never once stepping off the grounds of the convent. The film opens with an unknown nun pleading with God to not abandon her, and by the end of the film, who that nun was is clear. While Cathleen is the center of the story, the performance that had me in rapt attention was Leo as Reverend Mother. She scared and intrigued me, expecting nothing less than complete devotion from her flock as well as a steadfast dedication to her life's work. Don't get me wrong, I wouldn't want to spend a day with the woman, she scares me to death, but it certainly did make for an interesting character portrayal.
Glen This writer-director is definitely one to watch. This film won the Breakthrough Director Award at the Sundance Film Festival this year, and it's her first feature length fictional film. She also made a 2010 documentary called The Carrier, about a pregnant Zambian woman in a polygamous marriage in which everyone is HIV-positive, who's trying to protect her baby from being born with HIV/AIDS. She also made a short called Engram about memory and loss. Between Patty Jenkins' Wonder Woman, Greta Gerwig's Lady Bird, Sofia Coppola's Beguiled remake, and Kathryn Bigelow's Detroit, this has been a very good year for female directors. Novitiate gives its actors plenty to do. Dianna Agron as the kind-hearted Sister Mary Grace is also a standout here. Like Cathleen, she joined the nuns young, and her crisis of faith is sort of a harbinger for Cathleen beginning to question her path. I especially liked how the film ends. It sort of lets viewers imprint their own wishes for Cathleen on the proceedings. This has been a particularly good year for films, and Novitiate is definitely one of my favorites.
Anna It's crazy to think of the real-life women who went through the reforms of Vatican II. I certainly see the merit in it from the church's side. After all, a priest speaking in English and facing toward you is a lot more approachable than one speaking in Latin with his back to you. However, for the women who had devoted their lives from their teen years as Christ's brides and spent their entire lives at their convent, working every moment of every day to appease and worship, devoid of human skin-on-skin contact, devoid of a life outside of worship, this shift in the church was life changing. No longer were they closer to God than any other Sunday-mass-attending Catholic. They were essentially stripped of all privilege from the church, even told their defining dress and habit was no longer necessary. While the new sisters are busy worrying about whether their devotion is good enough, their teachers and mentors are thrown into a crisis of faith. I really enjoyed the tricky mother-daughter dance between Cathleen and Nora. As Cathleen pulls deeper in the church and away from her mother, Nora is desperate to cling to any piece of her she can. The church is a line in the sand between them, literally putting bars between them during visiting hours. All in all, Novitiate is a fascinating look at a time in history that I knew nothing about. I found the inner workings of the convent to be fascinating, and even as a decidedly non-religious person, the rises and falls of faith these women go through is relatable and heart-rending. I won't be surprised to see this film on the Oscars list. Δ
Split Screen is written by Senior Staff Writer Glen Starkey and his wife, Anna. Comment at gstarkey@newtimesslo.com.