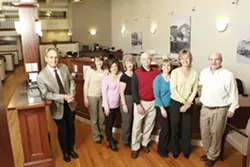 PHOTO BY STEVE E MILLER
NO WAITING : The branch staff is geared to downtown schedules. From the left: Reese Davies, president; tellers Raelene Todd, Alice Sekayan, and Sherry Zavala; Chuck Blevins, senior vice president; Caroline McGarvey, executive administrative assistant; Holly Mislavsky, customer service manager; Randy Pound, operations manager.
Founders Community Bank has opened a full-service branch at 863 Marsh St. in downtown San Luis Obispo in the retail space that was formerly occupied by Law's Hobby Center. The new office has a staff of eight, headed by bank President and Chief Administrative Officer, Reese Davies.

"Our other location is out of the downtown core," Davies said about the move. "So, when people wanted to come to us, they had to get in their cars and drive, which is not very convenient." Davies views the investment in constructing the new branch as a service to the community.

"We are a community bank first and foremost," Davies said. "And we'll do what is best for the people here."

The number of new accounts that have already been opened at the branch is good evidence customers appreciate the new location, teller Sherry Zavala observed. "Because they work down here, they don't have to give up their parking space, they can go to the post office and just stop right next door. It's just a handy location."

The new downtown branch is open weekdays with lobby service from 9 a.m. until 5 p.m. Monday through Thursday, and 9 a.m. until 6 p.m. on Friday. Additional help is available at a full-service walk-up window that's open from 8 a.m. to 9 a.m. Monday through Friday and 5 p.m. to 6 p.m. Monday through Thursday. A night depository is located at the front entrance of the building along with a 24-hour automated teller machine.

For more information visit Founders CommunityBank.com or call 543-6500.

Fast facts

It is not your typical mellow yoga class. Instead of the usual downward dog, inhaling and exhaling, Atascadero's Yoga in the Vines is encouraging woman to "get off the mat and onto the pole" with their Yoga Flirt class.

Women can get in shape while embracing their sexuality in a fun secure environment that combines the balance of yoga with the freeing experience of pole dancing, Yoga Flirt founder Cathy Weiss explained in a statement. "My goal is to open up the eyes of the community and make it safe for women to feel connected to their authentic, feminine self while getting a great workout,"

Women will learn strength training, cardiovascular exercises, and have the opportunity to acquire strength-building exotic dance moves while barefoot in comfy yoga clothes.

Women 18 and older are welcome. Call 835-1725 or visit yogaflirt.com. …

It all started when the emblem on Chuck Wyke's 1987 VW Vanagon broke during a restoration. When a replacement wasn't available, he fashioned a metal peace sign to replace it. Peace Wheels was born. In January 2008 Chuck and Karen Wyke started to spread the peace by selling their Peace Wheels emblems online at peacewheels.com, on eBay, and through such distributors as Go-Westy. The Wykes donate 10 percent of their profits to the Carter Center, to help "wage peace throughout the world."

The emblems are crafted in Paso Robles by Make-It-Manufacturing, they're chromed in Detroit, and their adhesive is applied in Wisconsin. They'll stick to almost any smooth surface. …

The U.S. Census Bureau intends to hire 600 Central Coast residents for flexible, part time field and supervisor positions from now until June 2010. Full-time positions are also available, but limited. Field positions pay $11.50 to 18.50 per hour. See 2010censusjobs.gov for an application, take the online practice test, and get complete information on local census jobs. To take the preliminary test, reserve a local testing appointment by calling 866-861-2010. …

On Friday, Feb. 6, Strategic Energy Alliance (SEA Change) will host a Renewable Education Forum from 9 a.m. until 3 p.m. at the Veterans Hall in San Luis Obispo. The mission of SEA Change is to advance regional solutions for sustainable energy and transportation policy.

The exposition of alternative energy options will feature resources for remodeling businesses and homes to improve energy efficiency. Forum discussion topics will range from large-scale, county-wide solar projects to incentives for energy-efficient upgrades. To learn more about SEA Change and the Renewable Education Forum visit the San Luis Obispo Chamber of Commerce website at slochamber.com. ∆

Interns Clinton McGue and Bridget Veltri compiled this week's Strokes&Plugs. Send business news to strokes@newtimesslo.com.