The Fox Theatre has been a fixture of Spring Street in downtown Paso Robles for decades. Built in the '20s as a V.F.W. hall, it later served as the only movie theater around up until the 1980s.
Old timers remember it as a place of community dances, popcorn, Western gunfights, and stolen kisses in the dark. Lately, the iconic building—with its dilapidated facade and dusty marquee—has seen better days.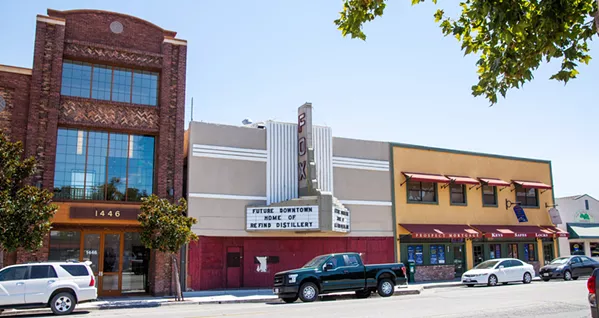 File Photo By Amanda Romero
WHAT'S NEW IS OLD Re:Find Distillery co-owners Alex and Monica Villicana purchased the Fox Theatre last spring with the goal of turning it into a production facility open to the public.
Thanks to local distillery Re:Find and local music bookers Good Medicine Presents, a new coat of paint is forthcoming. With any luck, the Fox Theatre will rise from the ashes like a phoenix, dazzling locals yet again.
This time, it will dazzle the ears as well as the eyes and taste buds.
So, will passersby soon hear the wail of electric guitar, thump of bass, and the crack of cocktail shakers?
That's the plan, according to Monica Villicana, who owns Re:Find Distillery alongside her husband, Alex.
Photo Courtesy Of Re:find Spirits
GO WITH THE FLOW When the Villicanas, pictured, hit a few roadblocks, they re-evaluated and called on local music promoters Todd and Korie Newman of Good Medicine Presents. Now, music and drinks are slated to flow in an intimate show venue.
The couple purchased the theater last spring with the two-pronged goal of growing their craft distillery while restoring a cherished piece of Paso Robles history.
"The response to our plan was overwhelmingly positive," Monica said. "Old-time Paso Roblans, people born and raised here, knew the Fox as the only theater around, and there are still a lot of childhood memories in that building. Local folks wanted to see it restored."
When the Villicanas hit a few unforeseen roadblocks on their way to crafting a new full production facility open to the public, they waffled.
They knew the Fox wasn't going to work for their original idea, but they didn't want to let the community down either.
"We still wanted the Fox to be a place where the public could come and experience it. We didn't want it to be an office space or something like that," Monica said. "With so many people connected to the theater, we really felt it needed to continue being a gathering place."
So, the Villicanas called on their friends Todd and Korie Newman of Good Medicine Presents, who have been putting on top notch shows on the Central Coast for decades.
The Newmans' foray into event production began with the purchase of SLO Brew from Michael and Becky Hoffman in 2005. As the operators, the Newmans established Downtown Brewing Co. as "a place to be" and later SLO Brew as an industry leader in live music and nightlife.
About three years ago, the couple expanded their event production pursuits with the creation of Good Medicine Presents LLC, which books events that draw from 100 to 5,000 attendees. If you've lived around these parts for a while, you've probably been to more of their shows than you can count.
"Good Medicine Presents has positioned themselves as the leader on the Central Coast in live music entertainment, hosting thousands of live acts over the past decade, which is why we decided to approach them," Alex said. "Because the Fox was once a movie venue in downtown, we thought it would be an ideal downtown music and show venue as well."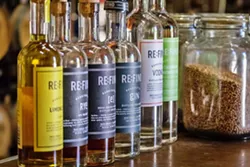 Photo Courtesy Of Re:find Spirits
UPCYCLE THIS Known for their ability to transform premium grape juice into smashing good spirits, the Villicanas' plan to upcycle of Paso Robles' Fox Theatre makes sense.
That's what Paso peeps are hoping for, too.
The Fox will represent an intimate venue experience—one that will serve as a much-needed middle ground between the massive Vina Robles Amphitheater and cozy downtown tasting rooms. Although plans are still in the works and an opening date is far off, Monica said there will probably be delicious drinks available in the future. I mean, c'mon. It's Paso Robles.
Perhaps that will look like craft beer, cocktails, wine, or flights—the sky's the limit and details will continue roll in. One thing's for sure: Whether you're 21 or 81, the Fox Theatre has a way of capturing the imagination and igniting the senses.
"It has a really great vibe; I mean, the building has cool bones," Monica said. "The marquee is just so beautiful—people feel immediately connected to it. It's been sitting there for 30 years, and now we all want to see it come back to life." Δ
Hayley Thomas Cain is a fan of craft cocktails and well-curated music (consumed together or separately). She can be reached at hthomas@newtimesslo.com.