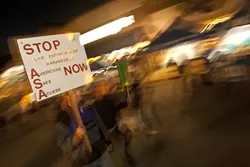 PHOTO BY STEVE E. MILLER
LOUDER THAN WORDS : Demonstrators staged a silent protest during the San Luis Obispo Farmers Market on Feb. 10 to decry the county's arrests of 12 local medical marijuana collective operators and to show support for those still facing charges.
In the wake of a series of raids on medical marijuana delivery services, which left the owners of those collectives with a long list of criminal charges and financial burdens, law enforcement officers have now begun contacting collective members.
Charges against three defendants in the late-2010 investigation were rejected by the District Attorney's Office early this year, and the remaining defendants are currently navigating a gauntlet of court hearings while attempting to reclaim their confiscated property.
Many locals assumed the investigation was over, and the problem of untangling everything now sits with the district attorney.
Over the past week, however, New Times received numerous tips from medical marijuana patients—most of them current or former members of the seven collectives targeted in the San Luis Obispo County Narcotics Task Force investigation—saying they received a phone call from police officers asking for information about the collectives.
NTF Commander Rodney John told New Times on Feb. 10 that the investigation is ongoing, and he's unable to confirm any related information, including whether his agents contacted medical marijuana patients.
According to conversations with patients, someone identifying himself as a police officer contacted them shortly after a Jan. 10 hearing when charges against three of the defendants were dropped—including those for Rachel and Chip Tamagni, who owned and operated the Paso Robles-based Trilogy Health Services.
"J" is one of the collective's members. He asked New Times to only identify him by his first name, John, but this story will refer to him as J to avoid confusion with NTF Cmdr. John.
J spoke to New Times about the phone call he received. He's a qualified medical marijuana patient who said he obtained a doctor's recommendation after suffering chronic pain from a disc herniation.
J said the Tamagnis were told by their attorney, Patrick Fisher, that the NTF may resubmit filing suggestions to the district attorney, who in turn told J he may be contacted by investigators.
"Sure enough, not 10 minutes after I got off the phone with them, I get a call," J said. "It was really weird."
J said the caller identified himself as a SLO police officer. He said the officer was polite and made it clear J wasn't in trouble.
"But he wanted to know about the collective, especially the delivery aspect of it," J said. "I wanted to tell him where he could go, you know, but I felt it was important to get the facts out to him."
J said he was asked repeatedly, in different ways, if he was ever asked to make deliveries on behalf of the collective or if he knew how the collective maintained financial records. He said he didn't.
He said he was never asked about how he joined the collective, nor about any other health service afforded to members, such as foot spa treatments he received on numerous occasions.
The officer also asked if J sees a doctor for his condition, and asked for that doctor's name.
"I said, 'Do I have to give that to you? Does that really matter?'" J recalled. "And he said, 'No, I guess it doesn't.' So I didn't feel I needed to, and he dropped it."
The officer in question didn't return New Times' requests for comment, but J said he was "not happy" investigators used copies of his records—including his doctor's recommendation—to contact and question him.
"I never thought the police could use my private information," J said.
Steven Gordon, owner and operator of the Pismo Beach collective Hopeful Remedies, said he got a call from one of his members who was contacted by an NTF officer.
The patient was out of town and could not be reached by New Times as of press time, but Gordon said the officer inquired if the patient was ever asked to deliver marijuana. And according to Gordon, the member was asked if Gordon ever requested sexual favors for marijuana.
"I guess they figured that was a reasonable question because I'm the only collective owner [targeted in the investigation] who's single," Gordon said.
NTF Cmdr. John said patients were not asked that question.
Collective owner Peter Miller also said at least one of his members was contacted, but he hasn't been able to talk with other members since the raids because the NTF seized his cell phone, as well as lists of his members' contact information.
Some collective owners argue that their records contain private information, including their members' medical information, and should stay private. Other people—including some of the defendants' supporters—said because medical marijuana providers aren't doctors, their records aren't subject to Health Insurance Portability and Accountability Act (HIPAA) laws, which established regulations for the use and disclosure of protected health information.
"I guess medical cannabis patients are not covered by HIPAA," Miller said. "And that's unfortunate."
When asked if using the records of collective members to carry out an investigation violated their privacy, NTF Cmdr. John said, "I'm not going to go into a HIPAA discussion with you. These are not medical records."
"The bottom line is that patients don't want to be contacted and questioned," said attorney Patrick Fisher, who's defending a majority of the collective owners.
In response to their outrage over the investigation and subsequent legal wrangling, a number of the current and past defendants in the case, accompanied by local representatives from the Americans for Safe Access medical marijuana patients' advocacy group, walked San Luis Obispo's Higuera Street during a chilly but crowded Farmers Market on Feb 10.
Carrying signs that read, "Safe Access: It's the Law," and "NTF Mess," the demonstrators marched down Higuera largely in silence, stopping only to chat momentarily with the occasional supporter or curious passerby.
Most of the protestors who were the targets of the NTF investigation said they had never known each other prior to December, when they met inside a tightly-packed transport van on the way to the county jail.
"They're some of the nicest people I ever met," Miller said of the other collective owners.
In the last days of 2010, a two-month NTF investigation into medical marijuana collectives led to 15 arrests (those were arrested in Tarzana) on various charges, including possessing and transporting marijuana for sale and child endangerment.
As of this printing, the seized property and bank accounts of all the defendants—even those whose charges were rejected in early January—were still in county possession.
Another round of preliminary hearings is set for early March. ∆
Staff Writer Matt Fountain can be reached at mfountain@newtimesslo.com.