Those yummy takeout fish tacos smothered in tangy Cayucos Hot Sauce will likely swim in your stomach for the next six to eight hours, but the packaging they came in—the plastic bag, Styrofoam container, and the straw that accompanied your Diet Coke—will live on.
In 400 years, when we're all long dead, and our wrinkled meat suits have returned to the earth, the remnants from that fish taco takeout will remain, as teeny tiny particles of Polystyrene.
And you were worried about your Facebook page living on after the big nap!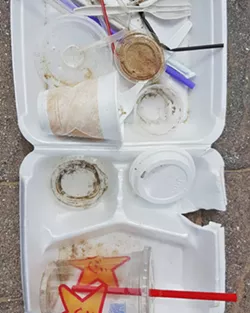 Photo Courtesy Of Surfrider
TAKING OUT THE TRASH Surfrider's Ocean Friendly Restaurant Program works with restaurants to implement ocean friendly practices and policies that reduce disposable plastic waste way before it travels out to sea.
Plastics are super stubborn—and their negative effects on the ocean are far more alarming than a wicked bout of heartburn. Consider an innocent plastic bottle of iced tea. You may toss that bottle in the recycling bin after lunch, but that doesn't mean it won't find its way into a storm drain and out to sea.
Once in the ocean, UV rays break the plastic down into smaller and smaller particles, creating a messier—and more expensive—headache for all of us.
"Researchers estimate there are now more than 5.25 trillion pieces of plastic in the ocean, which impacts marine ecosystems, wildlife, birds, dolphins, fish, and turtles," said Liana Harlan, who heads up Surfrider's new Ocean Friendly Restaurants Program. "Plastics are actually beginning to displace plankton at the base of the food chain."
By now, we all know about the Great Garbage Patch floating in the North Pacific Ocean (search YouTube, but be warned: It will ruin your life). We all know that these non-biodegradable materials are wreaking havoc on the world ... and piling up, year after year.
In fact, we're super proactive and responsible and doing something about it. Right?
Eco-friendly SLO has banned the sale of Styrofoam containers and plastic bags. Starting March 1, you'll have to request a plastic straw if you don't want to mess up your lipstick.
Grover Beach, Arroyo Grande, Morro Bay, and Pismo Beach have also banned Styrofoam, which is a massive victory for local environmentalists (and sea turtles).
But before heading to McCarthy's for a celebratory brew, Surfrider's SLO Chapter posed the looming question: Could local restaurants be doing more to combat this tsunami of oceanic woes?
After all, beach cleanups tend to star a few repeating culprits. You guessed it: Say hello to the lasting leftovers of our restaurant loving culture.
At least a dozen local restaurants have taken a sobering look at this scene. They've answered Sufrider's query with a resounding, "Yes, more can be done."
Photo Courtesy Of Surfrider
BEACH CLEAN Centrally Grown in Cambria shows off its commitment to Surfrider's Ocean Friendly Restaurant Program. So far, the nonprofit boasts 12 restaurant partners across the county, including Baywood Ale House, Chop Street, Honeymoon Café, Krava Bowl (Morro Bay), The Libertine Brewing Company (SLO), Luna Red, Mint + Craft, Novo, Robin's, Shine Café, and The Spoon Trade.
These enthusiastic eateries—including Baywood Ale House, Chop Street, Honeymoon Café, Krava Bowl, The Libertine Brewing Company, Luna Red, Mint + Craft, Novo, Robin's, Shine Café, Centrally Grown, and The Spoon Trade—are committed to keeping our precious waters happy and healthy.
Together, they're continuing the war on EPS foam foodware (aka that eco-villain known as Styrofoam), which is all too often mistaken for lunch by marine animals.
Another top concern for the group: Eliminating plastic straws and those pesky bags, which are about as common as seashells across this slice of coastline (according to Surfrider, Americans use an estimated 500 million plastic straws and 100 billion plastic bags every day). To do their part, these local restaurants are forgoing all plastic bags and will only offer disposable to-go utensils upon request.
Other possible criteria? Only offering plastic straws upon request; eliminating all beverages sold in plastic bottles; offering discounts for customers who use a reusable cup, mug, or bag; offering sustainable seafood as verified by Seafood Watch; conserving water and energy; and getting involved with educational events and cleanups.
It's a small thing, sure. However, when you consider that our trash will actually outlive all of us, you can see how these good deeds add up real quick.
"There's still more to do. I live in Los Osos, and there's still a handful of restaurants that still use Styrofoam," Harlan said. "We're trying to drive a change in behavior, especially when it comes to straws. It's difficult: It's become so ingrained in us that we're going to get a straw."
These behavioral tweaks are the bane of environmentalists' lives for a reason. Plenty of people fail to connect one perceived inconvenience with their part in tackling a global issue.
Plus, restaurant owners must deal with the cost implications of environmental regulations, and that's just the plain economic truth.
No one said this was going to be as easy as ordering a Double-Double, to go.
"Of course, there is hope—but as an activist I go back and forth in being truly hopeful. We struggle with how to get people more involved. We know it can be overwhelming, and I've had friends say it's almost too much to try to remember their reusable bags, coffee cups, and water bottles," Harlan added.
In a world where even McDonalds is vowing to "go 100 percent green" by 2025, mom-and-pop shops should take note of the sea change. However, it's not a one-way street.
I asked: What, as eaters, can we do?
Harlan has a few tips, none of which are sexy. Bring your own bag (leave 'em in your car or by the door so you remember before you leave the house). Pick up a handy glass or stainless steel straw and keep it in your glove box or purse. Support the restaurants that are doing more—and collectively changing the tide.
Photo Courtesy Of Surfrider
Lastly, don't be too hard on yourself. Sometimes you're going to fail. All too often, you're going to see an annoying straw staring back at you. A straw you, and the planet, didn't ask for.
Harlan grew up in the Mojave Desert, so water conservation has always been part of her life. When she moved to SLO County to attend Cal Poly, she experienced yet another wave of water woes.
She contracted a bacterial infection from swimming in Avila (more than once). This, coupled with the litter she encountered, drove her to action.
"I knew the water wasn't clean, and I'm not the kind of person who will just stand back and let someone else deal with it," she said.
What kind of people are we?
This is an important, personal question to ask our families, our communities, and ourselves.
"Sometimes we might think, 'How can one person possibly make a difference?'" Harlan said. "But we need to consider what happens when everyone thinks that way." Δ
Hayley Thomas Cain has injected a lot of her own environmental opinions into this feature because she thinks the stakes are too high not to. Send opposing viewpoints and plastic appreciation pics to hthomas@newtimesslo.com.