As the SLO County Sheriff's Office continued to investigate the homicide of 90-year-old Larry Bross, friends and neighbors of the well-known community activist are still reeling from news of his death.
"The whole neighborhood is in shock and sorrow and misses him deeply," Nell Langford, who owns a vacation home on the same street as Bross and worked with him on addressing several community issues, told New Times.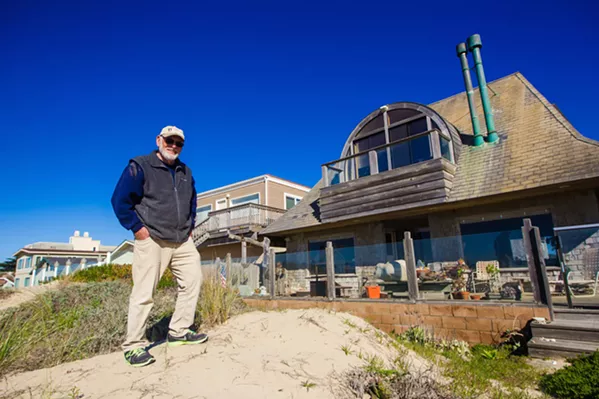 File Photo By Jayson Mellom
A SHOCKING DEATH 90-year-old Larry Bross (above) was found dead in his Oceano home on Jan. 24. Investigators say the death is a homicide, but have not announced any suspects or arrests.
Bross was found dead in his home in the 1400 block of Strand Way in Oceano on Jan. 24. The SLO County Sheriff's Office is investigating the death as a homicide, but has released few other details. Questions from other residents in the neighborhood about the killing prompted Langford to organize a meeting at her home. Langford said the purpose of the meeting was to share information and dispel the rumors circulating in the neighborhood since Bross' death.
"What we learned at the meeting is that we really don't know anything," she said. "We don't know if they have or have not caught the person, who did it, or if that person or persons are still at large."
Langford said she reached out to the Sheriff's Office, but no one from the department attended the meeting. In a press release about Bross' death, the Sheriff's Office characterized the homicide as an "isolated incident."
Bross was a longtime activist connected with issues related to the Oceano Dunes State Vehicular Recreation Area, which butts up against the backyard of his home. He was a vocal proponent of limiting recreational vehicle activity on the dunes and even helped to defeat SLO County's attempts to sell the La Grande tract of the dunes to State Parks.
"He was loved, respected, admired," Langford said. "He didn't have an enemy in the world. He made friends with everyone, even people whose ideas were different from his own."
As of Jan. 30, Bross' death remained under investigation. On Jan. 28, the Sheriff's Office released a statement asking anyone who had contact with Bross during the last two weeks to contact them. The Sheriff's Office is also asking any Strand Way residents who might have video surveillance footage to contact them. Anyone with information can contact the Sheriff's Detective Division at (805) 781-4500 or at Crime Stoppers at (805) 549-STOP and slotips.org. Δ