I don't know who first came up with the idea of combining breakfast and lunch, but I'm sure glad they did. If they didn't, how else would you load up your plate with savory lox and decadently sweet stuffed French toast at the same time, and wash it all down with a mimosa sans judgment?
It's pretty great. But slogging off to the same old brunch weekend after weekend can get old pretty quickly. It's a good thing that the folks at the Avila Beach Golf Resort came up with a refreshing twist by moving the whole affair outside and inviting some of the area's tastiest food trucks to serve up their spin on our beloved brunch favorites.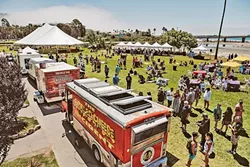 PHOTO COURTESY OF AVILA BEACH GOLF RESORT
MOBILE MUNCHIES: Brunch on Wheels brings some of SLO County's best food trucks to Avila Beach.
The resort began holding monthly Brunch on Wheels events in February. Each event is held on the resort's grounds and invites attendees to chow down on brunch-style food from eight to 10 of the county's best food trucks while taking in the sunshine and ocean view from the resort's grassy lawn.
So far, the event has drawn food trucks that include Hoagies, The Hurricane Kitchen, Sugar Lips mobile mini-donuts, The Grilled Cheese Incident, and others. In addition to the food, Brunch on Wheels also features a custom bloody mary, mimosa, and juice bar.
Becca Bowdey, the resort's event director, said that participating food trucks usually try to come up with unique fare for the events. Hoagies served up chicken and waffles at one of them, while Hurricane whipped up some crab eggs benedict. SLO barbecue staple Rib Line even whipped up breakfast bowls for hungry participants.
"They serve food that's a little different from what they usually do," she said. "Everyone has a lot of fun with their menus."
But Brunch on Wheels is about more than just food trucks. The events also features music from a family-friendly DJ, lawn games, and a mobile photo booth. The April Brunch on Wheels was an Easter-themed celebration and included an egg hunt.
Each Brunch on Wheels event takes place from 10 a.m. until 3 p.m. and admission is free. You only pay for the food and drink, making it less likely you regret paying a full brunch price when you eyes are bigger than your stomach.
"The idea behind Brunch on Wheels is very basic and simple," Bowdey said. "The idea is that it's mobile and you can come enjoy the sunshine without having to pay too much for brunch."
The next Brunch on Wheels is tentatively scheduled for July 23.
Chris McGuinness likes a beer with his brunch. Send comments to cmcguinness@newtimesslo.com.