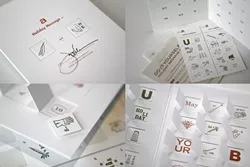 IMAGE COURTESY OF JOSHUA CHEN
HOLIDAY CARD :
Being a geek of any sort comes with a set of responsibilities: wear a cloak, be capable of rattling off magic spells by heart, stand in line at 2 a.m. in order to be the first to see a new movie. And type geeks are no exception to the rule. They're irritated by the presence of double spaces between periods, to the point that they'll scour a document and remove the offending additional spaces. They know the difference between an en dash (-) and an em dash (—). A poorly designed rag—the edges of a book, which should resemble a gently arcing wave—is next to criminal. Type geeks, and graphic designers, make decisions that effect what we see and read on an everyday basis. Many of us just don't know it.
Enter the Type Directors Club, a 64-year-old international organization dedicated to promoting quality typography. TDC hosts two annual competitions. One is dedicated to the creation of new typefaces, and the second is a competition with 215 categories ranging from website to student project to poster with an emphasis on excellence in typography. This year's competition, TDC 55, saw 1,733 entries submitted from 33 countries. The winning entries are featured in a TDC publication and exhibited as part of a traveling show. One leg of that show stops at Cal Poly's University Art Gallery between Jan. 15 and Feb. 20.
GEEK OUT ON TYPE: The Type Directors Club exhibits its award-winning work at the Cal Poly University Art Gallery Jan. 15 to Feb. 20. On Jan. 15, from 6 to 7:30 p.m. there will be a reception featuring Joshua Chen of Chen Design Associates as guest speaker. The University Art Gallery is open Tuesday to Saturday, 11 a.m. to 4 p.m. and is located in Dexter, building 34. For more information about the Type Directors Club visit tdc.org.
"There's definitely a right way and a wrong way to do things. It's just that less people know the type rules," said Charmaine Martinez, a graphic design professor at Cal Poly. "Typography is basically organizing words and letters into something beautiful. It's really the meat of what graphic designers do."
The Type Directors Club, while little known to the general population, exists as a source of inspiration to graphic designers worldwide.
"The only way to become excellent in your work is to look at excellent work," Martinez tells her graphic design students. "You see a lot of work that you don't see if you're just focused on work in the United States."
Keynote speaker Joshua Chen, principal and creative director of Chen Design Associates, has three pieces in the exhibit—a holiday card (Futura, New Century Schoolbook, and Trade Gothic LH type), an invitation to Stanford University's Stanford Lively Arts Wine Reception (ITC Century, HTF Gotham, and Zebrawood type), and logotype for Verve Coffee Roasters (Copperplate Gothic and custom type). When Chen began working in graphic design, the industry was poised between manual and digital working methods. He knows how to work with non-computerized tools and encourages his fellow designers at Chen Design Associates to remember that a computer is just a single tool among an array of options.
"Anyone these days can typeset," he pointed out. "But there's a big difference knowing how to refine the typography, what different type families do you put together. It's this kind of craft that gets forgotten these days because it's so easy. There's kind of an old world quality to typesetting, but it can still be very contemporary."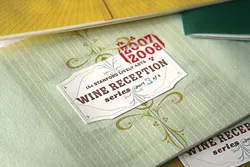 IMAGE COURTESY OF JOSHUA CHEN
INVITATION :
In addition to client-driven work, Chen's design firm took on a book project nearly a decade ago. Inspired by a list created by David Krieger, President of the Nuclear Age Peace Foundation, Peace: 100 Ideas
marries simple steps toward peace with contemporary design. "Stand up for justice," "Be more loving," "Call your mom," "Say I love you more," are some of the recommendations. Chen even came up with the idea of relinquishing your parking spot to a stranger, a sacrifice that's all the greater when you consider that his firm is located in San Francisco.
Though the book is still available at amazon.com, it's now approaching the end of its lifestyle, and Chen is searching for ways to give it new life. The effort goes hand in hand with his belief that good design can reflect a designer's ideals.
"That's one of the things that I certainly believe on a personal level, and there's a lot of people that certainly have that belief. I can't say that has to be a rule for everyone. Design has the ability to impact society. It could either be positive or negative. Why not lean toward positive?"
Arts Editor Ashley Schwellenbach leans toward chocolate milk. Send Hersheys to aschwellenbach@newtimesslo.com.