Forget all that you know about Alice in Wonderland. Let go of bright, rounded, Disneyfied characters. Abandon Tweedledum and drop-kick Tweedledee. Give up your fascination with happy endings.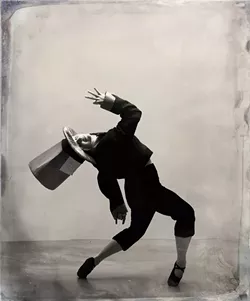 PHOTO BY BARRY GOYETTE
MAD AS A HATTER! : In Lewis Caroll's classic tale—as Civic Ballet Artistic Director Drew Silvaggio reminded his cast at a recent rehearsal of Alice in Wonderland—the hatter's madness is actually the result of poisoning from the mercury used to make hats. Remember that. Pictured is Jenna Lee.
The world Alice falls into in the Civic Ballet's opulent Alice in Wonderland, choreographed by Artistic Director Drew Silvaggio, is a surreal parallel universe, both frightening and enchanted, with its own version of physics and time and logic.
But first, we see our own world, though the looking glass of theirs. And what a dingy, empty, anemic place it is—a mere mimeograph of the psychotic ecosystem below. Tutu-clad ectomorphs dance en pointe, noses held aloft, keeping time to muted, elegant classical music.
A darker-haired Alice (a role shared by Dana Lossing and Melinda Marchiano) is dallying in the daisies, when a mischievous white rabbit (a wonderful Jane Selna) turns up and nicks one of the things. Indignant, Alice chases the furry ne'er-do-well through the garden and down the hole—a moment that marks a dramatic shift from dreary to psychedelic, as the classical score gives way to frenzied screaming that is the opening of Pink Floyd's "Breathe."
But eventually Alice hits the bottom, and we are soon cradled in David Gilmour's airy, slow-mo vocals, imploring Run, rabbit, run/Dig that hole, forget the sun.
Alice takes in the new surroundings with a mix of childlike wonder and nervous apprehension. But when she discovers a mysterious tincture labeled "Drink me," she takes the plunge, rocketing from big to small—a change conveyed by the use of several smaller Alices (Faith Brown, Isabella Stenvall, Courtney Limon, and Molly Moore) who mirror one another's movements. All of this is set, most satisfyingly, to David Bowie's "Changes" (Every time I thought I'd got it made/It seemed the taste was not so sweet/ So I turned myself to face me/But I've never caught a glimpse ... ).
Silvaggio's Alice originally debuted in 2005, though both the show's length and the aesthetic approach of its choreographer have undergone significant changes of their own since then. This year's Alice is far shorter and more intense at just one hour, with all of the non-dance parts omitted to leave room on the program for Lisa Deyo's Blue and Silvaggio's shorter works MOB and Ray Ray.
While generally pleased with the stronger impact of the edited version, Silvaggio lamented having to trim down the former version's purposefully dull "real world" opening scene, which was used to heighten the effect of Wonderland's eye-popping splendor.
"The only thing that I kind of am missing out on in the shorter version, that I think I did a pretty good job with in the first, is the idea of people coming to the theater and expecting to see Alice in Wonderland, a ballet," Silvaggio said. "And the first 15 minutes of the ballet in 2005 were all en pointe, and all tutus, and classical, to the point where I was choreographing it to be really boring. Like literally, dancers running onstage, pointing entendu, running off, stuff that I wouldn't even pull in the worst recital! And it was to bring up this idea that Wonderland is this whole other experience."

FOLLOW THE WHITE RABBIT: The Civic Ballet's Alice in Wonderland takes place at the Performing Arts Center on Friday, March 16, at 8 p.m. and Sunday, Mar. 18, at 2 p.m. Get your tickets at pacslo.org or by calling 756-ARTS. Admission is $20-25.
But while the length adjustment was a purely logistical decision, Silvaggio's changes to the choreography reflect his own artistic growth. There's a more refined, yet relaxed quality to the latest incarnation of the ballet. Here, there's less emphasis on packing in as many difficult dance moves as possible, he says, and more focus on making every movement feel starkly, singularly meaningful and memorable.
"There are some moments in this piece that I never would have done five years ago," Silvaggio admitted.
One scene in particular, in which Alice becomes lost in a forest full of leering, otherworldly creatures, is one the choreographer never would have dared to create in previous years. The trees here are not doing anything reminiscent of "ballet." Instead, they walk in an eerie, goblinlike fashion toward our terrified heroine. The sight of a forest, suddenly animated with wicked intentions, is the stuff of nightmares.
"I wouldn't have given that much music to dancers just simply doing these weird walks," Silvaggio said, considering his earlier years. "I would have had them spinning and leaping, and then doing one of those walks, and then spinning and leaping, and rolling on the ground. I think something happened where I realized, like, as time went on, that the thing that the audience is going to take away is not the spin to the ground that happens so fast that you kind of don't know it's happening. But the weird walks probably are going to stay in their mind—they are so odd and angular."
In another forest scene, Alice, having danced a particularly grueling part, pauses to notice the forest staring at her—and then, even more terrifyingly—the forest creatures all begin to mirror her every move.
"It's kind of my idea of the scariest thing that would ever happen to me in a forest," Silvaggio laughed. "Like, if all these weird creatures just started doing exactly what I did back at me." Before now, he went on, "I would have never given over that much music, or that much time, to do something so simple."
"I think that I've learned to be, for the lack of a better word, just chiller," he concluded. "Not so aggressive with the choreography. Not putting it in people's faces, like 'Dance! Dance! Dance!' No. Experience, experience, experience."
The visual splendor spills over. The hookah-smoking caterpillar, danced to perfection by Oksana Moscoso, resembles a sultry Aretha Franklin, gliding through martini trees with an almost lazy sensuality, to "Dark End of the Street."
Dancer Holly Hartley embodies the cheeky Cheshire Cat, a snarl always at the ready, causing havoc here and there with a look of mock innocence. The Mad Hatter is embodied by Jenna Lee, whose appearance is underscored by cacophonous noise. Harmony True is the tyrannical Queen of Hearts, her exaggerated ruthlessness, Silvaggio pointed out, a sinister parody of the British monarchy. A climactic final scene, as the Queen roars for Alice's head, is scored, awesomely, to No Doubt's surreal "Tragic Kingdom." It's a musical choice of such emotion and energy—especially coming as it does at the end of a strenuous hour of near-constant movement—that any lack of commitment on the part of the dancer would have rendered it over-the-top. Yet Silvaggio's dancers pour everything they have left into the song, rising to meet its escalating drama and tempo, right up until the thunderous, shattering finale.

How is Arts Editor Anna Weltner like a writing desk? Answer the riddle at aweltner@newtimesslo.com.