The arts scene of San Luis Obispo County can be cutthroat, and this year was no exception. This week, in the tradition of the most salacious gossip mags in the grocery store checkout aisle, New Times dishes on the sexiest stand-up scandals, Shakespearean kerfuffles, and arty oopsie-daisies of 2013. Happy New Year!!!
COPYCAT?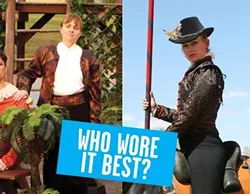 PHOTOS BY STEVE E. MILLER
Did the Central Coast Shakespeare Festival cop the Central Coast Ren Faire's style last July? Or was it the other way around? You decide!
Cordelia Roberts, left, may have played a man last summer in a Shakespeare Festival production of Love's Labour's Lost, but that didn't stop her from looking H-O-T in a cute jacket and matching belt thing.
At the Ren Faire, Katrina Saunders, right, accessorizes her punchy Renaissance-era jacket with adorable leggings, a trendy lance, and a real, live horse!
Russell Brand: "I'm a little bit like Hitler"
Last August, British comedian Russell Brand shocked audiences at San Luis Obispo's Fremont Theatre with his claim to be "a bit like" the strangely mustachioed leader of the Third Reich. "That quote was taken completely out of context," said an unnamed source. "I mean, sure, he said it all right, but it was all part of his standup routine, Messiah Complex, in which Brand lacerates the myth and lore surrounding the figures we choose to idolize, or, in Hitler's case, villainize, in order to give meaning and order to our chaotic lives," the expert with no connection to the star whatsoever continued.
Oopsie!
L.A. artist Eve Fowler shocked the art world with this controversial shot, part of a solo show at the Cal Poly University Art Gallery. "I really don't know anything about this artist, the woman in the photograph, or really anything about art in general, so I'm afraid I can't comment," said an expert. "But it seems like she's missing part of her pants?"
Fiona: 'I married an ogre!'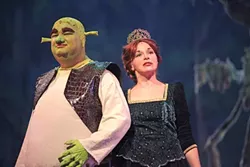 PHOTO BY SANDRA CORTEZ PHOTOGRAPHY
Is there trouble in swampy paradise? Princess Fiona was recently spotted in an angry farting match with her new ogre beau. The two seemed the picture of marital bliss when they were wed last summer in a Kelrik production of Shrek: The Musical, but the honeymoon phase seems to have dissipated like the noxious cloud of ogre farts that, come to think of it, has not actually dissipated in the slightest.
"They're just working through some issues," commented a source close to the couple, quickly adding, "I'm not a puppet; I'm a real boy."