When Jonathan Yeh goes out to dinner, he faces a common conundrum. He usually wants something satisfying and hearty, while his wife, a vegetarian, is more apt to order the quinoa-kale salad with nutritional yeast dressing. Jonathan has nothing against clean eating, but he—like so many of us—finds himself yearning for a second meal after he's dined at a so-called "healthy restaurant."
There had to be a better way—at least, that's what Jonathan and his culinary-inclined friend In Lloyd have always believed. Now, thanks to their new restaurant, Oki Momo Asian Grill, that decades-long food fight can come to a ceasefire.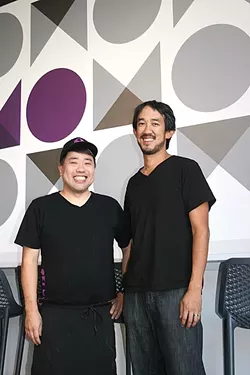 PHOTO BY HAYLEY THOMAS
PEACEMAKERS: From left, Oki Momo Asian Grill chef/co-owner In Lloyd and co-owner Jonathan Yeh aim to bring all facets of the food community together for a balanced, delicious meal.
Opened about two months ago, Oki Momo is a place where vegetarians, vegans, gluten free folks, and carnivores can all get what they want without feeling jipped. Sweet, spicy, crunchy, meaty, and fresh come together with fast service, at-the-counter ordering, and clear indications of what's "vegan," "vegetarian," or "gluten free."
This stark clarity springs from life experience.
"I remember the first Thanksgiving I tried to cook for my wife and our friends in Seattle," Jonathan said. "There were a couple of vegans, at least one or two gluten free folks, one person who wasn't eating refined sugar, and a few Taoists who didn't eat onion or garlic. I could have done toast with vegan spread on it, but we came up with an assortment of creative dishes. In a way, that experience has really led up to this current menu."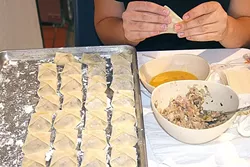 PHOTO BY HAYLEY THOMAS
FAMILY FLAVOR: Oki Momo Asian Grill's pork and shrimp wantons are made by hand, just like they have always been made in owner/brothers David and Jonathan Yeh's family. The morsels are stuffed with baby bok choy, water chestnuts, and onion, and served with housemade ginger soy dipping sauce.
Although Jonathan said the concept for Oki Momo sprang from a "fast casual" business model, the fare is far from fast food. During my interview, I noticed two employees sitting in the dining room hard at work: One crafted pork and shrimp wontons by hand while the other pulled the stems off a tub of fresh microgreens.
"Everything is grown here on the Central Coast, so it's not hard to do local," Jonathan said. "Three quarters of our stuff is locally grown, and we do our best to source our food organically. The main point here is to offer up healthier food at a price point that is available to the masses."
The idea for the restaurant came together about two years ago, when Jonathan's neurosurgeon brother, Dr. David Yeh, decided to move his practice from Mississippi to SLO.
At the time, Jonathan was practicing law in Seattle, and was ready for a change of pace. So, he packed up his family and moved to SLO with the goal of managing his brother's practice and possibly starting a new business venture together.
"We had always shared this idea of doing a little teriyaki style restaurant," Jonathan said. "It was funny, because when David called to talk about making that dream a reality, I was just about to call him up and say the exact same thing."
PHOTO BY HAYLEY THOMAS
GREAT GREENERY: Salads at Oki Momo Asian Grill are served with a mix of satisfying veggies and creative, housemade dressings, including sweet carrot ginger, soy sesame, and Thai peanut.
This is where Lloyd, Jonathan's old college roommate from his days at the University of Georgia, comes in. In the '90s, Lloyd worked as head chef at a Japanese Hibachi-style steakhouse (Yes, Lloyd can do all that "crazy stuff" with the knives, but only if you ask him nicely). The two students became fast friends.
"We both really liked that kind of Japanese steakhouse food. It's simple and not overly heavy," Jonathan said. "I mean, teriyaki is basically sweet soy sauce. What's not to like about that?"
In 2000, Lloyd opened his own restaurant in Athens, Ga., focusing on serving up Benihana flavor in a fast, to-go context.
"Oki Momo is the evolutionary process of that restaurant," Lloyd said, adding that he's pulled from a mix of ethnicities and techniques over the years. "In the beginning, I learned a lot from an older Japanese chef who had studied in France and was very hands on. It was like karate kid. He'd make me cut 50 pounds of onions then throw them away. It was very detail oriented stuff."
Lloyd's special "Momo sauce" is a creamy, yellow-hued riff on the popular Hibachi favorite. The original concept for Oki Momo began as a true meat-centric venture, but that changed drastically once Jonathan's wife took a look at the proposed menu.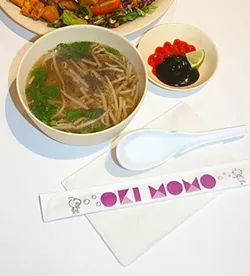 PHOTO BY HAYLEY THOMAS
PHO-GET ABOUT IT: Created by Oki Momo co-owner David Yeh, this pho features slow-cooked beef bone broth infused with an aromatic blend of herbs and spices and served with rice noodles, bean sprouts, Thai basil, and cilantro.
"She said, 'You can do that if you want, but I wouldn't want to go there,'" Jonathan said. "The current menu reflects the problems we still experience, and a lot of couples experience, when dining out. You go to a place and they usually have one vegetarian option or one salad with a basic dressing. Even at a fine dining place, you're usually stuck with the mushroom risotto."
With this problem in mind, Lloyd, Jonathan, and David put their heads together and tried to picture all facets of the food world dining together. What would it look like?
The resulting menu paints a vivid picture. There's a "Bahn Momo" sandwich with daikon, carrot, pickle, cucumber, cilantro, and momo sauce served on a choice of gluten free corn tortilla or Dutch Crunch baguette. Meat lovers can order the Kolbi steak or chicken version of the sando, while herbivores can opt for the mushroom and tofu "oyster" sauce.
For the finger-licking snacker, there's saucy, spicy-sweet chicken wings coated in Korean bbq, soy buffalo, or honey lemon pepper flavor.
MEALS AT MOMO: Oki Momo Asian Grill is located at 2256 Broad St. in SLO. In addition to lunch items, the restaurant also serves dessert (Oki Mochi are housemade ice cream balls hand wrapped in sweet Mochi) as well as kids' items (your little one may enjoy the Katsu chicken fingers served with sweet mashed yams). For more information, call 439-4198 or visit

okimomo.com

. Hours are 11 a.m. to 9 p.m. daily.
For the soup fantatic: Get in on David's beef pho or order the yellow curry lightly stewed with potatoes, baby corn, and rice, then topped with a choice of chicken thigh or tofu.
In the Oki Momo universes teriyaki (chicken breast, salmon, tofu, or tempeh), lives harmoniously alongside non-boring salads laden with Thai peanut lime dressing, zucchini, shitake mushrooms, and nutritious broccoli.
It's not peace on earth, but it's a start.
"Oki Momo is all about offering up a mix of ethnicities, flavors, and options for everyone," Jonathan said. "I know they say you can't make everyone happy, but we're trying."
Hayley Thomas believes that Oki Momo's saucy chicken wings are part of a balanced meal at hthomas@newtimesslo.com.