With her striking pink chef's coat, Madonna Inn Kitchen Manager Jacqui Hanover actually matches dessert. Thick, pink curls adorn the heaping slice of Bavarian cream apple spice cake set before us—and it tastes exactly like fall.
I'm stuffed. I've already devoured warm pretzels flecked with chunks of salt, a frothy taste of Firestone Walker DBA, and not one, but two wieners—one, a Bratwurst from SLO-based Ray's Own Brand, and the other, a traditional Polish kielbasa.
PHOTO BY AUDREY PEARCE; COURTESY OF THE MADONNA INN
GUTTENTAG: From left, Madonna Inn kitchen manager Jacqui Hanover, server Morgan Enbitt, and assistant kitchen manager Seren Bardwell are ready to serve up German eats and Firestone beer at Madonna Inn's Oktoberfest this Oct. 2 and 3 at the Expo Center.
Oh, and don't forget Hanover's warm German potato salad, which showcases the perfect fat-to-potato ratio. The longtime Madonna Inn chef is quick to laugh and never skimps on the bacon—exactly the kind of friend I like to make.
"Pork is very important," Hanover says of the Oktoberfest-inspired meal.
Have truer words ever been spoken? Find out for yourself, when you, too, devour this hearty meal at Madonna Inn's Oktoberfest this Oct. 2 and 3 from 6 to 10 p.m. Tickets include food and two 16-ounce beers served in a nifty commemorative stein. Of course, you can always buy more beer if needed, but I, for one, would need a very long nap before going for seconds.
As Oktoberfest season heats up in SLO, a handful of local haunts are putting their own twist on German tradition. Always whimsical, Madonna Inn is adding a rosy tinge to the season (think dirndl girls, German music by Trio Internationale, and blues tunes by Unfinished Business) while playing up the landmark's Swiss fairytale charm.
Now in its second year, organizers aim to add a more "tent-like" vibe to the Expo Center, where festivities will unfold with plenty of grainy mustard and sauerkraut to spare. This is Oktoberfest, Central Coast style, as evidenced by their partnership with local brewery Firestone Walker Brewing Co.
In SLO, there is no one "German" experience, although some events draw more from the Fatherland than others. You can't talk "authentic" without giving a shout out to Old Vienna, the now defunct Shell Beach institution that hosted ledgendary Oktoberfest events.
PHOTO BY AUDREY PEARCE; COURTESY OF THE MADONNA INN
ALL THE FIXINS: Kielbasa, bratwurst, sauerkraut, and warm German potato salad will be washed down with Firestone beer at Madonna Inn's Oktoberfest.
Across town on Broad Street, newly opened Beda's Biergarden is finishing up its own intimate Oktoberfest celebration colored by authentic German flavors. Don't worry: Beda's serves schnitzel, spaetzle, and currywurst every day alongside a host of German beers, so you can pretend it's Oktoberfest all year round. The Wineman GrillHaus in downtown SLO puts a casual dining Californian twist on German cuisine with items like breaded and deep fried brat poppers—plus the servers are always wearing those fashion-forward lederhosen.
Newcomers The Station wine bar and shop on Higuera Street are also getting in on the German Love this fall. The antique station-turned-swank-hangout will host The Brat Stop wagon (a regular Thursday Farmers' Market vendor) paired with German wine flights and beers from Oct. 1 through 3 every night from 4 to 7 p.m. Yes, wine and brats will finally have the steamy love connection we all knew would happen one day!
And speaking of the Brat Stop, those juicy morsels (famous Thuringer brats from Wisconsin to be exact) will make a double appearance at Kreuzberg, which will kick off its first ever Oktoberfest this Oct. 17 from 3 p.m. to 1 a.m.
PHOTO BY KAORI FUNAHASHI
EAT, DRINK, OOMPAH: From left, Kreuzberg Oktober Fest co-organizers Freya Wilkerson, Ali Zikratch, and owners James Whitaker and Chris Tarcon. The crew will host an all-day celebration of beer, food, and German music this Oct. 17.
Brat Stop/Kreuzberg Owners James Whitaker and Chris Tarcon have wanted to put on an Oktoberfest celebration ever since they opened the coffee shop/café/lounge, which was inspired by the funky German neighborhood that is its namesake. Both guys have grand memories of Oktoberfests they attended in Germany, which were always big, boisterous, drawn-out affairs.
"In Munich, if you didn't arrive at 8 a.m., you weren't getting a table," Whitaker said. "The music was loud and it was very crowded—like a Viking victory feast. There'd be 10,000 people in the tent with a huge oompa band, and then you'd go outside and you'd realize it was one of 50 tents."
SLO may not have reached this kind of Oktoberfest saturation—yet. But copious amounts of beer and German grub aren't a hard sell, especially for a town that likes to party.
Kreuzberg's cluster of small tables will be replaced by community tables and special ticket holders will get a dedicated "beer wench" or "wenchman." General tickets include a commemorative stein, a liter of imported German beer, the aforementioned brats, warm German potato salad, and German costume contest. Drinking games and music by Trio Internationale (they get around) complete the shenanigans.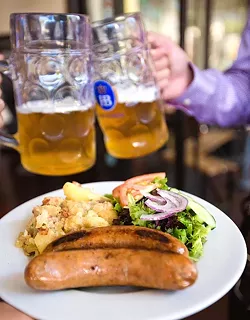 PHOTO BY KAORI FUNAHASHI
HEARTY: Imported German beer meets juicy brats at Kreuzberg's Oktober Fest this Oct. 17 at the downtown café.
I met two proud wenches who just so happen to be co-organizers of the fest.
"The German culture is so embodied in James and Chris' businesses because they lived there and loved it," said event co-organizer/proud beer wench Ali Zikratch, who also regularly travels to Germany. "We've all spent significant time there, so it's been really cool to bring this all to life and have an authentic Oktoberfest in SLO."
When I asked the ladies what it took to be a good beer wench or wenchman, the words "personality," "confidence," and "being able to carry a lot of steins" came up. The most important thing? A sense of humor.
"It's all about interaction with the guests and being a little bit of an instigator," Zikratch said with a mischievious grin. "We're here to keep the fun level up."
You may even get challenged to a 3-litre beer "das boot" chug of authentic German beer. If you do, take my advice: designate a driver and let the foam fly.
Hayley Thomas isn't sure if she can handle a das boot challenge but she can eat a whole plate of German potato salad at hthomas@newtimesslo.com.