If the Madonna Inn were a performer, it would be a man.
Before you get all up in arms, let me explain. It would be 1960s Liberace, adorned with a pink feathered cape, dripping with gratuitous jewels—a glorious, fearless spirit strutting like a proud pink peacock.
This is why, before my recent interview with the fine folks at the inn could even begin, I just had to rub the luxurious new wallpaper installed in the pinker-than-pink ballroom. As I ran my skin over the rosy, velvety stuff, I couldn't help but think, "This is what I want the inside of my coffin to be like."
FILL YOUR STEIN THE MADONNA WAY: For tickets and information on the Madonna Inn Oktoberfest's two sessions on Oct. 11, click your way to firestonebeer.com/events/Oktoberfest.php or call 543-3000. Better yet, stop by the landmark yourself at 100 Madonna Road and order yourself a spot of champagne cake.
Morbid? Not really. Madonna and I are good neighbors, and I love to twirl the dance floor with my husband, order too many Pick and Shovel cocktails (to his chagrin) at the bar, obliterate whole slices of Pink Champagne Cake at the Copper Café, and watch that precious cascade of water whoosh down the drain in the men's bathroom.
Just last month, I was asked by two sets of international tourists if I worked at the inn. This was a compliment, as I would like to think my aura reflects Phyllis Madonna's assertion that no, less is not more. More is more. Or, more on top of more, and then a little more, is definitely more. Really, it's not enough that life be opulent and extravagant and fun. It must also be pink.
Perhaps you've seen the billboards featuring beaming Madonna Inn dirndl girls posing in German-style outfits? If so, you already know that an extravagant Oktoberfest celebration is in the works at the pink palace. The tourist attraction and local hangout has partnered with fellow Central Coast icon—Firestone Walker Brewing Company—to birth a new Oktoberfest set for Saturday, Oct. 11.
If you're like me, you are wondering with great anticipation: What happens when beer and baroque collide?
Clint Pearce, president of Madonna Enterprises, has that answer.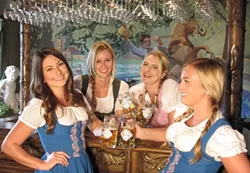 PHOTO COURTESY OF MADONNA INN
CHEERS AND 'BIERS': The Madonna Inn 'Dirndl Girls' won't be the only ones dressed up for Madonna Inn and Firestone Walker's inaugural Oktoberfest this Saturday, Oct. 11. Firestone Walker Brewmaster Matt Brynildson plans to rock his own authentic lederhosen as the crowd chows down on traditional German grub.
"All you have to do is look around," Pearce said, waving his arms toward the gargantuan pink flowers that hover above the dining room. "The architecture of the hotel is Swiss, and Switzerland is very close to Germany. There are many similarities. So many aspects of the inn are very German, like our traditional Black Forest Cake and the outfits that our servers wear every day."
The fairy tale-esque get-ups that the Copper Café waitresses don (white peasant top, bright blue full skirt, under-bust vest) are indeed quite similar to that of the Oktoberfest dirndl ladies—a fact that had never crossed my mind before. Add a healthy heaping of Firestone beer, polka music by Trio Internationale (known for playing traditional polka tunes alongside Black Sabbath covers), and a bit of bratwurst, and the Madonna Inn appears to be a fitting place for a German-style beer festival. Of course, the inn didn't stop at authentic food and Old World tunes. To ensure maximum effect, Pearce has brought in none other than longtime San Luis Obispo designer Stephen Patrick of Stephen Patrick Design.
Patrick is currently putting finishing touches on the Madonna Inn Expo Center, which started out as a 20,000-sqaure-foot blank canvas and has now been transformed into a pastoral beer garden setting, complete with 16 rusted barrel rings suspended from the ceiling, swooping fabric, and dozens of 50-foot-long communal wooden tables. A 6-by-7-foot weathered chandelier adorned with various beer bottles promises to make for a dazzling conversation piece in and of itself.
"The experience of Oktoberfest begins the minute you drive onto the Madonna Inn property, with the green, lush rolling hills, beautiful gardens, and organic rock used throughout the flower beds and portions of the inn's buildings," Patrick said. "In keeping with the spirit of Madonna Inn and the spirit of Munich, we are using as many natural, organic materials as possible that relate to a traditional Oktoberfest celebration … . The end result will be a soft, inviting and warm tent-like effect."
PHOTO COURTESY OF MADONNA INN
BEST BRAT: Fresh-baked pretzels, gourmet mustards for dunking, sizzling sausages, bratwurst, kielbasa, warm German potato salad, and apple spice cake await ticket-holders at the first-ever Madonna Inn and Firestone Oktoberfest celebration. The event kicks off at the Madonna Inn Expo Center Saturday, Oct. 11.
With complimentary half-liter steins in hand, folks will swill Firestone's seasonal Oaktoberfest "Paso Märzen Bier" as well as the brewery's hefeweizen, Double Barrel Ale, and Pivo (a little bird says Pale 31 or Easy Jack may also join that list).
"The craft beer movement is really exploding, and the Central Coast is really in the middle of that," Pearce said. "Oktoberfest is a natural first big beer event for Madonna Inn, taking what we already do, and who we are as a culture, and pairing it with Firestone beer."
Firestone Brewing Company Marketing Director Jamie Smith said that, thanks to its popularity, the brewery's Oaktoberfest will be bottled for the first time this year. First-time tasters can expect a German-style amber lager with an American twist.
"This event was an opportunity to partner with someone who would do the event right in our mind, and we felt it was a no-brainer," Smith said. "We miss this type of event, where you can go with friends and drink and eat together, and it just creates a whole experience. We want this Oktoberfest to be as authentic-feeling as possible."
Although you'll be hard pressed to find an authentic teufelsrad game (a German Oktoberfest tradition involving drunk people trying to cling to a rotating circular platform as it spins faster and faster) ticket holders will get a chance to see Firestone Brewmaster Matt Brynildson rocking a mean pair of lederhosen. Munchies of the Munich variety will also abound, with items like fresh-baked pretzels, gourmet mustards for dunking, sizzling sausages, bratwurst, kielbasa, and—my favorite—warm potato salad bolstered by bacon, green onions, and sauerkraut. For dessert? Apple spice and black forest cake. Good thing this event, which runs from 1 to 9:30 p.m., is broken up into two distinct sessions.
Although the late Alex Madonna never drank, Phyllis still knows how to throw a great party, according to Pearce. Next time you're cozying up to the inn's stony fireplace, look for the painted portrait of Phyllis located just above the staircase that leads to the gift shop. She's wearing Queen-like formal attire, her accordion not far away.
PHOTO COURTESY OF MADONNA INN
"She still plays the accordion," Pearce said with a laugh. "We are honoring the Madonnas, and honoring the history of the inn, with this Oktoberfest. Although we are trying to get as close as we can to an authentic Munich beer hall Oktoberfest, the Madonna Inn is interwoven throughout this whole event. The experience is going to touch all senses."
Hayley Thomas can be reached at hthomas@newtimesslo.com.