Life is juicy, love is juicy. So is Cambria's most beloved fruit.
Olallieberries are locally famous for a reason: They taste like a brambly raspberry and a soft, ripe blackberry made a love child after a passionate tryst under a full moon.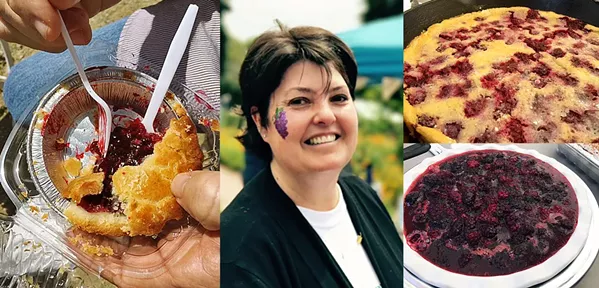 Photos By Hayley Thomas Cain
O, HOW I LOVE THEE Olallieberries—baked, tucked, and simmered into all sorts of treats—will get their day in the sun this Saturday, May 5, thanks to the Cambria Chamber of Commerce's second annual Olallieberry Festival.
In truth, the olallieberry (pronounced oh-la-leh and sometimes spelled ollalieberry, olallaberry, ollalaberry or ollaliberry) is actually a mix between a Youngberry and a Loganberry. What are those, you ask? We could be here all day. Look it up!
We do know this: The berry was first developed in 1949 at Oregon State University by the U.S. Department of Agriculture. The name "olallie" has Native American origin, meaning, simply, "berry."
Of course, olallieberries are no simple crop on the Central Coast, and they're "a very big deal" in Cambria, where the climate is ideal for growing them. Even my own family, who moved from the LA area to Atascadero in 1997, knew that the olallieberry was to be revered, a delicacy only to be consumed on the most important occasions.
Maybe we just wanted to fit in, or maybe we just fell in love with the seedy, dark flesh like everyone else, but every Thanksgiving and Christmas my mother would ceremoniously bellow, "It's ohhhhhh-la-leeeee time!"
Needless to say, stained shirts, chins, teeth, lips, and tongues were a source of pride for my sister and me.
If you've lived around here awhile, you probably have a similar story.
Now, there's finally a festival that celebrates the Central Coast celebrity berry in plush style. This May 5, locals and tourists will flock to Cambria to taste pies, crumbles, jams, and jellies shimmering with dark purple gloss. Now in its second year, the Cambria Olallieberry Festival has ripened to include a kids dessert contest and live music.
In honor of all this hoopla, it seems appropriate to honor the first seeds planted, don't you think?
Let's turn to John and Renee Linn, owners of Linn's Restaurant in Cambria. Their story should probably be a movie.
The whole Linn's operation actually started as a farmstand off Santa Rosa Creek Road. Well, it started a bit before that, with one incredibly juicy dream.
The couple, married in 1971, had always appreciated the farm life, and spent many a long drive admiring Midwestern fields.
So, as their website proudly reads: "One day, they bundled up newborn son Justin, packed their books and student loans into a '64 VW bug, and headed for Denver. They were determined to make enough money to buy into their version of the American dream."
What the couple found were slim job prospects and a crummy national economy.
So, John borrowed $750 to put a down payment on a service station where he sold gas at the height of the oil crisis and specialized in foreign car repair.
Slowly, the couple worked toward their five-year goal of buying a farm.
Well, they turned that dream into reality with a lot of hard work and gumption. The Linns finally purchased their now iconic Santa Rosa Creek Road farm in the late '70s after visiting the area for a friend's wedding. This was a risky move: They barely had enough for a down payment, let alone a mortgage.
Plus, the family had grown to include son Aaron, and Renee was now pregnant with their third child, Aimee. Still, they pushed on. In fact, all five Linns lived in small trailer on the farm while working to refurbish the old well and get the land in working order.
Together, they learned how to run trenchers and drive tractors. They planted fruit trees and mended fences and hoped for good weather.
Still, they needed a cash crop.
By 1979, the couple saw the writing on the wall. If they didn't get creative, they might lose their dream altogether.
A U-Pick stand idea formed, and—amazingly—it was a roaring success. Visitors especially loved the strangely named olallieberry that John had planted on a whim.
What came next? Why, Renee's now famous preserves, jellies, jams, and pies, of course. Linn's restaurant opened in downtown Cambria in the summer of 1989, and now you can find those famous pies across Central Coast and Central Valley supermarkets, as well as at Cambria's own open air farmers market.
Gayle Jenkins, who you could call "the olallieberry's official publicist," has her own olallie love story to tell. The Cambria Chamber of Commerce board member is credited with getting the first-ever Olallieberry Festival started last year.
"My family has been coming up here to Cambria for the past four decades or so, and I remember going to the Linn's farm and buying jams and jellies and whatever we could get our hands on that had olalliberries in it," she said.
Jenkins and her husband, Mark, purchased a home in Cambria in 2009 and became full-time residents in 2013, when they became the proprietors of the gourmet foods shop A Matter of Taste, just up the street from Linn's.
"I noticed that other communities were doing strawberry festivals, squash and pumpkin festivals. Everyone who comes to Cambria—it doesn't matter where they're from—they always ask about the olallieberry," Jenkins said, adding that she's become accustomed to sending folks over to Linn's for a fat, juicy slice of pie.
Sure, last year's debut festival was cold and windy, but the locals rallied. Bundled in beanies, a healthy crowd sampled pies and crumbles. Jenkins hopes to grow the fest into a weekend event, but for now—like the berry's origin story—it's a small snack destined to grow wild.
"Forty years ago, John Linn made the decision to plant olallieberries, with no conception of anything but to simply plant some berries," Jenkins said. "Sure, you might see olallieberry up north, but Linn's really put it on the map in Cambria. Who would have ever thought, 40 years later, the ollallieberry would be as big as it is?" Δ
Hayley Thomas Cain is excited for olallieberry season and her birthday season, which begins each year in May. She can be reached at hthomas@newtimesslo.com.