If spending just $1,000 on an engagement ring seems too good to be true, know that the modest figure applies to a good number of the clients that San Luis Obispo jeweler Amanda Stephens sees leading up to their big day.
Nope, the answer isn't microscopic diamonds or imitation stones. Stephens, who runs Garden Street Goldsmiths in downtown, along with her husband, David Hillebrecht, has seen wedding trends come and go. Her parents opened the shop back in 1974, and Stephens took over about 16 years ago. She and her husband now do a good amount of work for clients who come in with grandma's heirloom ring, and all the sentimentality that brings, looking to change it just enough to make it theirs while holding onto the piece's connection to the past.
Photo Courtesy Of Garden Street Goldsmiths
AFTER Upon lowering the center stone, bringing in two diamonds from the second ring, and fabricating new pieces to blend everything together, jewelers Amanda Stephens and David Hillebrecht had enough sparkly pieces leftover to make their client some new bridal earrings.
"Each one is so unique because you're listening to what the sentimentality is of the piece and trying to keep it intact," Stephens said. "Jewelry is wearable art and it's an expression of ourselves, and every time we look at it, it brings back a memory."
An old ring that's being converted to a newer look can often cost under $1,000 and old rings getting just a spruce up can run around $100.
"They're not a budget breaker," Hillebrecht said.
And that is why the trend has seen a bump in popularity with millennials coming of marrying age, but not necessarily having the cash to drop on a brand new diamond engagement ring, which could easily run from $15,000 to $50,000 and up. Hillebrecht and Stephens said that clients bring them rings from grandparents and even deceased or divorced parents to be given a second life.
A bride to be recently came to Garden Street Goldsmiths with rings from each grandmother, a wedding and engagement ring set that had been welded together, as well as a two-row diamond band, that she wanted combined into one more modern looking ring. The couple worked together to lower the center stone, bring in two diamonds from the second ring, and fabricate new pieces to blend everything together. One of the rings was also yellow gold, and the client preferred white gold, so the yellow gold was scraped off and replaced.
"These projects are enormously complex," Hillebrecht said. "You have to make it look like you were never there, like it was only ever supposed to be that ring."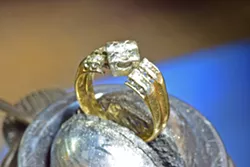 Photo Courtesy Of Garden Street Goldsmiths
RE-CREATED In order to make something new for a client who came in wanting to combine several family rings, local jewelers and husband-and-wife team David Hillebrecht and Amanda Stephens first had to tear things apart.
While Stephens and Hillebrecht can combine two rings into one, they also often take a stone from an old ring and place it onto a brand new mount, turn an old ring into a new piece like a broach or earrings, or make new rings from scratch. As their toddler daughter Sam ran around the shop, representing the third generation in the family business, Hillebrecht talked about how they're currently making rings for the third generation of a family they've worked with over the years.
"It's amazing, it's truly amazing," Hillebrecht said. "I'm waiting for the day that someone brings in a ring that we made new to be converted." Δ
Arts Editor Ryah Cooley is all about repurposing a beloved family heirloom. Contact her at rcooley@newtimesslo.com.