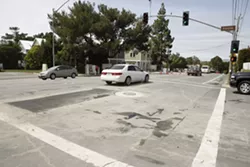 PHOTO BY STEVE E. MILLER
UNDERGROUND : SCGC crews are currently repairing gas lines near French Hospital in SLO. When working on county roads, if there's any damage county officials have little means of enforcing penalties.
A lot's changed since 1955. Presidents have come and gone. Wars have been fought. Physicists have reshaped our view of space and time. Then there's the franchise agreement between SLO County and Southern California Gas Company, which has remained virtually unchanged since 1955.
It's not that there haven't been attempts to update a decrepit contract that allows SCGC to place gas lines in the county right of way. Such arrangements are routine; most municipalities have similar agreements with utility companies, all of which are governed by the California Franchise Act of 1937. But here, negotiations between the two sides have gone essentially nowhere for the past five years. In effect, SCGC has the county by the balls.
"The one thing we don't want to do is have customers lose services—obviously," Public Works Administrator John Diodati said.
According to Diodati, there are six problems with the existing contract. Three of those problems have been resolved, leaving three contentious issues hanging that could cost county coffers—taxpayers—money. In essence, the contract on the books requires SCGC to cover the cost of any county roads destroyed when the company works on its underground lines, for example, but there are no means of enforcement or penalties.
Another problem: Utility companies sometimes abandon old pipes, which can confuse county crews who encounter the mysterious unmarked pipes and have to stop work until everything's identified.
"We have our crews sitting there twiddling their thumbs," Diodati said. Construction downtime can drive up the cost for wages, down equipment time, replacement equipment time, and possibly redesigning the project. "They're leaving the other stuff in the ground so now it's just spaghetti under there."
Why would SCGC want to change any of this? They wouldn't. And, so far, county officials haven't pushed very hard to speed along the process.
The original 1955 agreement expired in 2005. At the time, SLO County supervisors voted—under staff recommendation—to extend the contract for one year to give county and SCGC officials time to negotiate.
"The extension will allow county staff and gas company representatives to produce the appropriate renewal documents," according to a county staff report at the time.
The year came and went with no real progress and in 2006 there was another request for an extension—then another in 2007, 2008, 2009, and finally this year.
"Are we going to make some progress or is this going to continue as an annual thing?" Supervisor Bruce Gibson asked at the March 23 Board of Supervisors meeting.
"I think we're done trying to go down these creative paths to meet in the middle," Diodati responded. "I think now might be that we're at an impasse."

ESTABLISHED FRANCHISES: Pismo Beach Water Company: 1975
Santa Maria Gas Company: 1986
Valley Pipeline Company: 1986
Pacific Gas and Electric Company: 1989, 2010, and 2010
Pacific Lighting Gas Supply Company (now SCGC): 2005
Union Oil Company of California: 2008
Nipomo Water and Sewer Company: 2013
Central California Communications Company: 1987
Community Antenna Television System: 1991
San Simeon Community Cable, Inc.: 1992
Unocal California Pipeline Company: 2009
Tosco Corporation: 2009
But after five years what has changed? What could change? County officials could conceivably cancel the agreement and effectively cut off SCGC's legal access to pipelines in the public right of way. According to "Section Five" of the agreement, if SCGC fails to meet its end of the bargain "then the county, by its board of supervisors, may declare this franchise [agreement] forfeited."
But doing so could have dangerous public policy consequences. The county draws about $600,000 per year from a 2 percent franchise fee. More significantly, cracking down on SCGC that way might also mean cutting off about 50,000 SLO County gas connections.
Deputy County Counsel Patrick Foran has acted as the county's legal advisor in the negotiations. He declined to comment on the details and what the county's options are, but indicated there are some potential remedies. "Nothing's gone to court yet," Foran said.
Gibson told New Times he was "very frustrated with the gas company's stubbornness."
"I think the gas company needs to step up to the plate on some of these issues that cost taxpayers money."
SLO County is the most northern portion of SCGC's territory, which stretches south along the coast into the Los Angeles area and partially into the lower San Joaquin Valley.
"We heat homes and your cook stove and your water heater," said Tim Mahoney, SCGC district manager for SLO and Santa Barbara counties.
Mahoney said most of the company's agreements were drafted 50 or 60 years ago and there are active negotiations with about four municipalities. No other agreement, however, has required annual extensions. He said the process in SLO has taken so long because the county took considerable time hiring someone (Diodati) to handle the negotiations and such projects as the Los Osos sewer added bumps in the road.
"From my point of view we're just moving along negotiating this and there's been some outside factors that have taken time to do that," Mahoney said, adding that he believed this would be the last year of negotiations.
There are 13 other franchise agreements between the county and 10 utilities (PG&E has three agreements). SCGC just happens to hold the first utility contract county officials are updating, Diodati said. But other public water utilities have agreed to proposals similar to those the county is seeking from SCGC, he added.
Mahoney responded that the county's push for steep penalties is unnecessary.
"Because I guarantee the work for life, I'll be glad to go out and fix it," he said. "So why would we need to be penalized if a trench fails?"
The concern isn't that SCGC has been a bad neighbor, but what could happen if another company buys them out. If an agreement is reached, the franchise will run for another 30 years.
"For example: What if a company like Enron ran the gas in our county?" Diodati said. "We wouldn't like it if there were no enforcement."
In fact, the county's original agreement was with Pacific Lighting Gas Supply Company, which merged to become SCGC in 1985, which is a subsidiary of Pacific Enterprises, which is a subsidiary of Sempra Energy.
Regardless of the giant corporations tied up in the franchise with SLO County, the three-page contract requires only that the gas company provide a paltry $1,000 bond to the county as a financial safety measure. The contract is so old, in fact, that one of the county officials who signed it has been dead for 40 years.
Staff Writer Colin Rigley can be reached at crigley@newtimesslo.com.