Just before hitting the dunes in Oceano, locals stop for their favorite meal at Old Juan's Cantina. The restaurant has been around since 1976. It was founded by John "Old Juan" Verdin with a few key principles: "familia," "comida," and "servicio."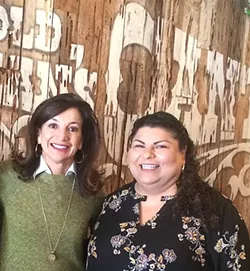 Photo Courtesy Of Old Juan's Cantina
FOR THE CHILDREN Old Juan's Cantina co-owner Eva Verdin (right) presented Jack's Helping Hand co-founder Bridget Ready (left) a check for $5,000 to support a universally accessible children's playground.
The cantina has stayed within the family and is now operated by John's grandchildren, Adam and Eva Verdin.
"We really just want to be a part of our community that gave so much to our family. To us that means doing whatever our little restaurant can to help out and give back," Eva said.
In an effort to assist their community, the establishment has held a fundraiser during the month of December for the past eight years. The funds go directly to a local nonprofit organization or charity. Over the years Old Juan's has successfully raised more than $18,000 for various nonprofits such as the Boys and Girls Club and the Food Bank Coalition of San Luis Obispo County.
This year, the restaurant has joined in the effort to build a universally accessible park for children of all abilities in Nipomo. The driving force of that park is the nonprofit organization Jack's Helping Hand, which assists children in the community with cancer and special needs who have unmet physical, mental, and medical needs.
Its latest project, The Jack Ready Imagination Park, has been in the works since 2005. The project started when Nick and Kathy Tompkins donated 33 acres of land to San Luis Obispo County with the intention of establishing a park in honor of Jack Ready, the son of Paul and Bridget Ready, who founded Jack's Helping Hand in his memory after he died of a rare form of brain cancer in 2004.
The goal of the park is to provide a safe and universally accessible playground that allows children with disabilities to play with their peers. Along with the playground, the park will include a therapeutic equine facility, basketball and volleyball courts, playing fields, accessible hiking trails, as well as picnic areas.
In 2014, the organization broke ground on the project. In the summer of 2015, the entire park was graded and a water well and system were installed. The first phase of a roadway and parking areas were paved, complete with sidewalks and curbs. Universally accessible bathrooms and a kitchenette are now in place, and the next phase of the park is the playground.
Jack's Helping Hand recently secured an additional $500,000 grant from San Luis Obispo County and is looking forward to starting construction on the playground.
On Dec. 7, Old Juan's Cantina pledged to donate 50 percent of all sales throughout the day to the local nonprofit.
"The crowds were bustling with so many people from the community wanting to support a worthy cause. It was such a good feeling and so great to see everyone come out," Eva said.
With the help of the community, Old Juan's Cantina was able to fundraise $5,000.
This nonprofit holds a special place in the Verdin siblings' hearts as the nonprofit was able to assist one of their employees.
"We have an employee whose daughter had a rarity and he had to go out of town a lot so she could receive medical attention. Jack's Helping Hand was able to help his family with that," Eva said.
Verdin is just excited that Old Juan's Cantina could contribute to make this playground a reality.
"To one day see the kids' faces having fun especially when they've been through difficult times is going to be so rewarding," she said.
To learn more about the project or the nonprofit, visit jackshelpinghand.org.
Fast fact
Cuesta College has been designated a Military Friendly School by Victory Media for the sixth time. The 2018 designation recognizes Cuesta as a leader in embracing military students. Cuesta currently serves approximately 325 veterans annually and maintains a Student Veterans of America Club and a Veterans Resource Center on the San Luis Obispo campus. A similar resource center will open on the North County campus in the spring of 2018. For more information, visit cuesta.edu or contact veterans@cuesta.edu. Δ
Staff Writer Karen Garcia wrote this week's Strokes and Plugs. Send tidbits to strokes@newtimesslo.com.