I'm a child of the '80s, weaned on punk, new wave, and MTV back when it used to actually have music videos on it, so when I heard OPTIONS Family of Services—the nonprofit that helps local folks with disabilities and puts on that awesome summer music festival in Avila Beach—was turning its attention to a fall concert at the Alex Madonna Expo Center, and that it was called "That '80s Thing" and would include performances by The Fixx, Berlin, The English Beat, Bow Wow Wow, and Missing Persons, I immediately searched my closet for my creepers, pleated slacks, and leopard print vest. Thankfully I couldn't find any of that stuff, so I won't be able to embarrass myself, but I'm still super stoked about this show, which happens on Saturday, Oct. 22 (doors open at 4:30 p.m.; show at 6 p.m.; 21-and-older; $39 tickets at vallitix.com or by calling 1-888-825-5484).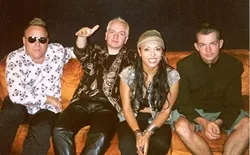 PHOTO COURTESY OF BOW WOW WOW
I WANT CANDY! : Bow Wow Wow is one of five classic '80s acts performing Oct. 22 at the Alex Madonna Expo Center.
I can't wait to hear The Fixx play old hits like "One Thing Leads to Another," "Red Skies," "Stand or Fall," and "Saved by Zero." I'm also looking forward to hearing Berlin's Terri Nunn belt out "The Metro," "Sex (I'm A …)," and Top Gun's "Take My Breath Away." And let's not forget how awesome two-tone ska legend The English Beat is! "Mirror in the Bathroom," "Can't Get Used to Losing You," "Hands Off She's Mine," "I Confess," and "Save It For Later" are just a handful of their killer hits. And then there's my old crush, super sexy Annabella Lwin of Bow Wow Wow, whose hits "Go Wild in the Country," "I Want Candy," and "Sexy Eiffel Tower" are still guaranteed to get stuck in your head for days. Finally there's Missing Persons and iconic vocalist Dale Bozzio, whose quirky voice and outlandish makeup perfectly embodied new wave's excesses. Singles like "Mental Hopscotch," "Surrender Your Heart," "Destination Unknown," and "Walking in L.A." are simply indelible!
This show's going to be one for the books!

On tap at SLO Brew
SLO Brew kicks off the weekend right with a return performance by Americana icon Dave Alvin and the Guilty Ones, who play Thursday, Oct. 20 (7 p.m.; 21-and-older; $17 presale or $20 at the door). Alvin, a member of the Blasters, penned classics such as "Born on the 4th of July," "Long White Cadillac," "King of California," and "Harlan County Line." "My songs are just like California," Alvin said in his bio. "A big, messy melting pot."
On Friday. Oct. 21, check out The Red Jumpsuit Apparatus, with opening acts Egypt Central, Burn Halo, and Seven Circle Sunrise (6 p.m.; all ages; $15 presale or $17 at the door). Screamo act The Red Jumpsuit Apparatus is one of the few bands from the genre to land in the Top 40, mixing emo, screamo, and alt-rock. Egypt Central just released its sophomore effort White Rabbit, which debuted at No. 8 on the Billboard "Heatseekers" chart and included the singles "You Make Me Sick" and "Over And Under," both achieving Top 40 status on the Active Rock chart. This is new, cutting edge music in an intimate club setting!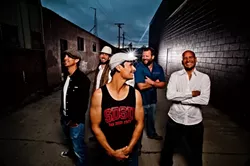 PHOTO COURTESY OF ONE DROP
ROCKIN' REGGAE : Cali rock and reggae act One Drop plays Oct. 22 at SLO Brew.
Local rock and reggae act Nada Rasta has been getting better and better. They recently won second place in the rock-alternative category of the New Times Music Awards, and on Saturday, Oct. 22, they headline the Brew with opening act One Drop (7 p.m.; all ages; $8 presale or $10 at the door). "We bring the funk, the rock, the reggae, and some hip-hop to even things out," said the band's bio. "Our sound is all about having a good time, dancing, and just rockin' out. You're gonna want to hear what we're bringing the world of music." Jam rock, R&B, and reggae act One Drop should be the perfect complement.
On Sunday, Oct. 23, Grieves and Budo hit the stage (8 p.m.; all ages; $10 presale or $12 at the door). I've never heard of them, but according to press materials, "In 2007, Grieves released his first LP, Irreversible, which earned him his first taste of national recognition as a touring musician. In 2008, Grieves partnered with Budo, an established local producer in Seattle, to create what was going to be an online EP together. After a couple weeks in the studio, the project had developed into Grieves' second full-length release, 88 Keys and Counting. The two have since moved to Brooklyn, but spend most of their time in a van driving from city to city. Despite an unyielding tour schedule, the duo is constantly creating music, always pushing each other to go beyond genre lines to generate an extraordinary result."
Afroman returns to the Brew on Monday, Oct. 24, bringing his spliff-centric sounds to the club with opening acts D&A and Mic Bles (8 p.m.; all ages; $15 presale or $17 at the door). Known for songs like "Colt 45" and "Because I Got High," Afroman got his start in grade school selling cassette tapes of his music.
Reggae act Passafire plays on Wednesday, Oct. 26 (7:30 p.m.; all ages; $8 presale or $10 at the door), with Tatanka opening. Georgia-based reggae-rock outfit Passafire combines roots reggae, progressive rock, and experimental dub into socially conscious music.
Finally, mark your calendars for next Thursday, Oct. 27, and the return of reggae star Collie Buddz (7:30 p.m.; all ages; $25). Gappy Ranks will open.
Play, songwriters, play!
Linda McRae will be featured at The Porch on Thursday, Oct. 20, as part of Steve Key's Songwriters at Play showcase (6:30 p.m.; all ages; pass-the-hat). She plays clawhammer banjo, guitar, porchboard, and accordion—and she sings—and became known on the folk circuit as a member of the Celtic/roots group Spirit of the West.
The Spot is the spot to be on Monday, Oct. 24, when local songwriters come to celebrate Paul Simon's 70th birthday with a tribute to his music (7 p.m.; $10 at the door). Hear "Me and Julio Down By the Schoolyard," "American Tune," "Punky's Dilemma," "At the Zoo," and many more performed by Chick Tuesday, the local harmony trio of Sharon "Buffy" Doran, Sarah Jane Weiss, and Karen Wilkins.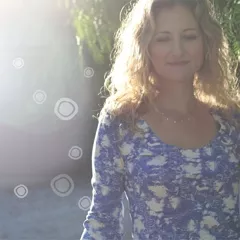 PHOTO COURTESY OF LILY WILSON
ETHEREAL: On Oct. 25, Kreuzberg hosts L.A.-based Lily Wilson as part of Steve Key's Songwriters at Play showcase.
On Tuesday, Oct. 25, Kreuzberg hosts L.A.-based Lily Wilson, who writes and records with producer-composer Mark Browne (Melissa Etheridge's bassist). Lily has sung with Dolly Parton, Bonnie Raitt, Alison Krauss, Kenny Loggins, and Patty Griffin (6:30 p.m.; all ages; pass-the-hat).
More music …
Kathleen Grace and Vardan Ovsepian make their SLO Town debut on Friday, Oct. 21, at 7:30 p.m. in the Steynberg Gallery. "What happens when an artist fuses the harmonic beauty of jazz with the lyrical power of Leonard Cohen and Joni Mitchell?" asks their press release. "The answer is found in the music of Kathleen Grace. Her storytelling captivates her audience whether she is singing an American classic or an award-winning original." Tickets are $15 (547-0278).
Hear Ted Waterhouse and Ynana Rose perform a stripped-down acoustic duo version of their honky tonk/western swing act The Swingin' Doors at Linnaea's Café on Saturday, Oct. 22, with opening acts Ranchers for Peace, Erin Inglish, and Chick Tuesday Two (7 to 10:30 p.m.; all ages; pass the hat).
It's wine harvest time, and Rockin' R Winery presents the fundraising Stomp4Arts and the Travis Larson Band concert. "Each year, we raise money for local art associations by conducting a 'Stomp4Arts' event at R-winery where a $5 donation to the local art organizations lets the donor have a chance to foot stomp real grapes," said Dean DiSandro. "We then turn those crushed grapes into approximately $8,000 to $9,000 in fine wines which we donate to back the local arts associations as additional fundraising items." The stomp happens Saturday and Sunday, Oct. 22 and 23, from 11 a.m. to 5 p.m., and prog-rock act the Travis Larson Band plays Saturday, Oct. 22, from 6:30 to 10 p.m. ($35; call 835-8529 now to reserve your seats!).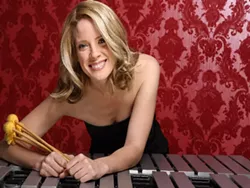 PHOTO COURTESY OF LAURA ALLEN
MALLET MAVEN : On Oct. 23, the Famous Jazz Artist Series at the Hamlet hosts fast rising female jazz vibraphonist Laura "Lolly" Allen.
On Sunday, Oct. 23, the Famous Jazz Artist Series at the Hamlet hosts fast-rising female jazz vibraphonist Laura "Lolly" Allen, a graduate of the New England Conservatory of Music. This marks her first appearance at the series, and she will be accompanied by Luther Hughes on bass and Paul Kreibich on drums, as well as series co-producers Charlie and Sandi Shoemake (piano/vibraphone and vocals). There's a 4 p.m. show for $15, a 7:15 p.m. show for $12, or see both for $20. Call 927-0567.
Every Wednesday, including this Wednesday, Oct. 26, head to Creeky Tiki for the Blues Masters Jam from 7 to 10 p.m. The jam attracts players like Dorian Michael, Billy and Charlie Foppiano, Louie Ortega, and Tim Jackson. Regular jammers include Bruce Krupnik and Kevin McCracken of the Strata-tones, and they've been visited by Burnin' James and other members of The Funky Flames.

PHOTO COURTESY OF GRÁINNE HAMBLY AND WILLIAM JACKSON

CELTIC DREAMERS : Painted Sky Studios' last show ever happens Oct. 27 with Gráinne Hambly and William Jackson.
On Wednesday, Oct. 26, check out Massachusetts-based musicians Jamie Kent & The Options when they play Linnaea's Café (8 p.m.; all ages; pass-the-hat). Kent, 24, is a singer-songwriter with "big dreams and an ever-expanding fanbase" who draws on influences from modern artists like "Jack Johnson and Jamie Cullum, as well as paying tribute to classic greats Johnny Cash and Frank Sinatra."
It's the end of an era, but there's still one more Painted Sky Studios show on Thursday, Oct. 27, when The Yew Tree, in association with Painted Sky Studio, is very pleased to present Gráinne Hambly and William Jackson (7:30 p.m.; all ages; $18). This marvelous Irish/Scottish harp duo are true masters of the Celtic harp, and the two also incorporate other instruments—tin whistle, bouzouki and concertina—to create deep, rich textures in their music. Get tickets at the Business Center or The Yew Tree.

Keep up with Glen Starkey via twitter at twitter.com/glenstarkey, friend him at Myspace.com/glenstarkey, or contact him at gstarkey@newtimesslo.com.