Marvin Gaye, Otis Redding, Sam Cooke, Wilson Pickett, Ben E. King, Jackie Wilson—to hear them sing is to immediately understand soul music, its passion, its roots in gospel, and its exploration of the human heart. Traditionally an African-American genre, it was embraced by white artists as well, including The Righteous Brothers in the U.S. and Tom Jones and Van Morrison in the U.K.
In my book, the current reigning British R&B champ is James Hunter, who over the course of a 30-plus-year career has established himself to be, as MOJO magazine called him, "The United Kingdom's greatest soul singer." He really is masterful and dripping with authenticity.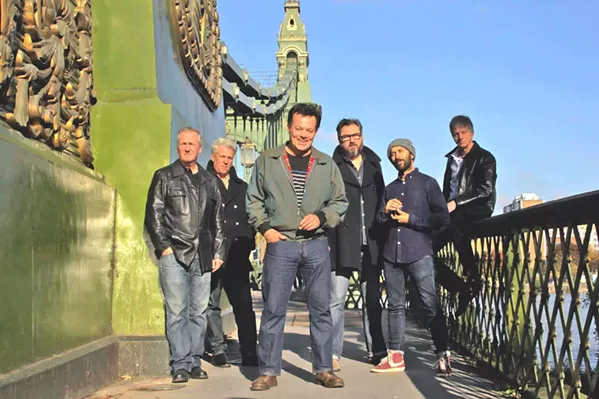 Photo Courtesy Of The James Hunter Six
U.K. SOUL MAN The James Hunter Six brings their original soul sounds to The Siren on May 15.
"When we met, I was pretty well set in my ways/ I didn't care oh where I spent my days/ But now all that has changed/ I never want to be the same/ Love is so that all I know is/ I don't wanna be without you, baby, like before/ I don't wanna be without you, baby, no more," Hunter sings on "I Don't Wanna Be Without You" off his 2018 album Whatever It Takes.
It's one of three songs on the 10-song album dedicated to his new wife, Jessie, who after hearing Hunter on the radio met him at his NYC gig, and married him a year later in New Orleans.
It was a long road from growing up in Essex to reaching international fame. Hunter left school at 16 and started working for the railway, where he practiced his blues guitar and singing. Six years later, he played his first gig at the Colchester Labour club as Howlin' Wilf and the Vee-Jays.
His first album, Cry Wilf!, landed him regular gigs on the U.K. club circuit. More albums followed, and he eventually garnered the attention of Van Morrison, who asked Hunter to tour with him as backup singer, where he appeared on the 1994 live album A Night in San Francisco as well as the 1995 Van Morrison studio album Days Like This. Morrison repaid the favor by appearing on Hunter's 1996 album Believe What I Say.
Though it took until 2006 and the release of People Gonna Talk for Hunter to fully establish himself in the U.S., he's definitely made it! His gritty voice, affecting songs, and old-school cool stage presence makes him a must-see performer.
The James Hunter Six plays a Numbskull and Good Medicine Presents show at Morro Bay's The Siren on Tuesday, May 15 (7 p.m.; 21-and-older; $23 presale at ticketfly.com and Boo Boo's, or $25 at the door). If you dig soul and R&B, don't miss it! Tijuana, Mexico-based rude boy ska-punk act Los Kung Fu Monkeys open. Raucous!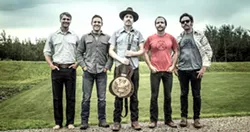 Photo Courtesy Of The Brothers Comatose
BUY 'EM WHILE THEY'RE HOT Alt-Americana act The Brothers Comatose (pictured) play a ticketed, four-act SLO Mission Plaza show on May 17, with Próxima Parada, The Cimo Brothers, and Bear Market Riot opening.
Also this week via Numbskull and Good Medicine, see another R&B-focused act when pedal steel player Robert Randolph and the Family Band plays Santa Maria's Presqu'ile Winery on Saturday, May 12 (all ages; doors at 5 p.m.; $35 general presale at ticketfly.com or Boo Boo's, or $40 at the door). Soul Scratch opens.
Don't forget to mark your calendar for next Thursday, May 17, when alt-Americana darlings The Brothers Comatose play the SLO Mission Plaza (5:30 p.m.; all ages; $20 presale at ticketfly.com or Boo Boo's, or $25 at the gate) with Próxima Parada, The Cimo Brothers, and Bear Market Riot opening. Later that night, Huntington Beach-based blues, soul, and rock act The Harlis Sweetwater Band plays at The Siren (9 p.m.; 21-and-older; free).
Old lovers reunited
"I am yours, you are mine, you are what you are. You make it hard," Crosby, Stills, and Nash sang in glorious three-part harmonies on "Suite: Judy Blue Eyes," off their 1968 self-titled debut album. "Remember what we've said and done and felt about each other/ Oh, babe have mercy/ Don't let the past remind us of what we are not now/ I am not dreaming."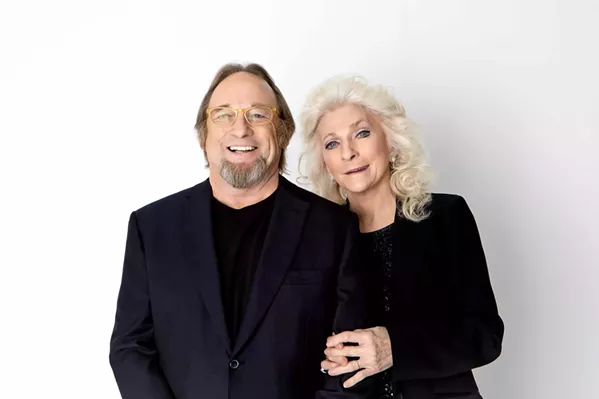 Photo Courtesy Of Stephen Stills And Judy Collins
FOLK ICONS Stephen Stills and Judy Collins return to the Fremont Theater to play songs from their respective catalogs as well as off their 2017 album, Everybody Knows.
The iconic folk-rock opus was penned by Stephen Stills to immortalize his brief but fiery two-year love affair with singer-songwriter Judy Collins, who is perhaps best known for "Both Sides Now," the classic track off her 1967 album Wildflowers. Well, it's good news that these two amazing performers have remained friends 50 years after their early love affair.
Stephen Stills and Judy Collins play the Fremont Theater on Saturday, May 12 (8 p.m.; all ages; $61.50 general or $181.50 VIP meet-and-greet at eventbrite.com or Boo Boo's), with Kenny White opening.
Also at the Fremont, rapper Carnage plays his Battered Bruised and Bloody California Run on Thursday, May 10, at the Fremont Theater (9 p.m.; 16-and-older; $35 at eventbrite.com or Boo Boo's). Born Diamanté Anthony Blackmon, Carnage is a Guatemalan/Nicaraguan-American record producer and DJ.
You may also want to secure tickets for hip-hop artist YBN Nahmir, who plays the Fremont next Thursday, May 17 (9 p.m.; $22 at eventbrite.com or Boo Boo Records). YBN Almighty Jay and Anthony Ray open.
Live drum electronica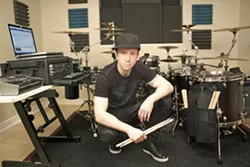 Photo Courtesy Of Kj Sawka
DRUM N BASS Live drum electronic artist KJ Sawka plays The Siren on May 12, as well as a drum clinic at SLO's The Drum Circuit on May 11.
Third Eye Illumination and Luvlab Productions present KJ Sawka, Tropo, and local DJ G!bby at Morro Bay's The Siren this Saturday, May 12 (8 p.m.; 21-and-older; $18 presale at ticketfly.com and Boo Boo's or $20 at the door). The event will also feature live painting by Charlie Clingman of Forever Stoked.
For 28 years, KJ Sawka has drummed and produced, working with artists such as BT, Amon Tobin, and Andy Summers of The Police. He's also a member of the renowned drum and bass super-group, Pendulum. The night before the show, on Friday, May 11, Sawka will offer a clinic at SLO's The Drum Circuit (7 p.m.), where he'll "explain and share his knowledge on his techniques, going deeper into the connectivity of drums and computers. How he puts together his one-man band involving electronic and acoustic drums, ableton, looping, and triggers, helping to demystify what he does."
Ever Green
Singer-songwriter-multi-instrumentalist Trevor Green returns to the Central Coast with a stop at Sweet Springs in Los Osos on Friday, May 11 (9 p.m.) and SLO Brew Rock (855 Aerovista Place) on Saturday, May 12 (1 p.m.; all ages; free). Green is on a 35-date tour supporting his newest, Voice of the Wind. He'll also play Mr. Rick's in Avila Beach on Sunday, May 13 (1 p.m.).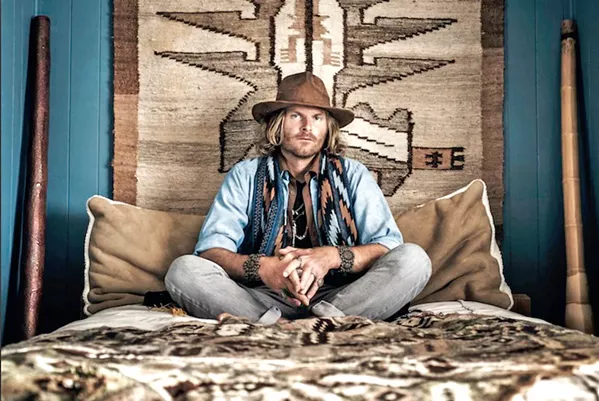 Photo Courtesy Of Will Thoren
SPIRIT RANGER Singer-songwriter-multi-instrumentalist Trevor Green returns to the Central Coast with a stop at Sweet Springs on May 11, SLO Brew Rock on May 12, and Mr. Rick's on May 13, where he'll present his one-man-band guitar/didgeridoo/percussion show.
Expect to see him onstage surrounded by "five guitars, three didgeridoos, [and] an array of percussion instruments," according to his press materials.
"I follow the music where it leads me. Through this process I find the music always comes from an honest place, and that is most important in receiving the songs when they come through. I love performing because it's always been an opportunity for me to communicate things that otherwise I maybe couldn't get out."
Tony, Emmy, and Grammy—oh my!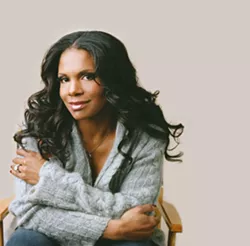 Photo Courtesy Of Autumn De Wilde
THE VOICE Amazing multi-award winning soprano and performer Audra McDonald returns to SLO's Performing Arts Center on May 16.
Is there a major performing award Audra McDonald hasn't won? What about the National Medal of Arts, America's highest honor for achievement in the arts? Yeah, she's won that too. Many have called her the greatest singer alive, and she's returning to SLO's Performing Arts Center on Wednesday, May 16 (7:30 p.m.; all ages; $32 to $95 at calpolyarts.org or (805) 756-4849). A free pre-show lecture by PCPA Director Erik Stein in the PAC Pavilion starts at 6:30 p.m.
McDonald and her trio will perform a mix of show tunes, classic film songs, and compositions written expressly for her by some of today's leading composers. Her 2014 PAC concert sold out, so get tickets now!
Folk-n-Soak returns
The 2018 spring Folk-n-Soak Music/Hot Springs/Yoga/Camping Festival happens this weekend, Friday, May 11, through Sunday, May 13, at Paso Robles' Franklin Hot Springs.
Photo Courtesy Of Jonathan Keim
ONE OF MANY Jenny Liu (pictured) will join about 20 other performers to play the Folk-n-Soak music and yoga festival at Franklin's Hot Springs on May 11 through 13.
Personally, I'm knot into yoga (pun, sadly, intended), but sitting in 100-degree mineral spring water and listening to music and hanging out with cool people is totally in my wheelhouse. There's too much on the schedule to list here, but read all about it on eventbrite.com ($15 for one day or $35 for admission and camping). Performers include Sherita Perez Music, Shaufrau, Banjer Dan Mazer, Jaime Sol Black and Dan Raznick, Rose and Pacific, Randy Todd, Jenny Liu Adamson, event organizer Christopher Hawley, Terry Bergman and his Musical Saw, Paul Kenny, Joe Bunker, Max MacLaury, Randy Todd, Miss Leo & Her Bluegrass Boys, Emily Franklin-Clark, Will Vanguard, Burl Haggard, Paul Kenny, and the Shayari Project.
More music ...
Incredibly prolific Santa Maria-based singer-songwriter Chris Lambert releases his 11th full-length album this Friday, May 11, during a free in-store appearance at Boo Boo Records (6 p.m.; all ages). That's a lot of music from a 30-year-old who quit his day job and turned full-time to music in 2007. His newest, The Constant Education of Christopher Lambert, explores living in the present: "I wrote down a list of things that I knew could help me grow as a person, if I applied them," Lambert wrote in press materials. "Things like forgiveness and meditation and responsibility."
The For the Folks concert series hosts Bay Area soul-rockers the Highway Poets and SoCal's country-folk duo Wild Iris playing to support the Puerto Rico Hurricane Recovery at Bang the Drum, on Friday, May 11 (6:30 p.m.; all ages; $10 donation). Expect local arts and crafts vendors, fire dancers, and a food truck.
The SLO County Jazz Federation presents master jazz guitarist Bruce Forman—in a solo and a trio setting—on Saturday, May 12 (7:30 p.m.; all ages; $20 general or $10 for students at brownpapertickets.com), at SLO's Unity Concert Hall. He'll present his highly acclaimed "The Red Guitar," a jazz libretto and a perspective into the life of a musician and the creative process. Δ
Keep up with New Times Senior Staff Writer Glen Starkey via Twitter at twitter.com/glenstarkey, friend him at facebook.com/glenstarkey, or contact him at gstarkey@newtimesslo.com.