It's Saturday, May 18, 2013, but as I look around, it could just as easily be 1945—an America buoyed by winning World War II, increased economic prosperity, and a new sense of freedom.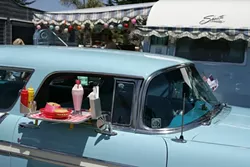 PHOTOS BY GLEN STARKEY
VINTAGE TOYS : Pismo Coast Village RV Resort's sixth annual Vintage Trailer Rally Open House featured more than 300 vintage trailers.
COME ON IN : Most of the trailers on display were open to the public on May 18.
I'm at Pismo Coast Village RV Resort's sixth annual Vintage Trailer Rally Open House, and everywhere I look are trailers, everything from the sleek, shining silver of aircraft-riveted Airstreams to the ticky-tacky kitsch of Shasta's canned hams.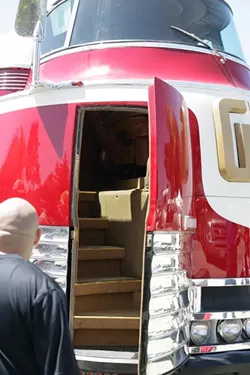 BACK TO THE FUTURE : Collector Brad Boyajian's restored 1939 General Motors Futurliner, with an interior staircase to climb up into the 10-foot-tall cab, was a favorite of the crowds.
TIKI MARTINIS : Most of the trailers were decorated true to their era.
Many are fully restored to their original splendor; others enjoy their well-earned patina of age; many are incredibly rare, but all have been decked out in vintage décor recalling days gone by. All told, this year's show attracted more than 300 entries.
Some trailers date back to the '30s, sometimes hauled by vehicles even older than that. The newest are from the '70s. Boles Aero, Silver Streak, Vagabond, Westcraft … they're all here, as are one-of-a-kind units the likes of which I've never seen.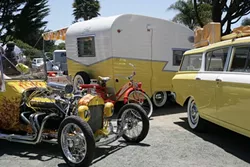 CLASSIC AMERICAN : Collectors had more than trailers on display, creating vintage milieus of the America of the past.
If you like old stuff, this is the place to be, and a steady stream of visitors keeps rolling in. The folks are friendly, quick to invite you into the trailers, tell you about them, show you their secrets.
It's like stepping back into time and wondering at the freedom of life on the road—going where you want, when you want, and doing it in style. ∆
Glen Starkey takes a beating and keeps on bleating. Keep up with him via twitter at twitter.com/glenstarkey, friend him at facebook.com/glenstarkey or myspace.com/glenstarkey, or contact him at gstarkey@newtimesslo.com.