Brooklyn-based artist Oliver Herring tells people, "I don't know," when asked what the plan is for one of his collaborative art happenings, and he really means it.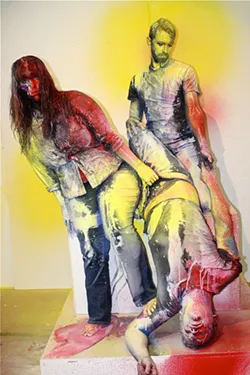 Photo Courtesy Of Cuesta College
JUST WANT YOUR TIME Have five or eight hours or even a few days to spare? The Harold J. Miossi Gallery's temporary resident artist Oliver Herring is looking for participants to take part in his experimental art.
To be fair, Herring's work is both outside the box and elaborate. Think, using humans as sculptures or people wearing clothes drenched in colored food dye while they're also spitting out colored food dye—at each other. Herring's works run the gamut of everything from knitting Mylar into human figures, clothing and furniture, participatory performances, Styrofoam photo sculptures, and more. His pieces have been displayed at places like the Museum of Modern Art in New York.
Herring is in the midst of a three-week residency at Cuesta College's Harold J. Miossi Gallery (through Dec. 7) with an exhibition going up through Dec. 22. The German-born experimental artist previously worked with gallery director Emma Saperstein when she interned for him years ago.
"I learned there was an infrastructure in place I could tap into to produce some new work," Herring said. "The only thing I care about is making a really good piece of art."
So Herring wants you (and you and you) to be a part of his artistic process. He needs willing and able participants with open minds and at least five to eight hours (ideally a few days) of time to give. Bring work clothes and no expectations.
"Three weeks isn't a lot of time, and I do work without preconceived ideas," Herring said. "It's tricky."
Photo Courtesy Of Cuesta College
GROUP EFFORT Even brooklyn-based artist Oliver Herring (center) doesn't know what exactly will happen during one of his art collaborations with strangers.
At a meet and greet at Cuesta earlier this month the artist said he was heartened to see around 50 people from their early 20s to 70s show up with an interest in making art.
Recently in China, Herring printed photos onto fabric and had people wear them, which turned into a hybrid of sculpture, photography, fashion, and choreography. He plans to revisit that process in SLO and also work with video, but beyond that all bets are off for what to expect.
"Choreography to me is kind of an interesting problem solving," said Herring, who in no way considers himself a choreographer. "To me, that's really interesting as an extension of sculpture."
But it's the movers themselves more than anything that keep Herring coming back to this kind of work.
"I'm moved by people," Herring said. "I'm very hopeful because I work with people. I learn a lot about them."
Just days into his residency, Herring met his first collaborator, a man named Tyler. The two went out to Los Osos where Tyler got drenched with red food dye.
"It was a beautiful beginning," Herring said.
But from the other side of the lens is someone sitting there cold, drenched in food dye for hours for no pay. Why? Herring said there are common themes in why his collaborators seek out being a part of his process.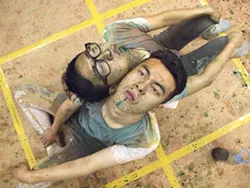 Photo Courtesy Of Cuesta College
TESTING BOUNDARIES Those who take part in German born artist Oliver Herring's artistic process are often asked to ditch social norms, like personal space bubbles, in the name of creating art.
"One thing I always hear is that people don't have enough opportunities to express who they are, to be seen, to offer up their talent," Herring said. "They feel stuck in routines and are looking to find adventure, to meet others like themselves."
Herring also pointed out that his work forces people to interact a little differently than they normally would.
"When you spit food dye at each other's faces, you break all kinds of social barriers, and that gets super exciting," Herring said. "It's very addictive. People tend to come back for more." Δ
Arts Editor Ryah Cooley thinks collaborating is great, except when it comes to school projects. Contact her at rcooley@newtimesslo.com.