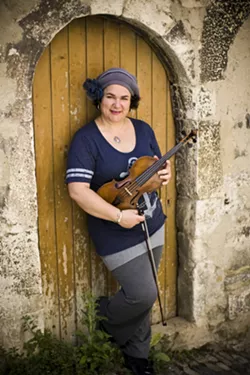 PHOTO BY JENNIFER MANUELE
IN FRANCE! : Brynn Albanese will join Symphony of the Vines for concerts on Feb. 23 and 24 in Mission San Miguel, performing Mozart, Hayden, and Stravinsky.
A really good musician can make her instrument take on a life of its own. The thing becomes a living, breathing creature and the musician seems to just be holding on for dear life. That's what I think when I see Brynn Albanese play, anyway. Of course, so far I've only seen her perform with the wildly popular quintet Café Musique, but she's returning to her classical roots with two shows at Mission San Miguel on Saturday, Feb. 23, at 7:30 p.m. and Sunday, Feb. 24, at 3 p.m., where she'll perform with Symphony of the Vines under the baton of Greg Magie.

"Most folks in our community know me as the violinist of Café Musique," Albanese said. "I am departing from my Classical Crossover life and diving into strictly classical, performing Mozart's 4th Concerto in D Major for Violin and Orchestra. It has been years since a local violinist has performed a full concerto with any local orchestra. I think it's a very special honor to be playing at the Mission San Miguel as well as playing with one of our county's newest orchestras, the Symphony of the Vines."

In addition to Mozart, the concert will also feature Haydn's spirited and joyful Symphony No. 88 and Stravinsky's contemporary take on Bach's Brandenburg Concertos, the Dumbarton Oaks Concerto.

According to press materials, "Brynn has toured and performed world-wide, sharing her exhilarating style with audiences from Boston to the Netherlands. She currently teaches violin and is an orchestral coach for the Cal Poly San Luis Obispo Symphony. Performing virtually all styles of music, she travels extensively, recording for various artists. She has been a soloist with the San Luis Obispo Symphony for their Youth Concerts and will be teaching at the San Luis Obispo Youth Symphony Camp Ocean Pines Summer Youth String Program."

Tickets ($20 to $30) may be purchased online at symphonyofthevines.org or by visiting Matt's Music in Templeton or Boo Boo Records in SLO. Students get a 50 percent discount.

Fly home

PHOTO COURTESY OF SPARROWS GATE
ALBUM RELEASE! : Sparrows Gate will play a show and release their new album, Beneath the Electric Church—on vinyl, no less—on Feb. 23 at The Sanitarium.
The members of Sparrows Gate—brothers Zebedde Zaitz (vocals, guitar) and Anthony Zaitz (vocals bass), Joel Tolbert (vocals, keys, lap steel), Paul Dutton (vocals, guitar), and Joshua Barnhart (vocals, drums)—look every inch the rock stars. They're skinny longhairs clad in hipster threads, and on their new album
Beneath the Electric Church
, they deliver a collection of southern rock, California pop, and soulful alt-folk.
Consider them our own version of Kings of Leon. There's something sweetly naïve about them, something akin to the pioneer spirit, something hinting at dangerous—and listening to their harmony vocal choruses, you can't help but feel you're listening to Gen Y anthems.
Fans of The Mother Hips will dig these guys, who play Saturday, Feb. 23, at 7:30 p.m. at The Sanitarium, with Evan apRobert opening the show. The cover is $5, and their new album will be available on vinyl, a format as timeless and warm as Sparrows Gate's sound.
Get down at SLO Brew
PHOTO COURTESY OF WE CAME AS ROMANS
METALCORE!: We Came as Romans brings metalcore love songs to SLO Brew on Feb. 25.
SLO Brew has a pretty full slate for the week, everything from metalcore to country line dancing, but they kick things off on Thursday, Feb. 21, with hip-hop by Radical Something (7:30 p.m.; all ages; $10 presale or $12 at the door), with Louder Space and Jr. Doc opening. According to their brief bio, Radical Something are "Sun-rockers. Life-lovers. Time-travelers. Fun-havers. Love-finders. Rule-breakers. We Are Radical." They mix a little reggae and soul into their sound. Think of them as the West Coast version of G. Love. Louder Space, a local band, says they sound like Red Hot Chili Peppers meets Sublime and Incubus.
Tyron Wells returns to town on Friday, Feb. 22 (7:30 p.m.; all ages; $14 presale or $16 at the door). The singer-songwriter delivers wistful ballads that will trigger raw emotions. Blue-eyed soul singer Brett Young opens the show. Wells had a Top 10 album on iTunes last year and reached No. 1 album on the Singer Songwriter charts. He's also had more than 50 TV and film placements on show such as
Grey's Anatomy, Private Practice, American Idol, Cold Case
, and
One Tree Hill
.
Get your line dance on this Saturday, Feb. 23 (8 p.m.; all ages; over 21 free; under 21 $5 at the door). Private lessons are available at 8:30 p.m., with line dancing at 9. There're some sweet drink specials, too: Coors Lights for $3 and shots of Tullamore Dew at $5.
On Monday, Feb. 25, check out We Came as Romans (7 p.m.; all ages; $13 presale or $15 at the door). As I was listening to their music, I couldn't quite figure out if they were pop or deathmetal, but all their lyrics are about loving one another. Now my brain hurts.
Finally, country rock act Reckless Kelly returns on Wednesday, Feb. 27 (7:30 p.m.; 21- and older; $15 presale or $17 at the door). Their song "American Blood" is a scathing indictment of the second Iraq war. "I've never been a very political guy. I'm just a songwriter trying to tell a story and attempting to shed light on the cold hard truth that not everything about this war makes sense," said lead singer-songwriter-guitarist Willy Braun in press materials. "Whether you are for the war or against it, I think we can all agree that the troops deserve absolute support and respect for the job they are doing, and 'American Blood' is a tribute to the sacrifices made by the men and women in uniform and their families." Micky and the Motorcars open the show.

More music …
Laura Meyer returns to the area with a show on Thursday, Feb. 21, at 7:30 p.m. at Frog and Peach. "I'm really looking forward to coming back to SLO next month," she said. "I wanted to share my new album with you, inspired by the Occupy movement, lots of hours crisscrossing the country listening to Bible radio, and Los Angeles-related angst." Check out this soulful, sometimes bluesy singer.
PHOTO COURTESY OF SOMEBODY'S DARLING
YEE HAW! : Dallas-based band Somebody's Darling plays the Paso Robles Brewing Co. on Feb. 21.
Dallas-based band Somebody's Darling is heading to the Paso Robles Brewing Co. on Thursday, Feb. 21, to play a 7:30 p.m. show of roots rock, R&B, and country funk. The group used Kickstarter to record its 2012 sophomore album,
Jank City Shakedown
, with Grammy-winning engineer Stuart Sikes. They've also won "Best roots-rock/alt-country act" of 2012 by
The Dallas Observer.
Celtic harpist Patrick Ball returns to Painted Sky Studios on Friday, Feb. 22, at 8 p.m. ($20; call 927-8330). According to concert organizer Steve Crimmel, Ball is "one of the premier Celtic harpers and storytellers in the world … indeed a modern day bard. Playing the ancient, legendary brass-strung harp of Ireland with its crystalline, bell-like voice, and telling marvelous tales of wit and enchantment, he not only brings new life to two cherished traditions, but blends them in concert to create 'a richly theatrical and hauntingly beautiful performance.' An evening with Patrick evokes a far away time and place—a simpler life when an evening's entertainment centered around a cozy fire, with stories to light the imagination and music to inspire the soul. Come revel in the warmth of this shared experience."
Accomplished singer-songwriter Lily Wilson plays the D'Anbino tasting room at 8 p.m. on Friday, Feb. 22, delivering melodic music with an ear for pop hooks. She's been compared to Fleetwood Mac, Sarah McLachlan, and Norah Jones. She was also the 2007 winner of the L.A. Music Awards "Female Vocalist of the Year" in the Adult Contemporary category for her single "A Little Life." If you like warm, friendly music with a positive point of view—and who doesn't?—check her out. Admission is $10 ($5 for Record Club members). Call 227-6800 to reserve a ticket.
A' La Lune, a Modesto-based band, plays Frog and Peach on Friday, Feb. 22, from 10 p.m. to 1 a.m. Expect irie vibes from this socially conscious reggae band whose music has been called "Modern Roots" or "Cali Roots" music. The band has released one full-length recording and has another coming out this summer.
The Cal Poly Choirs, conducted by Professor Thomas Davies, will present "Water Works," their annual Winter Concert, at 8 p.m. on Saturday, Feb. 23, in Harman Hall of the PAC. The program will feature water-themed compositions such as "I Gondolieri" ("The Gondoliers") by Gioachino Rossini, "Deep River," and "Cloudburst." Tickets cost $12 and $14 for the public and $9 and $12 for senior citizens and students. New pricing includes all Performing Arts Center fees, and the PAC now sponsors event parking. Call 756-4849.
Marley's Ghost returns to the SLO Botanical Garden by popular demand on Sunday, Feb. 24, at 4 p.m. Formed in the mid-'80s and known for its instrumental virtuosity, ultra-tight four-part harmonies, and animated live performances, the group features Dan Wheetman, Jon Wilcox, Mike Phelan, and Ed Littlefield. They're "a walking, talking encyclopedia of rhythm and roots, from bluegrass to bagpipes, folk ballad to sea chanteys, Nashville twang to Mardi Gras funk, Gospel rave to Celtic reel," according to press materials. This concert is expected to sell out. Visit slobg.org to see if any tickets are left.
The Mojo Combo features six diverse, highly competent players—a local businessman, a retired firefighter, a master mechanic, a Santa Maria business owner, a master welder-fabricator, and an acclaimed guitar designer—who have come together to create a progressive blues band. See them at the D'Anbino tasting room at 8 p.m. on Saturday, Feb. 23, at 8 p.m. Admission is $10 ($5 for Record Club members). Call 227-6800 to reserve a ticket.
This Sunday, Feb. 24, from 4 to 7 p.m. in Frog and Peach, you can check out Counterfeit Kings, a Central Coast band with members from around the county playing modern rock covers from the '90s to today's rock hits. The group includes Tony Menocal (bass), Doug Swain (drums), Scott Robertson (guitar), and Ty Christensen (vocals).
A recent East Coast transplant to the Central Coast, Ms. Dulcie Taylor plays Upper Crust Trattoria in SLO on Monday, Feb. 25 (6:30 p.m.; all ages; pass the hat). Formerly from South Carolina, she's shared stages with a long list of artists, including Bonnie Raitt, Jerry Lee Lewis, Asleep at the Wheel, Vern Gosdin, and Kathy Mattea. Special guest performers include Tiana Star, Deborah Kirk, Ezra Henderson, and Amie Richie.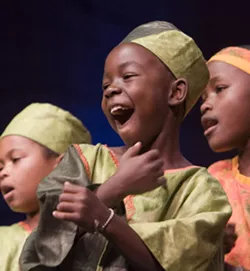 PHOTO COURTESY OF THE AFRICAN CHILDREN'S CHOIR
PURE JOY! : The African Children's Choir is sure to melt your heart with their smiles and beautiful voices as they perform lively African songs and dances on Feb. 26 in the PAC.
The African Children's Choir is sure to melt your heart with their smiles and beautiful voices when they perform lively African songs and dances on Tuesday, Feb. 26, at 7:30 p.m. in the PAC's Cohan Center. Hear well-loved children's songs, traditional spirituals, and rhythmic Gospel favorites. In addition, 55 elementary and high school children from the Central Coast Children's Choir will be featured in the opening number of the concert, performing alongside the young African artists as they sing their country's national anthem. Proceeds go to raising awareness of the plight of the millions of orphaned and abandoned children in Africa. A free pre-concert lecture by Cal Poly Music Department professor Ken Habib will be held at 6:30 p.m. in the PAC Pavilion. Student and adult tickets range from $21 to $48 (call 756-4849 or order online at calpolyarts.org).
Still the Sky's Limit is touring to support their new EP
Legacy
, produced by Erik Ron (Panic! at the Disco, Foxy Shazam, Saosin), and plays Frog and Peach on Tuesday, Feb. 26. According to the trio's bio, they deliver a "lyrically charged, energy-laden brand of rock music to the forefront of the world's stage with a passion and fervor most only make believe and dream of."
A little music for you …
Truth About Seafood recently released a new self-titled rock album filled with the soaring choruses, harmony vocals, and rocking sounds you've come to expect from this local rock quartet.
Featuring Brad Daane (bass and backing vocals), Wyatt Lund (drums), Jeff Minnery (lead vocals, guitar), and Justin Pecot (lead guitar), the group's sound feels true to its '90s roots. Formed in 1992, their line-up at one time included Paul Bostaph, at the time a member of Slayer. After flirting with success, the group disbanded in 1999, but reformed a few years ago. They were winners in the 2009 New Times Music Awards.
Now all the members have day jobs, but that hasn't stopped them from delivering some professional-sounding songs. Highlights from their new album are the U2-esque song "Hey Now," the grungy sounding "An Easy Chorus to Sell," and the album closer "Low."
PHOTO BY DEONE JAHNKE
LOCAL YOKEL! : Great singer-songwriter Phil Lee, who's releasing the excellent The Fall & Further Decline of the King of Love on Feb. 26, plans to move to Cayucos full time this spring.
And this spring, you might start seeing a shifty, dangerous-looking fella up around Cayucos, because that's when Phil Lee, who's owned a home there for years, plans to move full time to the beach town.
On Tuesday, Feb. 26, Lee will release
The Fall & Further Decline of the Mighty King of Love
, a collection of songs as awesome and dirty and hilarious and full of bravado as any one person can stand!
I love "Blues in Reverse," a song filled with apprehension:
Listen to me, people. Don't make me shout. Life's a motherfucker. You got nothing to complain about. You get the blues in reverse. Yeah when things can't get no better, they're gonna get worse.
It's all reverb swamp guitar and low singing.
The man is, as his bio describes, "a hipster madman—Huck Finn meets Jack Kerouac," who sings dystopian songs about dysfunctional iconoclasts. This is an awesome record! Welcome to the neighborhood, Phil!
Keep up with Glen Starkey via twitter at twitter.com/glenstarkey, friend him at facebook.com/glenstarkey or myspace.com/glenstarkey, or contact him at gstarkey@newtimesslo.com.