Archery may just be one of the coolest sports on the planet. And no, it's not because of Katniss Everdeen. She pretty much just jumped on the archery bandwagon. It was definitely probably because of Errol Flynn, when he played the original badass Robin Hood.
So you can imagine all of the excitement, when Central Coast Archery celebrated its grand opening on Nov. 15. Because, finally, you too can fulfill your yeoman fantasies and go after the tyrant Prince John and the Sheriff of Nottingham. Who knows, maybe Disney will make a cartoon version of your life, replete with anthropomorphic animals.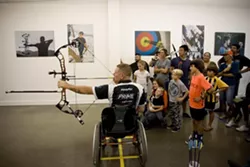 PHOTO COURTESY OF CENTRAL COAST ARCHERY
SHOOT STRAIGHT: Paralympic archer Jeff Fabry uses a mouth tab during his archery demonstration.
OK fine, so maybe no one uses archery to overthrow a dictator or rob from the rich and give to the poor anymore. But hey, it's still a good hobby that you can pick up so your friends will think you're super cool.
Scott Wilson, the owner and founder of Central Coast Archery, figured out a way to turn his passion into a way of life. It's easy to see how much he cares for the sport, as well as his family and friends.
Originally, Wilson ran a feed store in Arroyo Grande before discovering the sport of archery.
"One of my customers introduced me to it," Wilson said. "He kept coming into the store to buy these big straw bales. One time he came in and ordered two truckloads, and I finally asked him what they were for. He said he had his own archery range at his house. So I told him, 'Tomorrow I'm going to deliver them to you, and then I'm going to try this out.' And from the first arrow, I just fell in love with it."
Since then Wilson has gone on to compete with the National Field Archery Association World Team, winning a gold medal in Scotland for the Freestyle Bow Hunter Division, as well as a silver medal in South Africa. In addition, Wilson's sons—Joel and Daniel—are also accomplished archers and work with their father selling equipment and providing lessons.
Wilson's time competing in international archery competitions introduced him to paralympic Jeff Fabry, who joined Wilson at the grand opening on Saturday.
Fabry, who lost both his right arm and leg in an accident when he was a teenager, gave a demonstration of his unique method to archery. Using his left arm, he aims the bow, and with a tab that he made from an old dog leash, he draws it back and releases it with his mouth. It's intimidating and impressive and drives home the point that Wilson reiterated: This is a sport for everyone. It's clear from the warm and welcoming atmosphere at Central Coast Archery that this isn't an exclusive club for pro shooters.
"It used to be that there was a certain type of person who was associated with archery," Wilson said. "Now that's not true. Everyone does it now. And the best thing is helping someone learn how to shoot, and showing them just what they can accomplish. Really anybody can do archery, with just some simple instruction."
Central Coast Archery offers equipment, instruction, classes, birthday party facilities, and corporate team-building activities.
Central Coast Archery is located in the Bear Valley Center at 12334 Los Osos Valley Road. For more information about lessons or prices, visit centralcoastarchery.com, or call at 439-1570.
Fast fact
The season of giving is here! Help make the holidays a little better for survivors of domestic violence and child abuse by donating to the Women's Shelter Program of San Luis Obispo County. From now until Dec. 16, the shelter is collecting donations for gift cards to give to their clients. The gift cards help empower survivors toward self-sufficiency by allowing them to budget, shop, and give gifts to their children.
For more information about donations and prices, go to wspslo.org or call 781-6401, Ext. 202.
Intern Adriana Catanzarite is on her way to the Olympics for being awesome at archery. Send your congratulations, or business and nonprofit news to strokes@newtimesslo.com.