Hundreds of people marched through the streets of downtown SLO Nov. 12. They chanted as midday tourists and shoppers gawked and took photos and video with their smartphones.
"Racist, sexist, anti-gay! Donald Trump go away!"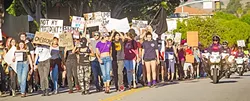 PHOTO BY JAYSON MELLOM
IN THE STREETS: Chants of "Love Trump's Hate!" and "This is what democracy looks like!" filled the air as protestors marched on downtown SLO Nov. 12.
The large protest was one of several demonstrations against the reality television star turned president-elect, who was elected into office Nov. 9.
Trump rode to victory on a wave of disturbing rhetoric aimed at Latinos, Muslims, African-Americans, women, immigrants, and other marginalized groups. Many individuals from those groups came out to the march in downtown to show solidarity and express their deep uncertainty of what the next four years will hold for them.
"It's been scary," said Danitza Castillo, a 17-year-old from Los Osos who attended the march. "There's uncertainty."
Castillo grew up in Mexico and said her family came to the United States when she was 8 years old. Thanks to the Deferred Action for Childhood Arrivals program, or DACA, Castillo says she was able to get a steady job and go to school. But she fears that her future, and the future of her family, is at risk after Trump's election.
In the early days of his campaign, Trump referred to undocumented Mexican immigrants as "rapists," and made the signature part of his campaign a promise to build a wall along the U.S. border with Mexico. In a recent television interview, Trump stated he planned to deport as many as 3 million undocumented immigrants shortly after taking office.(Trump claims they will all be individuals with criminal records.) DACA, which was put into place by a presidential executive order, could vanish with the stroke of Trump's pen.
"If anything Trump says gets done, my family will be separated, and I cannot have that happen," Castillo said.
PHOTO BY JAYSON MELLOM
A MURKY FUTURE: Donald Trump's election has left the groups he targeted during his campaign uncertain of just how they will fare during his term as president.
Castillo wasn't the only person who felt threatened by Trump's rise to power. SLO resident Courtney Haile pointed to the bigotry and white nationalist sentiment that surfaced during Trump's campaign. Trump was endorsed by openly racist elements such as the Ku Klux Klan, and newly minted White House Chief Strategist Stephen Bannon served as chief of the Breitbart News Network, an outlet that the nonprofit hate watch group the Southern Poverty Law Center said openly embraced ethno-nationalistic rhetoric.
"It's not about losing or complaining that we lost … it's about me personally not feeling safe," said Haile, a co-founder of a local activist group R.A.C.E. Matters SLO. "He was endorsed by the KKK and he didn't disavow that."
During his campaign, Trump was also dogged by allegations of sexism. Multiple women accused Trump of sexually assaulting them. In an MSNBC interview, Trump also stated that he believed women who get abortions should face "some form of punishment."
That someone who espoused such views would now be leading the country left SLO resident Diane Parnell distraught and angry.
"It was horrifying," said Parnell, who marched in the protest. "The message he is sending to all women, not just American women, is that we are possessions."
Despite their fears over what the next four years might hold for them, protestors like Haile and Parnell said they were heartened to see so many others show up for the march. The day before the march in downtown SLO, another group targeted by Trump was also encouraged by the support it received from the community.
Speaking to New Times shortly after afternoon prayer services concluded Nov. 11 at the Mosque of Nasreen, Cal Poly professor Ahmed Deif said he and the other members of the mosque experienced an outpouring of supportive messages from the SLO community.
"This is something that we, as a Muslim community, are very happy with," said Deif, who led the assembly at the mosque that day. "It gives us hope. It gives our children hope."
Early in his campaign for president, Trump called for a ban on all Muslims entering the United States. Trump regularly made references to Muslims and the Islamic faith during his campaign rallies, at one point stating in an interview on CNN, "I think Islam hates us."
Deif said that he saw Trump's election as an opportunity for Muslims to "extend a welcoming hand to every single human being." However, he did admit that the election had left some young Muslims he'd spoken to uncertain about their future in a Trump-led America.
"Definitely there is a kind of anxiety among the younger generations of Muslims in terms of, 'So are we really in danger of something?'" he said.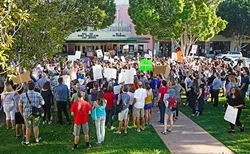 PHOTO BY JAYSON MELLOM
DUMP TRUMP: SLO was one of several cities across the United States that saw protests in the wake of the Nov. 8 presidential election.
It's uncertainty that appears to be at the heart of concerns voiced by various groups singled out during Trump's campaign. But some Trump supporters claim that the man they voted for has no intention of following through on the most drastic promises he's made.
Michael, a local Trump supporter who came to the Nov. 12 march to counter-protest, agreed that Trump should distance himself from the extreme elements that supported his candidacy. He also did not believe that Trump would actually build a massive wall between the U.S. and Mexico.
"Congress won't let that pass, but I'm sure they will build better structures and fences and make sure people aren't overstaying their visas. Stuff like that," he said.
But the possible gap between what Trump said and his possible actions isn't reassuring to those like Castillo, who are stuck firmly in the crosshairs of what's proposed.
"It's sad to know you don't have a solid future ahead of you because you don't know what will happen," Castillo said. "We are preparing for the worst, but hoping for the best."
Staff Writer Chris McGuinness can be reached at cmcguinness@newtimesslo.com, or on Twitter at @CWMcGuinness.