When a passionate winemaker produces an exemplary wine that's expressive of its place of origin, critics are quick to praise them as "cult" brands. But such wines are extremely limited, difficult to find in the marketplace, and rarely repeated. That said, we're fortunate in SLO County to have more than a handful of artistic winemakers that produce singular wines, most vintages. One such superstar who came onto the wine scene 12 years ago is French-born Stephan Asseo, the talent behind L'Aventure in Paso Robles.

Stephan earned the respect of his peers and critics when he started making his distinctive wines in 1998. Over the past decade his reputation landed him in more nationally published magazines and newspapers than any Central Coast winemaker I've witnessed in 20 years. Like Robert Mondavi was to Napa Valley, Stephan's face is one of the most recognized in Paso Robles, despite the fact he isn't a local pioneer.


HAVE AN ADVENTURE: L'Aventure (aventurewine.com) is located at 2815 Live Oak Rd. in Paso Robles, 227-1588. It's open Thursday though Sunday from 11 a.m. to 4 p.m.
When I was tasting coordinator for Wine Spectator, I learned no winery buys such fame. Stephan earned cult status for the fine wines he has produced, mostly special bottlings which he recently described to me as "my crazy blends." There's nothing deranged about the impressive wines of L'Aventure, be it his Estate Cuvee of Syrah, Cabernet Sauvignon, and Petit Verdot, or a single variety like Cabernet Sauvignon. In fact, the latter seems child's play for a man born and raised in France's Bordeaux region, renowned for Cabernets and Cabernet blends.
"After 18 years making wine in Bordeaux, you always have a wine you love and want to make again," Stephan explained. "But you have to learn about your terroir, and making wine with what the natural soils give you. You should make wine that's balanced and gives you pleasure." He believes we intellectualize wine too much, and said it's really about whether we like it or not: "I can explain why I like a wine or why I don't."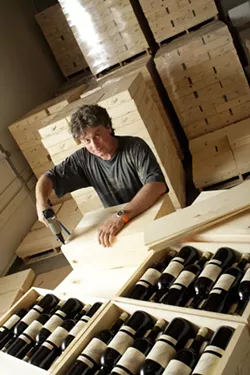 PHOTO BY STEVE E. MILLER
CRAZY BLENDS: French-born winemaker Stephan Asseo is known for his unusual and elegant wines.
He said, "In the beginning, what brought me to Paso was not to make a Rhone or Bordeaux copy." While establishing his estate vineyards, he purchased Zinfandel for his blend, Optimus (which the Frenchman pronounces as op-ta-mousse), with Syrah and Cabernet. After a few vintages he switched out Zinfandel for Petit Verdot. "This was what I had in mind when I came to Paso. I had this crazy blend in my mind, but it was a little challenging."
In 2008, he followed his instincts and decided L'Aventure would be 100 percent estate grown. And it was a difficult growing season last year—he and his neighbors lost Cabernet due to shatter, the result of inclement weather that spring. Nevertheless his 2008 barrel samples were bold yet elegant and balanced. His vineyard has 2,100 vines per acre (most California vineyards have 750 vines per acre) which yields one bottle per vine. In his continual endeavor to improve quality, Stephan has decided to employ biodynamic techniques in his vineyards.
"So many wines look and taste the same, it's important to keep your style. For the pleasure of your customers you need more diversity in the wines offered," he stressed. "With more and more wines coming out you can't have one mold, like Napa Cabernet or Chardonnay."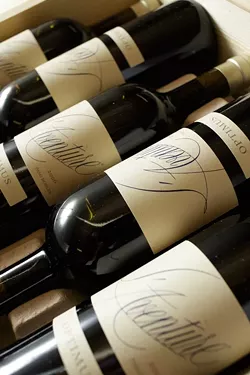 For Optimus, he explained, the Syrah makes the Cabernet rounder, but the addition of Petit Verdot makes it more interesting. Although Petit Verdot can be austere, a default he pointed out, in this combination it brings elegance and class to the blend. "Some vintages it's a little more French in style," Stephan smiled. "I listen to nature and go with my fruit. I'm very focused. When I finish my main blends, depending on the vintage, I sometimes make a straight Syrah or Cabernet, but I don't want to do it every year."
FRIDAY THROUGH SUNDAY, MAY 15 – 17 THE 27TH ANNUAL PASO ROBLES WINE FESTIVAL: If you've attended this popular tasting you know it draws a friendly crowd who love Paso Robles' wines. The Paso Robles Wine Country Alliance (PRWCA) adds something new and fun during this festival. This year, they're offering a new service: bring your used wine corks to the "Sip the Good Life" booth on Saturday for recycling and you'll be entered for a chance to win a premium wine country package, courtesy of Justin Vineyards. There's also a demonstration kitchen featuring local chefs, and Artisan Alley to showcase Paso's artisanal olive oils, cheeses and more. Friday through Sunday, individual events are happening at 140 wineries (including L'Aventure) along Paso Robles' wine trails, providing great wines and foods, live entertainment or seminars, and winemakers' dinners; prices vary. City Park features the Reserve Tasting Friday from 4 to 6 p.m. showcasing 50 wineries and a new wine auction, $125 per person. Saturday afternoon the premium tasting in City Park from 1 to 5 p.m., $75 per person, has more than 90 wineries, wine country cuisine, and live music. Tickets must be purchased in advance online at pasowine.com. Tickets will be available at the door from 2 until 5 p.m. for only $55, or $45 for locals with proof of address.
Stephan opened the tasting room in 2002, after realizing its significance in the American wine industry. "When I was a country boy in a small village in Bordeaux, we had a lot of tourists but the tasting room concept wasn't the same as California's," Stephan remembered. "My Bordeaux education was just about making the best wine; marketing was not something we did. Here I had to move my ass and do more marketing," he grinned. "There's a nice spirit in the Paso community. The tasting rooms send customers to us; it's not like Napa where everyone is for himself."
A visit to L'Aventure, two miles off the more traveled path, puts you in the heart of Stephan Vineyard, where he built his winery and the small tasting room. This is no retail market with hats and cheap jewelry; visitors pay only $10 to taste these extraordinary wines, priced $25 to $85, and take home the stemless Riedel glass. Stephan says his only exception is the sale of wine books. "L'Aventure isn't on the most trafficked road in Paso but the people who come here aren't just coming for a glass of wine. They come to taste L'Aventure." And a visit here is a grand adventure.