While most schools function as important centers for the education and development of young minds, they aren't always very exciting to look at. It's something that Greg Ellis and members of the nonprofit One Cool Earth hope to change.
The organization, which is responsible for planting thousands of trees in San Luis Obispo County, takes its work into area schools and asks students to help create beautiful, sustainable green spaces on their own campuses.
"We noticed a lot of the schools had gardens but they were under-utilized and under-maintained," said Ellis, One Cool Earth's director. "We wanted to take an area on the campus and make it a place of inspiration, where kids can awaken their curiosity."
So far, the organization has carried out projects on more than 20 local campuses. Those projects run the gamut from simple tree plantings to complex, diverse educational programs. At Bishop's Peak/Charles E. Teach Elementary School in SLO, One Cool Earth worked with students, teachers, and parents to plant deciduous trees and native plants, restore a denuded—without vegetation—slope above on the campus's north side, and help the school start a small nursery. At Mission Prep High School, also in SLO, One Cool Earth assisted the school environmental club reach an impressive goal, planting one tree for every student in the school. The students reached their goal with the help of the organization, planting about 300 trees in places like Whale Rock Reservoir. In 2013, the group helped start a recycling and composting program at Georgia Brown Elementary School in Paso Robles.
Regardless of the campus or type of project, Ellis said the reaction of the students is usually the same.
"A light goes on in their eyes," he said. "I think it wakes up a part of them; it makes them excited to be at school."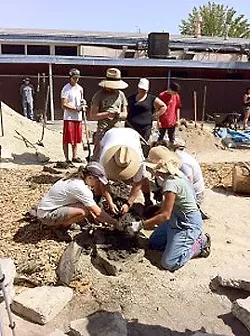 PHOTO COURTESY OF ONE COOL EARTH
EARTHIFIED: Students staff and parents at Flamson Middle School in Paso Robles work on a 4,000 square-foot garden full of native plants. The garden was just on of the many projects involving local nonprofit One Cool Earth and local schools.
It's not just about getting students to plant trees and start gardens on their campuses. One Cool Earth also focuses on education. The group runs multi-week programs that teach students about the "seed-to-harvest" food cycle, which includes lessons on how to grow and prepare fresh fruits and vegetables. Ellis said One Cool Earth also runs a 10-week program about water conservation. That program was created in response the state's severe drought.
In addition, the group partners with students in higher education. They've partnered with Cal Poly on multiple occasions, including helping to plant hundreds of trees on campus and create a compost unit that is estimated to processes more than 7.5 million pounds of manure from the campus's Beef Cattle Evaluations Center, Dairy Unit, Poultry Unit, Equine Center, and Rodeo Unit, according to the One Cool Earth website.
Ellis said the organization's work goes beyond local schools. One Cool Earth and its volunteers also participate in planting trees and native plants in areas across SLO County. Some of the locations are fairly obvious, such as planting oak, sycamore, redwood, and cypress near the Avila hot springs, or planting madrone and valley oak trees at Atascadero Lake. Other sites are much less conventional. Those include Hougue Action Pistol Range. According to One Cool Earth's website, one of the organization's founders, Lionel Johnston, planted more than a dozen trees on denuded slopes at the range, which is located off Highway 1 between Morro Bay and San Luis Obispo. The group also partnered with Morro Bay Beautiful to place native plants at an intersection near the Del Mar Liquor Store in Morro Bay.
"Of special interest, the lemonade berry (Rhus integrifolia) planted on the site were once used by the native Chumash people to mix a tasty brew much like lemonade," the group's website notes.
Those unconventional projects were inspired by Johnston, whom Ellis characterized as the "Johnny Appleseed" of the Central Coast.
"Lionel, who started the whole tree planting thing, believed that tree planting transcends any political or ideological boundaries," Ellis said. "Some people will do it for environmental reasons, some will do it for practical reasons."
Moving forward, SLO County residents can expect to see a lot more of One Cool Earth. Ellis said the group plans on addressing a shortage of community gardens in SLO, and at least one new garden will use recycled "purple pipe" water. The group also recently received a grant from the state, which it will use for native landscaping projects in SLO County schools.
Staff Writer Chris McGuinness can be reached at cmcguinness@newtimesslo.com, or on Twitter @CWMcGuinness.