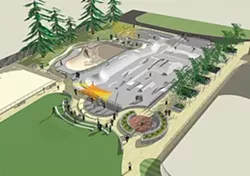 IMAGE COURTESY OF RRM DESIGN
THE FUTURE? : A rough design for a new Santa Rosa skate park has City Council members' OK, but how to pay for it is still a big unknown.
SLO skaters have a design for their new park and support from the City Council. Now they need the money to pay for it all.

City Council members unanimously approved the master plan for a new Santa Rosa skate park on Jan. 20. If built, a new slab of undulating concrete ramps and bowls would replace the decaying, splintering wood ramps currently at the park.

Local skaters showed up in force to plead with council members for a new park. They were also the ones who helped RRM Design Group mold the park design to mesh with SLO's skate scene. One distinguishing feature in the park master plan is a ramp built to look like a breaking wave.

Jonny Miller and other local skaters were outside the City Hall about an hour before the meeting. They waved signs and asked passersby for support.

"We need a good skate park," Miller said, shortly before he hopped on his board and jumped a small handmade ramp, still holding his sign.

As it turned out, council members didn't need much convincing. They quickly approved the master plan with only a few qualms about some minor design features and whether the city would be liable for injuries (city staff members said the city was protected). Most of the council members even traded stories about their skater kids and grandkids.

Still, the hurdle still standing between skaters and a new park is money.

"I wish we had been able to do this a long time ago because the fundraising may be difficult," Mayor Dave Romero said.

The full design is expected to cost about $1.5 million. But some ancillary park features—a small concrete stage, seating for onlookers, and a walkway—could be held off to lower the initial cost. Even a partial build-out will cost about $1.25 million. There is potentially $900,000 of Parkland Development Funds available to build the park, although there was no indication whether all those funds would go solely to the skate park.

Other funding options include a Tony Hawk Foundation grant (about $25,000) and general fund contributions. City officials, though, seemed unlikely to contribute general fund dollars given the city's tight financial forecast for the next two years. A skate park fundraising committee has been selling T-shirts and using "spare change canisters" since May, but so far has only raised $1,326.

Given the limited funding options, paying for the park may land squarely in the lap of skaters and park supporters. The good news: they seem willing to help in whatever way they can. Derrick Conahan of One Way Board Shop came to the meeting with a check for $1,500 for the park that the business had collected.

City officials also urged local skaters to find willing corporate sponsors. The next step for the council members will be whether to set the skate park as one of their goals in the next budget cycle. How they prioritize the park in relation to other city projects will be a large factor in how much city money goes toward the construction costs.